It's the SmackDown Live after WrestleMania 35 and WWE's Tuesday show will look to build upon Monday Night RAW's new feuds and stories.
First on the docket for SmackDown this week is the Kofi Kingston celebration. Kingston defeated WWE Champion Daniel Bryan to become the new top dog on the blue brand, and it's time to celebrate this new accomplishment and take a look back at his stellar career. With his WWE Championship victory on Sunday, Kofi became one of the few Grand Slam Champions in WWE history, and that's definitely something to celebrate.
But WWE fans know how these celebrations usually turn out. Will Daniel Bryan come out to try and get his title back, or will a new threat to The New Day emerge?
In the Tag Team division, the champion Usos will square off with The Hardy Boyz for the first time in their careers. Matt and Jeff Hardy aspire to be the greatest tag team in WWE history, and they'll take another step towards that distinction with a victory over, arguably, the best tag team in the company.
Shane McMahon barely survived his match with The Miz on Sunday, but the heelish authority figure picked up the victory over his former tag team partner. But is this the end for these two? Miz will look to move on, but how will SmackDown be affected by their general manager's new attitude?
The IIconics, improbably, picked up the Women's Tag Team Championships on Sunday. With their WrestleMania moment behind them, how will the new champs handle their role atop the women's tag division? And who will step up to face them first?
And finally, Becky Lynch is now the champion of both brands, which makes her a marked woman. Lacey Evans already made her intentions known to Lynch on Monday, but are there any other challengers vying to take down "The Man"?
Expect a lot to go down on Tuesday night, and you can follow along with every minute of the action below. Here's everything that happened on the April 9 episode of SmackDown Live.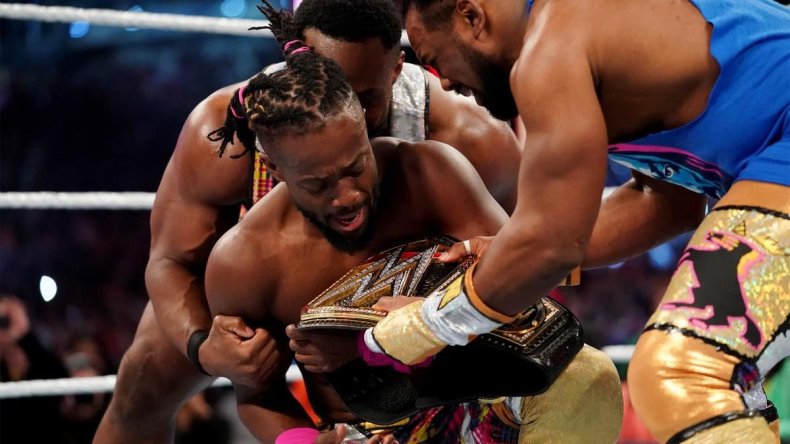 SMACKDOWN LIVE RESULTS
Opening Segment
New Day start off the night with a Kofi Kingston celebration. They are there to celebrate Kofi's career in the WWE.
Big E does another split - in case you were wondering.
Kofi says it wasn't supposed to happen, but here they are with the WWE Championship. He thanks his family, who are in the audience, for letting him go for his dream.
Kofi is interrupted by The Bar. Sheamus says that they saved Kofi from losing to Seth Rollins on Monday Night RAW. They says that Kofi would have lost last night not because he's a B-plus player but because he didn't have Xavier Woods and Big E by his side in the match. They propose a six-man tag match for later on tonight and The Bar bring out Drew McIntyre who they made friends with on RAW.
Aleister Black, Ricochet and Ali vs Rusev, Nakamura and Andrade
Ali pins Andrade after a 450 Splash
After the match, Randy Orton hits Ali with an RKO out of nowhere.
And then Kevin Owens his Rusev with a Stunner
Usos Interview
They say congrats to Kofi Kingston. Usos say they need to win tonight because they want to prove who are the better brothers and better tag team.
R-Truth and Carmella Segment
Carmella says that this time last year she wont the MITB. But since then she lost her title, but she gained a friend in R-Truth who taught her how to have fun again.
Samoa Joe interrupts and he and R-Truth start to fight before Joe puts Truth in the Coquina Clutch. Joe gets on the mic and says that he destroyed Rey Mysterio in less than 60 seconds at WrestleMania and that should be a warning to anyone who wants to challenge him.
Braun Strowman's music hits and the two start to fight. Joe gets the Coquina Clutch on, but Strowman gets out. Strowman tries to lift Joe up for the Powerslam but can't, allowing Joe to leave the ring.
IIconics come out as Strowman walks up the ramp and try to shake his hand but Braun just walks to the back.
Weird Bray (?) Vignette
The same buzzard puppet vignette from RAW last night was shown again.
IIconics vs the Brooklyn Belles - Women's Tag Team Championship Match
Before the match, The IIconics say they will also be fighting champions and they have arranged a title match against the "best tag team in Brooklyn" the Brooklyn Belles (local talent).
During the match, Paige is shown watching the match in the back.
Peyton Royce pins one of the Belles after a knee.
After the match, Paige is asked what she's doing there. Paige says that she wanted to get a closer look at the Women's Tag Titles and she will bring an impressive team of her own.
Shane McMahon Promo
Shane wants to reflect on what happened at WrestleMania. He lists Seth, Kofi and Becky winning their titles on Sunday. He asks why did everyone watch 'Mania? He says they wanted to see Shane defeat The Miz. Shane says Miz is not in the building tonight because he had to tend his dad. And Shane says Miz and his dad got exactly what they had coming to them. And he had to prove he was the "best in the world."
Shane calls Greg Hamilton to the ring and he asks why his entrance wasn't like WrestleMania. Greg says he was threatened by the WWE Universe if he did it again. Shane says not to worrk about the WWE Universe, but he needs to worry about him. He tells Greg to do his introduction one more time.
The Usos (c) vs The Hardy Boyz - SmackDown Tag Team Championship Match
Hardy Boyz win via pinfall after a combination Twist of Fate and Swanton Bomb
After the match, the Hardy Boyz are being interviewed when Lars Sullivan interrupts them. Sullivan takes out both men.
Becky Lynch Promo
Becky says she kept her promise to win both titles. She showed what happened between her and Lacey Evans last night. The attack reminded her that as long as she has the titles she has two targets and she will pull double duty as long as she is the champ of both brands. She will fight anyone, but she will do anything to keep her titles.
As Becky walks up the ramp, Lacey Evans hits the Women's Right and has the champ stumbling.
The New Day vs The Bar and Drew McIntyre
Before the match, Sami Zayne comes out and is ready to say something but instead says "you're not worth it" and walks to the back.
Kofi pins Sheamus after a Trouble in Paradise
About the writer
Phillip Martinez is a game and culture reporter for Newsweek. Prior to joining Newsweek in 2018, he was a reporter and editor for iDigitalTimes and Player.One. A Bronx native, he graduated with his Bachelor's degree in Journalism from St. John's University in 2010. An avid Nintendo fan and wrestling mark, he's always looking to become a Pokémon Master while fantasy booking this year's WrestleMania. You can contact him at p.martinez@newsweek.com