SmackDown Live Results: Kofi Kingston Goes Through Another Gauntlet
The March 19 episode of SmackDown Live will have major implications for WrestleMania 35, especially the WWE Championship scene.
Kofi Kingston, whose chance at Daniel Bryan and the WWE Championship has been stopped at every corner by Vince McMahon, gets his shot at the title at WrestleMania ...if he survives another gauntlet match.
The 11-year veteran went through a gauntlet match heading into the Elimination Chamber pay-per-view. Replacing the injured Mustafa Ali, Kingston outlasted Daniel Bryan, Samoa Joe, and Jeff Hardy before falling to AJ Styles.
That was the start of Kofi's momentum towards the WWE Championship. He would lose in the Elimination Chamber match for the title, which Daniel Bryan retained, but Kington's newfound fire resonated with the WWE Universe. Kingston would pin the WWE Champion in a six-man tag match and earn himself a title shot at Fastlane. However, Mr. McMahon would replace Kingston with the returning Kevin Owens.
Kingston will have to take out Randy Orton, current U. S. Champion Samoa Joe, Rowan, and The Bar - Sheamus and Cesaro - in five straight matches. If he happens to win, Kingston will be granted a match against Daniel Bryan.
Another segment to look forward to tonight is The Miz's response to Shane McMahon's promo last week. Shane turned heel on The Miz and stated that he was tired of others leeching off of him, and that included Miz. After a week off, Miz returns to SmackDown Live to address his former partner before they clash at WrestleMania 35.
The WWE Women's Tag Team Champions, Sasha Banks and Bayley, told the fans that they will appear on SmackDown this week. Will The IIconics approach the tag titles about a championship match or will Sasha and Bayley brush them off. Sasha and Bayley already getting challenges from Nia Jax and Tamina, and Natalya and Beth Phoenix will The IIconics be added to the mix?
There's a lot expected to be packed into two hours of SmackDown Live, so here's everything that happened on this week's episode.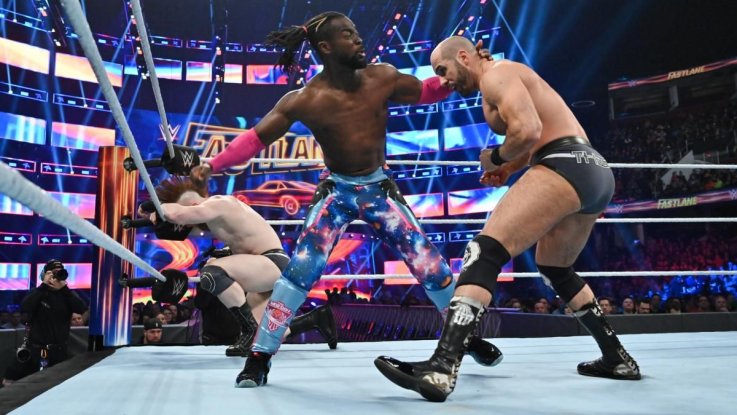 SMACKDOWN LIVE RESULTS
Opening Segment
Miz starts things off and plays the replay from Shane McMahon's segment from last week. Miz says that he's sacrificed everything in this business (outside of his wife and daughter), and that's how much his friendship with Shane meant. He reiterates how much his father saying "I love you" to the Miz meant to him, and Shane helped him get it. Miz also helped Shane become tag team champion even though everyone warned him about McMahon.
Miz says that Shane putting his hands on his father will be forever engrained on his mind. He realizes that Shane is just as corrupt as his father and he's not the best in the world, he's a McMahon, which makes him the worst in the world. Miz says that the McMahons may own the WWE but they don't own him or Kofi Kingston.
Miz says that everyone thought he was average and destined to stay in Cleveland and work at his dad's shop. He says he's a hard worker and has earned the respect of his father and the WWE Universe, no matter if they booed him or not. He says that Shane earned a beating at WrestleMania.
Sasha Banks and Bayley vs The IIconics
Before the match, The IIconics run Sasha and Bayley down for ducking them.
In the middle of the match, Lacey Evans comes out and distracts everyone which almost leads to Peyton Royce pinning Bayley.
Peyton pins Sasha after Billie Kay hits Bayley on the outside to distract Banks and then holds her arms down while the referee wasn't looking.
Rey Mysterio Interview
Rey announces that after pinning Samoe Joe last week, he will face him for the US Championship at WrestleMania 35.
KO Show
Kevin Owens says that it's been a rough time for him since his return, but Kofi Kingston deserves the spotlight.
KO's guests are Becky Lynch and Charlotte Flair.
Owens says that he knows about best friends turning on each other. He reads quotes from Ronda Rousey talking crap about Becky and Charlotte. He then reads quotes from Becky and Charlotte talking about each other. Kevin Owens then goes on to say that he feels that the WWE Universe is sick of them talking and wants them to fight.
Charlotte says that she would beat the "holy hell" out of Becky. Becky punches Charlotte and the two get into a scrum in and out of the ring. When security tries to separate them, Charlotte and Becky lay into them.
AJ Styles Interview
AJ says that Randy Orton had advantages most of the roster didn't have. AJ never said Randy wasn't good, he's great. Styles says that if Randy is a first round pick, he's a walk on, but look at what he's accomplished and AJ isn't looking to build something he's looking to tear the house down.
Daniel Bryan Promo
Bryan says that Kofi Kingston doesn't deserve this opportunity and that it's an injustice. Daniel says that he knows what it's like to be the underdog and have the authority lean on him. Daniel says that Kofi was handpicked by management to replace Mustafa Ali. Kofi had chances already and he failed so he doesn't deserve a championship match and he's a B plus player. New Day's music interrupts Daniel Bryan
Kofi Kingston Gauntlet Match
Big E and Xavier Woods are barred from ringside before the match
Kofi vs Sheamus is first. Throughout the match, Cesaro distracts the referee.
Kofi pins Sheamus after a Trouble in Paradise
Kofi vs Cesaro is next
Kofi pins Cesaro after an SOS
Kofi vs Rowan is next
Rowan gets himself disqualified when he uses a chair on Kofi
After the fall, Rowan continues to beat down Kofi. He throws him into the barricade and then hits Kofi with the Iron Claw through the announce desk before leaving.
Kofi vs Samoa Joe is next
Kofi pins Joe with a roll up after reversing a Muscle Buster
After the bell, Joe puts Kofi in a Coquina Clutch against the ropes
Kofi vs Randy Orton is last
Kofi pins Randy Orton with a roll up after reversing and RKO
After the bell, Mr. McMahon comes out to congratulate Kofi. Vince says that he can go to WrestleMania if he defeats one more opponent. He reveals that Kofi has to pin Daniel Bryan.
Daniel Bryan pins Kofi after a Running Knee
SmackDown Live Results: Kofi Kingston Goes Through Another Gauntlet | Culture