The owners of small businesses will soon no longer be able to receive forgivable loans to help keep their employees paid and the lights on amid the coronavirus pandemic.
Members of Congress and the Trump administration remained at an impasse Wednesday over how the funds should be replenished, with bipartisan discussions between Democrats and the Treasury Department failing to produce an agreement.
At the current rate of depletion for the Paycheck Protection Program, which was allotted $349 billion by Congress in the $2 trillion stimulus so that businesses could receive roughly two months of relief for operating and payroll costs, funds are expected to run dry on Thursday. As of late Wednesday, more than 1.56 million applicants were approved to receive over $329 billion, leaving less than six percent remaining.
The rapid exhaustion of money came less than two weeks since the program launched, approving more than 14 years' worth of loans in less than 14 days, according to the Small Business Administration.
Republicans and Democrats are proposing dueling emergency spending measures to appropriate more money, leaving them at a stalemate they've yet to overcome.
Senate Minority Leader Chuck Schumer (D-N.Y.) and Treasury Secretary Steven Mnuchin spoke Wednesday morning, while staffers of House Speaker Nancy Pelosi (D-Calif.) and Schumer spoke with Treasury officials Wednesday afternoon in an effort to reach a bipartisan deal. The talks failed to produce a deal.
The discussions with Treasury will continue Thursday, according to senior Democratic aides in both chambers. Republicans blasted Democrats, accusing them of "obstruction" that "will be pink slips and shuttered businesses."
"It has been stunning to watch our Democratic colleagues treat emergency funding for Americans' paychecks like a Republican priority which they need to be goaded into supporting," Senate Majority Leader Mitch McConnell (R-Ky.) and House Minority Leader Kevin McCarthy said in a joint statement. "The notion that crucial help for working people is not appealing enough to Democrats without other additions sends a strange message about their priorities."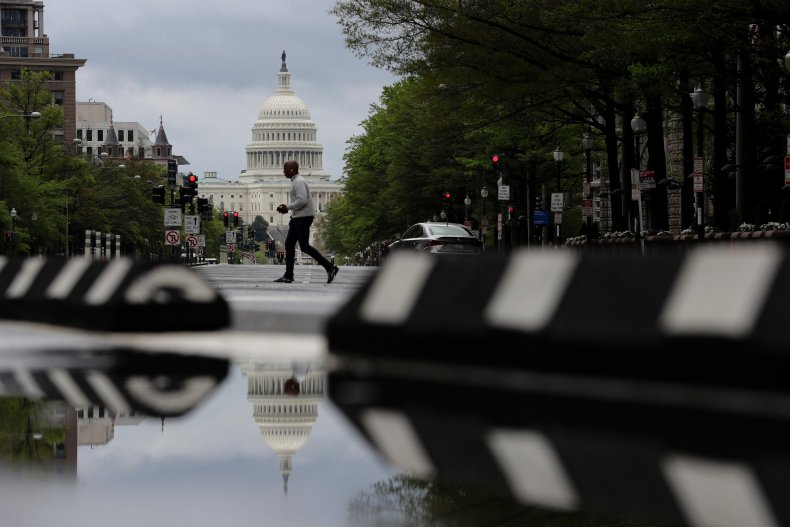 Republicans want to allocate $250 billion more for the small-business relief, no strings attached. Democrats support the additional aid but are demanding that $125 billion of it comes with conditions, such as ensuring it includes community banks so smaller business owners aren't turned away from larger institutions they have no relationship with, as is reportedly occurring. The conditions would also require that portions of the loans go to businesses owned by women, veterans, minorities or farmers.
Pelosi said in a statement that in order for the relief program to "succeed, it must work for everyone." She reiterated that the GOP version would lack support in her chamber.
Democrats also want $100 billion for hospitals and local medical facilities, $150 billion for state and local governments, and a 15 percent increase for food stamp benefits.
On a call with reporters Wednesday, Schumer argued there is "just as much need for" local and state governments, as well as hospitals, to receive more money or else there will be "millions more people" who are out of work. A group of local Democratic leaders from across the country, including city council members and mayors, have pleaded for more help. They've warned that further staff cuts could have to be made.
"Without assistance from the federal government, we will struggle to maintain the vital services that keep our community safe and healthy," the mayor of Dayton, Ohio, Nan Whaley, told reporters on a call Tuesday. She said her city has been forced to furlough 479 employees, or roughly 28 percent of its workforce.
House Majority Leader Steny Hoyer (D-Md.) characterized Democrats' funding requests as "reasonable" and felt his GOP colleagues were more upset by the "process" of the negotiations than the "substance" of the Democrats' proposal.
"I know there are some Republicans who believe the request for states and local and tribal governments is a reasonable one they could support," he told reporters on a call.
Both sides rejected each other's proposals last week in the Senate, and they've so far refused to budge from their positions. Republicans have accused their counterparts of unnecessarily delaying the emergency funding over a desire to give more sectors of the government and economy money from the $2 trillion stimulus legislation that has yet to run out.
Congress could pass legislation by week's end with a handful of lawmakers giving unanimous consent, as members remain in their home districts and won't return to Washington before May 4. Unanimous consent would require no objections. The Senate next convenes on Thursday, and the House will do so Friday.