'Smash Ultimate:' The Hero Could Release This Month
Since its announcement at E3 2019, Super Smash Bros. Ultimate fans are wondering when The Hero from the Dragon Quest series is releasing, but they may have received an inadvertent hint thanks to Nintendo.
A new trailer uploaded Tuesday to Nintendo's YouTube page showcased a few upcoming Switch games with a video titled "Nintendo Switch - Fan-Favorites & Newest Releases - July." However, Nintendo would quickly rename the title to say "Summer" instead.
This has led many Smash Ultimate fans to speculate the protagonist from the Dragon Quest series is going to be released by the end of this month. More evidence to that opinion comes from the other games shown in that trailer.
Season 9 of Fortnite is currently underway and is scheduled to end July 31, while Marvel Ultimate Alliance 3: The Dark Order releases exclusively on Nintendo Switch July 19. Fire Emblem: Three Houses is scheduled to release July 26.
Get your unlimited Newsweek trial >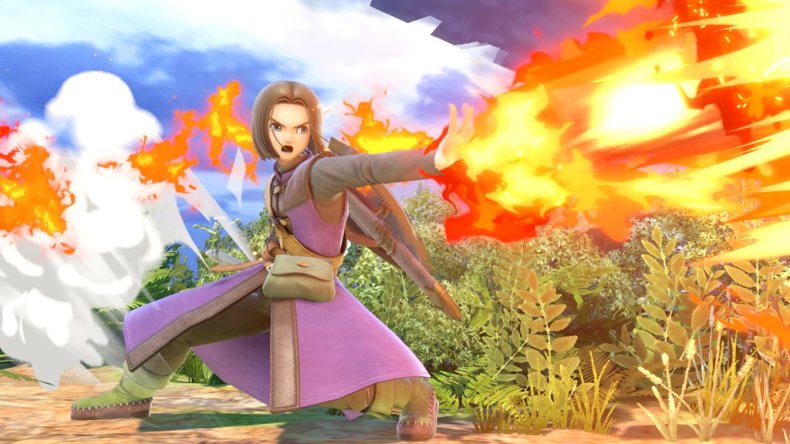 So if The Hero isn't coming to Smash Ultimate in July then it was definitely a mix up from the Nintendo of America team. The switch to a "summer" release could mean that The Hero will release by August 31 or, if Nintendo wants to be cheeky, they can have release The Hero on September 23 - the last day of summer.
The above trailer does show some of The Hero's moves in Smash Ultimate. The Hero can launch an electric attack at his opponent and also use Kacrackle Slash, which seems like a slash attack that freezes enemies.
Get your unlimited Newsweek trial >
We then get a peek at The Hero's Final Smash, summoning protagonists from the other Dragon Quest games for one massive strike.
Joker from Persona 5 was released April 17, a Wednesday. Piranha Plant was released on Tuesday, January 29 so there's no concrete precedent for what day of the week The Hero could join the fight, but fans will want to keep an eye out for Nintendo's social channels for now.
Banjo-Kazooie was also revealed as a Smash Ultimate DLC fighter at E3 2019, but that character won't be released until the fall.
Super Smash Bros. Ultimate is available now for Nintendo Switch. The Fighter's Pass, which includes Joker, The Hero, Banjo-Kazooie and two others DLC characters is available to purchase now. Players can also purchase DLC character individually.
When do you think The Hero will release in Smash Ultimate? Let us know in the comments section below.
'Smash Ultimate:' The Hero Could Release This Month | Gaming