'Smash Ultimate' Minecraft Release Time: When and How to Download Latest Fighter
UPDATE: Version 9.0 is available now. Here's the official patch notes
Original Story
The second DLC fighter for Fighters Pass Vol. 2 is about to drop in Super Smash Bros. Ultimate and this time, it's Minecraft Steve and Alex joining the fight.
One of the most surprising, and polarizing, additions to Nintendo's top fighting game, Minecraft and the accompanying 9.0 update will be coming this week, giving players a new character to play as, new stages and more music to enjoy.
Nintendo confirmed the next update will arrive on Tuesday, October 13, but an exact time for Minecraft Steve to appear in Super Smash Bros. Ultimate was not given. Thanks to past releases, we've figured out when you can start playing as the new fighter.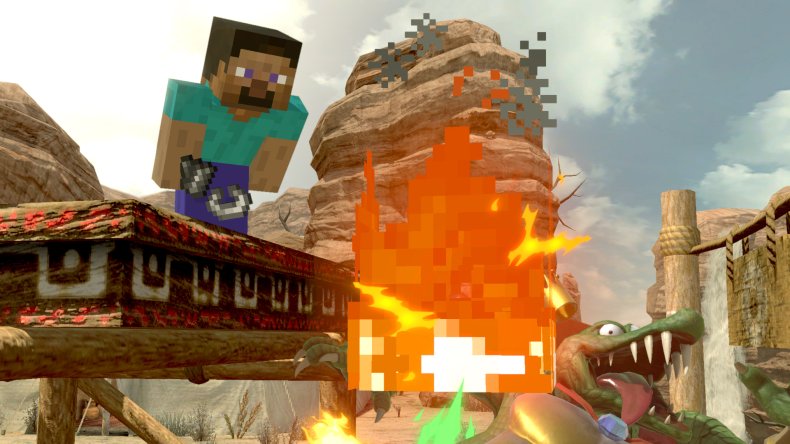 WHEN WILL MINECRAFT STEVE BE AVAILABLE IN SUPER SMASH BROS ULTIMATE?
Minecraft Steve will arrive in Super Smash Bros. Ultimate on Tuesday, October 13, but fans should not expect an early-day release.
Min Min from ARMS! released around 9 p.m. EDT on her release date. Byleth, the protagonist from Fire Emblem: Three Houses, also arrived in Super Smash Bros. Ultimate around 9 p.m. EDT.
It was the same case for Banjo-Kazooie and version 5.0 (8 p.m. EDT), and also the Hero and Joker, with their updates being released around 9 p.m. EDT.
The only outlier was Terry Bogard, who was released shortly after his reveal demo at around 9 a.m. on November 6, 2019.
This would suggest that Minecraft Steve will likely be released between 8 p.m. and 9 p.m. EDT on Tuesday. To further this theory, the official Japanese Nintendo account states that Minecraft Steve will be released in Japan on Wednesday, October 14.
With Minecraft Steve being a global release, an approximate 9 p.m. EDT release on October 13 would put it at 10 a.m., October 14, in Japan.
HOW TO DOWNLOAD MINECRAFT STEVE IN SUPER SMASH BROS. ULTIMATE
Players who wish to purchase Minecraft Steve can do so separately or as part of the Fighters Pass 2 bundle. Go to the Nintendo eShop and search "minecraft" or "fighters pass." There, you can sort the results by Downloadable Content, which will put the latest DLC at the top of the list.
Gamers don't normally have to look hard for new releases, as Nintendo does a good job of posting them on the front page of the eShop.
Alone, Minecraft Steve costs $5.99, and purchasing the Super Smash Bros. Ultimate Fighters Pass 2 will cost players $29.99. The Fighters Pass 2 includes Min Min, Minecraft Steve and four other unannounced fighters.
Minecraft Steve's release will also come with a new stage and music from the Minecraft series.
Super Smash Bros. Ultimate is available now for Nintendo Switch.