Next 'Smash Ultimate' Fighter to Be Announced Tomorrow—Here's How to Watch
It's been a little over three months since Min Min from ARMS! was added to Super Smash Bros. Ultimate and Nintendo is ready to reveal its next fighter.
On Wednesday, Nintendo took to its various social media accounts to announce a special livestream with Super Smash Bros. Ultimate director Masahiro Sakurai will happen Thursday morning.
This online presentation will reveal the new Super Smash Bros. Ultimate fighter with a special message from the director.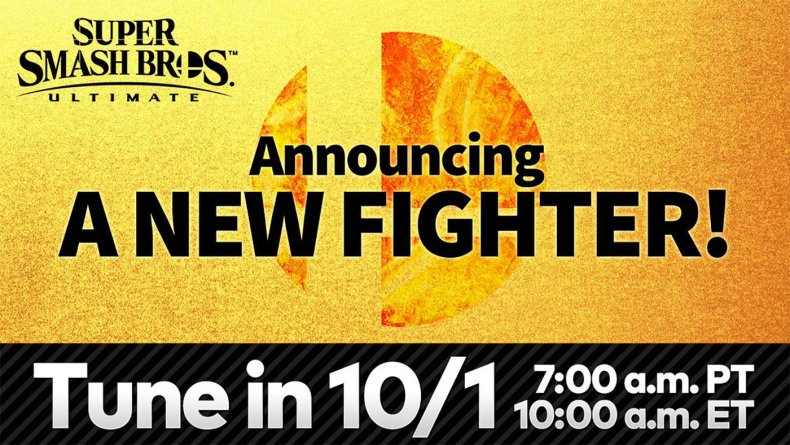 HOW TO WATCH SUPER SMASH BROS ULTIMATE STREAM
The latest Super Smash Bros. Ultimate stream will go live Thursday, October 1 starting at 10 a.m. EDT. Nintendo confirmed the online presentation will be approximately three minutes long.
This presentation will likely include the reveal trailer with brief gameplay of the new character. A message from Sakurai will accompany the trailer as he will likely explain why this character was chosen for Smash Ultimate. Fans will likely get a release date for this new character as well.
You can watch the presentation below.
There are plenty of rumors and fan speculation as to who this new fighter might be. Characters like Waluigi and Geno from Super Mario RPG are staple fan requests while rumors of the main character of the Doom series, Dante from Devil May Cry, and Crash Bandicoot joining the fight are constantly heard.
With Min Min being a first-party character, we are leaning toward a third-party fighter joining Super Smash Bros. Ultimate, but we'll just have to wait and see.
Super Smash Bros. Ultimate released for Nintendo Switch back in December 2019 with the largest roster of any of the game's previous installments. Bolstering over 60 characters, Super Smash Bros. Ultimate has a character from every genre of game across video game history.
After its initial release, Super Smash Bros. Ultimate has had a number of DLC fighters added. Piranha Plant was the first, which was offered for free to those who bought the game early.
However, more fighters would come in Fighters Pass 1. These fighters included: Joker from Persona 5, Hero from the Dragon Quest series, Banjo & Kazooie, Terry Bogard from King of Fighters, and Byleth from Fire Emblem: Three Houses.
Shortly before the final DLC character was revealed, Nintendo announced Fighters Pass 2 with six more characters joining the fight. The aforementioned Min Min was the first fighter for this pass with Thursday's announcement being the second.
Super Smash Bros. Ultimate is available now for Nintendo Switch.
What's your guess for who will be the next Smash Ultimate fighter? Let us know in the comments section.