'Smash Ultimate' Pyra/Mythra Stream: Start Time, Release Date and How to Watch
The next DLC fighter for Super Smash Bros. Ultimate is Pyra and Mythra from Xenoblade Chronicles 2.
Fans of Nintendo's popular fighting game were surprised at the addition when it was revealed during a February Nintendo Direct, and while they received a glimpse at what Pyra and Mythra can do, director Masahiro Sakurai is ready to go in-depth with the new fighters.
In a special stream similar to what Sakurai has done with past DLC fighters, fans will be able to learn how Pyra and Mythra fight in Super Smash Bros. Ultimate as well as learn what's to come when the fighters are dropped.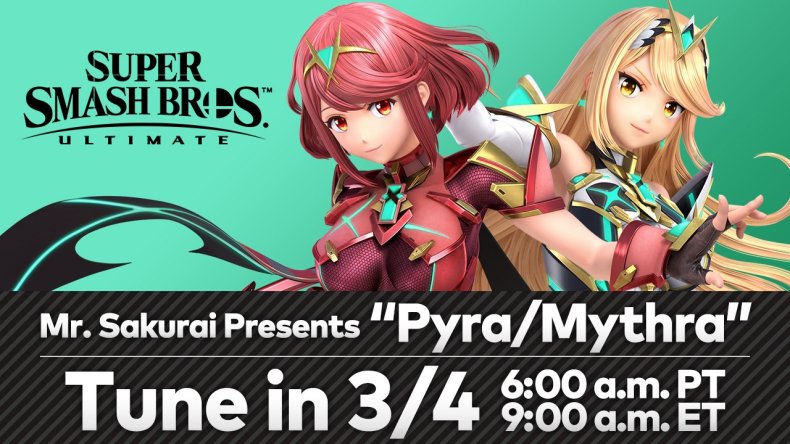 PYRA/MYTHRA SMASH ULTIMATE DEMO START TIME
The Super Smash Bros. Ultimate stream featuring Pyra and Mythra will start Thursday, March 4, at 9 a.m. EDT.
HOW TO WATCH PYRA/MYTHRA SMASH ULTIMATE DEMO ONLINE
As with all of Nintendo's online presentations, fans can catch the entire stream of Pyra and Myhra's Super Smash Bros. Ultimate demo on the company's various social media platforms.
The YouTube stream has yet to go live, but the video is up on the official Nintendo YouTube page. You can watch the stream below when it goes live Thursday morning.
Nintendo's Twitch channel will also stream the latest gameplay in Super Smash Bros. Ultimate.
If you're unable to watch either, you can follow Nintendo's Twitter and Facebook accounts to get up-to-date information on the stream during and after its completion.
WHAT TO EXPECT
These special demo streams are used to get fans excited for the new DLC character. Sakurai will give background information on some of the decisions behind how the fighter plays, and may even give a reason why Pyra and Mythra were chosen in the first place.
Nintendo has confirmed that the release date for Pyra and Mythra in Super Smash Bros. Ultimate will be revealed during the stream. With the stream being early in the morning in the states, there's a good chance the characters will release later in the day on Thursday.
Alongside a guided demo of how the new characters fight, Sakurai will explain how the new stage, which will be based on a location from Xenoblade Chronicles 2, will work, as well as any new Mii Fighter costumes that can be purchased separately.
Nintendo confirmed the stream will last around 35 minutes and will include no other fighter announcements.
Are you excited for the release of Pyra/Mythra in Super Smash Bros. Ultimate? Let us know in the comments section.