Can You Pass The Smell Test? U.S. Military Base in South Korea Tests Visitors for COVID-19 With Apple Vinegar Screening
Military personnel are now asking people entering the U.S. Army Garrison Daegu, in South Korea, to sniff apple vinegar.
The purpose of the exercise is to identify people who might be carrying the new coronavirus as evidence suggesting losing the sense of smell is a common symptom of the disease.
"At Gate 4 Camp Walker today, we conducted random smell testing on personnel coming onto the installation using a new method of delivering—cotton swabs that are handed to each individual and immediately disposed of after testing," U.S.A.G. Daego announced on the Garrison's Facebook page. "The primary symptom for about 30 percent of patients with mild cases of COVID-19 is a loss of smell known as anosmia, recent studies show, and 66 percent of COVID-19 patients suffer from anosmia."
A spokesperson from the U.S. Forces Korea (U.S.F.K.) told Newsweek the testing began on April 3. The procedure is being carried out at one gate in Camps Carroll, Walker, and Henry but was reduced to Camp Walker over the weekend. The process will resume in Carrol and Henry Monday afternoon.
A U.S.F.K. spokesperson told Newsweek, "The smell test is an additional measure we have added to an already robust gate assessment procedure at our installations, which includes touch-less temperature checks and an assessment questionnaire that is constantly updated with current, applicable questions. For example, currently we ask if they've been following our Health Protection Condition directives, been exposed to someone who has tested positive for COVID-19, and if they feel sick."
Newsweek was told the smell test is a local initiative and it is unknown if other Garrisons will adopt a similar policy.
The U.S. Centers for Disease Control and Prevention (CDC) lists fever, dry cough, and shortness of breath as symptoms for COVID-19. A non-exhaustive list of emergency warning signs includes trouble breathing, persistent pain or pressure in the chest, new confusion or inability to arouse, and bluish lips or face. Patients who experience these symptoms are encouraged to seek medical attention immediately.
However, new research suggests losing your sense of smell (anosmia) may be another symptom.
According to The British Association of Otorhinolaryngology (ENT UK), around 30 percent of people who tested positive for the virus in South Korea, where large-scale testing has been implemented, experienced anosmia as their main presenting symptom in cases that were otherwise mild.
Last week, a preliminary study from researchers at King's College London (KCL) in the U.K. again found the loss of taste and smell may be a strong predictor for the virus. The paper, which has yet to be peer-reviewed and as such, has not been independently verified by a group of experts, found that 59 percent of 579 people testing positive for COVID-19 lost their sense of smell and taste.
Principal investigator Tim Spector, professor of genetic epidemiology at KCL, previously told Newsweek, the loss of smell and taste was a "common" symptom of COVID-19—and more strongly associated with the virus than fever.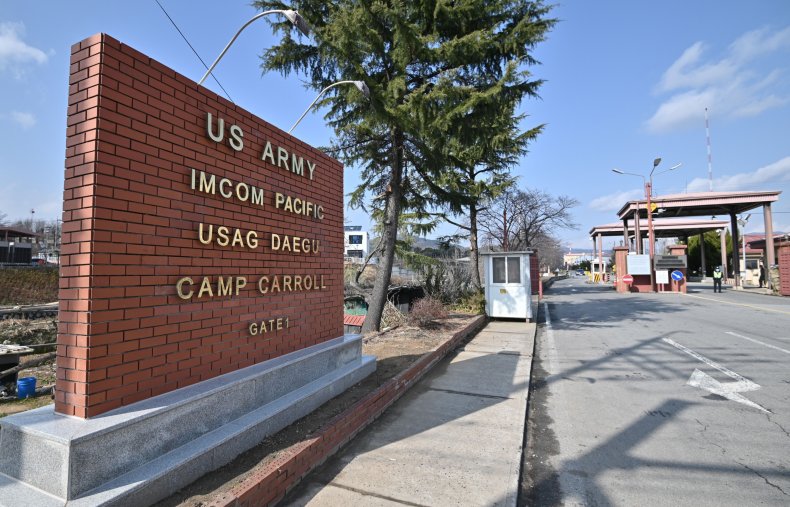 According to the Army Times, more than a dozen personnel with the U.S.F.K. have tested positive for COVID-19. The most recently diagnosed is a U.S.F.K. contractor who worked at Camp Humphreys, who tested positive on April 5. According to U.S.F.K. the patient—a U.S. citizen—has been in self-quarantine since April 1.
"Our number one priority is to protect the life, health and safety of our community members," a USFK spokesperson told Newsweek.
South Korea, once an epicenter for the virus, is being hailed a success story. The spread of the disease has slowed dramatically and as of Wednesday, more than half of those infected have recovered—a situation that has been credited to a combination of rigorous testing and thorough contact tracing.
In contrast, the number of cases in the U.S. has soared in recent weeks. According the CDC, there have been 277,205 confirmed cases and 6,593 COVID-related deaths as of April 4, 2020.
The below graph, from Statista, shows the number of confirmed COVID-19 cases by country as of April 3, 2020 6:00 a.m. EST.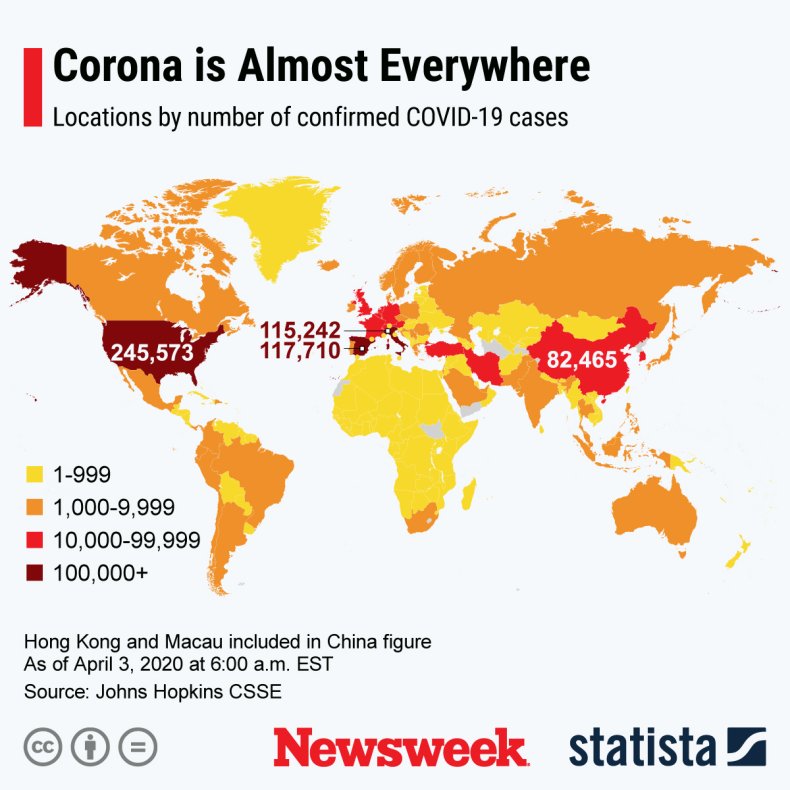 World Health Organization advice for avoiding spread of coronavirus disease (COVID-19)
Hygiene advice
Clean hands frequently with soap and water, or alcohol-based hand rub.
Wash hands after coughing or sneezing; when caring for the sick; before, during and after food preparation; before eating; after using the toilet; when hands are visibly dirty; and after handling animals or waste.
Maintain at least 1 meter (3 feet) distance from anyone who is coughing or sneezing.
Avoid touching your hands, nose and mouth. Do not spit in public.
Cover your mouth and nose with a tissue or bent elbow when coughing or sneezing. Discard the tissue immediately and clean your hands.
Medical advice
Avoid close contact with others if you have any symptoms.
Stay at home if you feel unwell, even with mild symptoms such as headache and runny nose, to avoid potential spread of the disease to medical facilities and other people.
If you develop serious symptoms (fever, cough, difficulty breathing) seek medical care early and contact local health authorities in advance.
Note any recent contact with others and travel details to provide to authorities who can trace and prevent spread of the disease.
Stay up to date on COVID-19 developments issued by health authorities and follow their guidance.
Mask and glove usage
Healthy individuals only need to wear a mask if taking care of a sick person.
Wear a mask if you are coughing or sneezing.
Masks are effective when used in combination with frequent hand cleaning.
Do not touch the mask while wearing it. Clean hands if you touch the mask.
Learn how to properly put on, remove and dispose of masks. Clean hands after disposing of the mask.
Do not reuse single-use masks.
Regularly washing bare hands is more effective against catching COVID-19 than wearing rubber gloves.
The COVID-19 virus can still be picked up on rubber gloves and transmitted by touching your face.