Adults under 45 who have recently smoked cannabis seem to be twice as likely to suffer from heart attacks, or myocardial infarction, than those who did not according to a study.
Smoking in the past 30 days was defined as recent use in the study. The link appeared to be stronger in heavy users, who had used the drug more than 4 times during the past 30 days.
With cannabis use on the rise, thanks in part to the pandemic, and legalization across the U.S continuing, its potential health risks have become an important area of research, the authors of the study published in the Canadian Medical Association Journal said.
"With recent legalization and decriminalization, cannabis use is increasing in young adults in North America, and we do not fully know its effects on cardiovascular health," co-author Dr. Karim Ladha, a clinician-scientist and staff anesthesiologist at Unity Health Toronto, Canada, said in a press release. "We found an association between recent cannabis use and myocardial infarction, which persisted across an array of robust sensitivity analyses."
The researchers behind the study also discovered that consuming cannabis in other ways was also linked to an elevated risk of heart attacks.
"Additionally, this association was consistent across different forms of cannabis consumption, including smoking, vaporization, and other methods such as edibles," said Ladha. "This suggests that no method of consumption is safer than another in this regard."
Ladha and his team examined survey data collected by the U.S Centers for Disease Control and Prevention, which included over 33,000 adults between the ages of 18 and 44. Of this sample, 17 percent reported using cannabis in the preceding 30 days.
Of these 4,610 cannabis users, 61 or 1.3 percent had suffered heart attacks. This was in contrast to 240 of 28,563 non-cannabis users who had heart attacks, or 0.8 percent.
The survey data also showed that cannabis users were more likely to be male, tobacco smokers, users of e-vapes, and heavy drinkers. There are all factors that could have contributed to their risk of heart attack, the study points out, though the authors did adjust for these other risk factors.
Also, because this is a purely observational study the authors did not attempt to posit a biological mechanism that could be causing heavy cannabis users to suffer heart attacks at a more frequent rate.
Ladha told Newsweek that while observational studies have their flaws and limitations a randomized control trial, where researchers give people cannabis and then see the difference in heart attacks, would not be ethical.
The researcher said that means all researchers have to show the possible connection is observational studies, adding that the risk of heart attack from cannabis use is still quite low.
In the conclusion of the paper, the authors point to the large sample sizes used to draw this potential link, adding that further research is needed before a causal link between cannabis use in young adults and heart attacks can be confirmed.
"The large sample size, generalizability, and detailed data on cannabis consumption of this cross-sectional study provide unique insight into this growing public health concern," the authors conclude. "Further studies and more data are needed to confirm these findings and elucidate the mechanisms contributing to cannabis-associated cardiovascular outcomes."
Nikhil Mistry, a Ph.D. candidate at the University of Toronto and a co-author on the paper, said in the press release: "As a young adult, it is important to be aware of the risks associated with cannabis use, especially in the current climate where we are exposed to a wealth of misinformation and non–evidence-based health recommendations."
Dr. David Mazer, a co-author and clinician-scientist at Unity Health Toronto, said in the press release the study suggests that both young adults and physicians should be aware of this potential relationship and consider a cardiovascular risk assessment when making decisions about cannabis consumption.
"Health care providers need to be aware that there may be cardiovascular risks or other risks with cannabis, there clearly are benefits. That's why some jurisdictions have legalized them," he told Newsweek. "So it's a matter of having a better understanding of risks and the benefits of cannabis before deciding to either prescribe it or use it."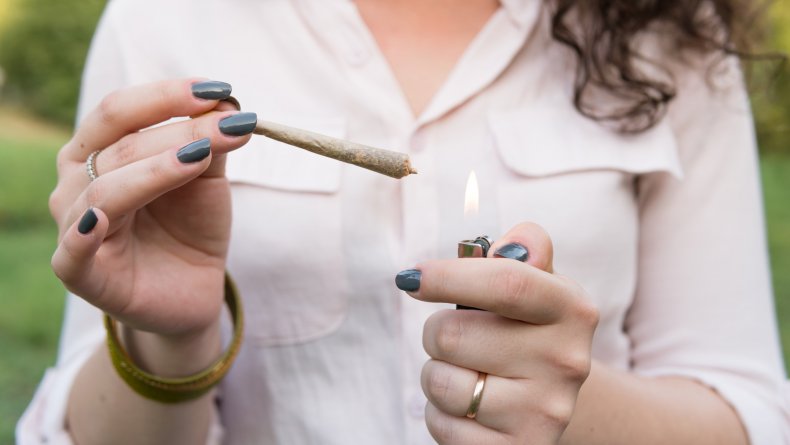 Uncommon Knowledge
Newsweek is committed to challenging conventional wisdom and finding connections in the search for common ground.
Newsweek is committed to challenging conventional wisdom and finding connections in the search for common ground.