'Snake Emergency' as Yosemite Hikers Airlifted to Safety Amid Surge in Rattlesnake Bites
Two walkers who suffered snake bites while hiking in Yosemite National Park had to be airlifted to safety, prompting authorities to warn of a rise in rattlesnake attacks.
In the first incident, an unidentified man in his mid-30s was bitten by a rattlesnake while fishing barefoot.
He stepped onto a rock, causing it to shift under his weight before a rattlesnake appeared and bit him on his left foot.
The backpacker's wife, who was with him at the time, set off to find help, leaving the man near the scene of the bite in the Grand Canyon of the Tuolumne, as he was too unwell to walk.
A report of the 27 August incident by the National Parks Service (NPS) said the woman hiked through the night—only taking a short nap when she was "overcome by fatigue"—before she eventually found another backpacker who used a satellite messaging device to alert the search and rescue team to a "snake emergency."
The victim was airlifted to hospital where he received two doses of anti-venom.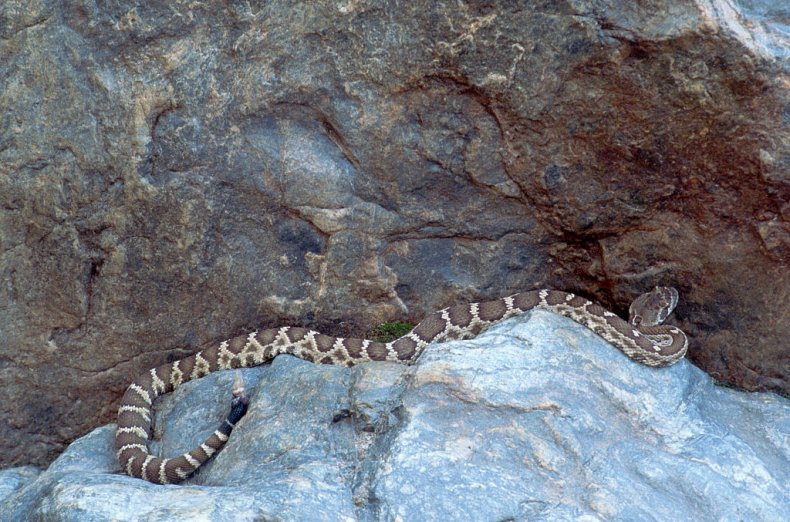 In a second attack days later, another hiker suffered a suspected rattlesnake bite to his left knee.
"After he realized he had been bit, the subject saw the snake, including a rattle on its tail, making its way on and off the trail and heading downhill towards his hiking companions," the NPS account of the incident said.
"The fellow hikers backed up until the snake left the area, and then approached the subject. They helped him hop to a flat place to sit down; another hiker reached the scene, had cell service, and called 911."
On being rescued, the victim was described as looking pale, sweating, with low blood pressure and a fast heart rate. He was also said to have felt dizzy and nauseous.
He was transferred directly to an air ambulance, where he was treated for dehydration, nausea and pain.
After receiving four doses of anti-venom, the swelling in his leg worsened, but he was expected to be discharged from hospital.
In a warning to hikers considering walking in Yosemite, the NPS said they had witnessed a "noticeable uptick in rattlesnake bites" in the region this summer and urged those who encountered a snake to heed guidance, including:
Keeping a distance as rattlesnakes are only able to strike a distance of half their length.
Watching where you step or reach with your hand.
Standing still if you think you hear a snake and moving away as soon as it is located.
If bitten, don't apply a tourniquet, don't apply ice to the wound and don't attempt to suck the venom out of the wound.