A snake had to be pulled from inside a toilet at an office in Australia after it followed a frog into the restroom.
Drew Godfrey, from the Hervey Bay Snake Catchers, was called to a business on an industrial estate in the Fraser Coast region of Queensland after workers there spotted a snake in the toilet bowl, 9News reports.
In a Facebook post, Godfrey shared pictures and footage of the snake being removed from the bowl.
"Thankfully this doesn't happen very often," he told Newsweek. "It's something every snake catcher can expect at some stage in their career but more often than not they'll be behind a toilet or just in a toilet block rather than down the bowl."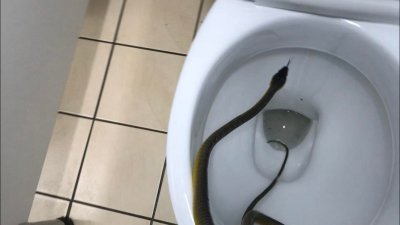 Green tree snakes, Dendrelaphis punctulatus, are found across Australia's northern and eastern coasts. They are a medium-sized, slender species, growing to around five feet in length. They are non-venomous and do not constrict their prey. Instead, they use their speed, agility and sharp teeth to catch and consume frogs, lizards, tadpoles and small mammals.
"It would have gone [into the toilet bowl] to eat green tree frogs which are commonly found in Queensland toilets," Godfrey said. "There was a frog in the office also so it must have escaped the snake!"
In the video, Godfrey can be seen pulling the snake out as it tried to go further into the toilet. "I was hoping it had come all the way out and was just inside the room but it's sense of humor is uncanny to my own and I not only had to stick my hand in the bowl but in the actual water," he wrote in a Facebook post.
"It was trying to get back up the S bend. Luckily, he was no match for my quick thinking and total disregard for personal hygiene! Some people wonder why we charge money, well besides the obvious reasons like food and a mortgage isn't free, this is a bloody good example."
Queensland has been hit with severe floods over recent weeks. There are currently major flood warnings issued for several parts of the state. Flooding has led to a spike in call outs for rodents, pests and snakes, with wildlife seeking out safer, drier areas, ABC News reported.
At the end of February, footage emerged showing a snake in floodwater with a mouse and a frog clinging to its back. The video, posted to TikTok, was captioned "only in Australia."