When Is Snapchat's 'Marry Me' Virtual Concert? Date, Time and How To Watch J.Lo's Event
Jennifer Lopez and Colombian pop singer Maluma will soon be teaming up for a virtual concert, as a promotion for their film, Marry Me.
The pair are co-stars in the upcoming romantic comedy, which revolves heavily around the music industry and features a line-up of original songs.
It tells the story of pop superstar Katalina Valdez (J.Lo), who realizes that her on-stage collaborator and off-stage lover Bastian (Maluma) is having an affair. Emotionally devastated by this turn of events, Kat impulsively decides to marry a stranger (played by Owen Wilson) who is attending one of her concerts.
While the premise might seem relatively by-the-numbers, the central hook is obviously meant to the be the star power behind it, as well as the much-hyped soundtrack. J.Lo's last studio album was A.K.A released back in 2014, so fans of the artist are naturally craving new material from her.
Meanwhile, Colombian artist Maluma (born Juan Luis Londoño Arias) has a wealth of billboard Hot 100 hits, and recently had cinematic success when he lent his voice to one of the ensemble numbers in Encanto.
While Marry Me itself is not streaming on Peacock until February 11 (to coincide with Valentine's Day), you will be able to listen to some of its music early thanks to an imminent Snapchat virtual concert.
'Marry Me' Virtual Concert: Date and Start Time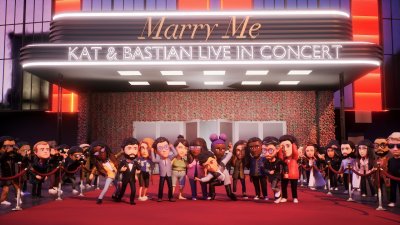 Marry Me's distributor, Universal Pictures, has teamed up with Snap Inc. for a free metaverse show.
Here, Jennifer Lopez and Maluma will appear as digitized versions of their characters from the movie (which look a little like Roblox avatars) and perform their new songs from its soundtrack.
Unlike many virtual concerts, this will not be hosted in Fortnite or another live service video game but has instead been developed by a company known as Oz, that specialize in this particular type of interactive experience.
The concert will begin at 8 p.m. ET on Thursday, February 3. For those in other time zones, this translates to 5 p.m. PST, or the less ideal slot of 1 a.m. GMT on February 4.
How To Watch the J.Lo and Maluma Virtual Concert
There are two ways you can attend the Marry Me promotional concert.
The most straightforward method is to head over to the event's designated webpage when it's ready to start. Anyone can do this, and you don't need to register with any accounts.
To get the most out of the show and enjoy all of its features though, you might want to log-in with your Snapchat profile instead.
Doing so will reserve a spot for your Bitmoji avatar and will also let you interact with other members of the crowd in a metaverse experience. For instance, Snapchat users will be able to wave, release virtual doves into the arena, witness stage effects, dance and blow bubbles.
The link for attending the concert via Snapchat can be found here. For the optimal experience, the website recommends that you use the cell phone app, rather than your browser.
Marry Me will be added to Peacock on Friday, February 11. Its soundtrack album is released on Friday, February 4, the day after the virtual concert.