Baldwin's Trump Leads All-Star Cast in Hallelujah Rendition for SNL Season Finale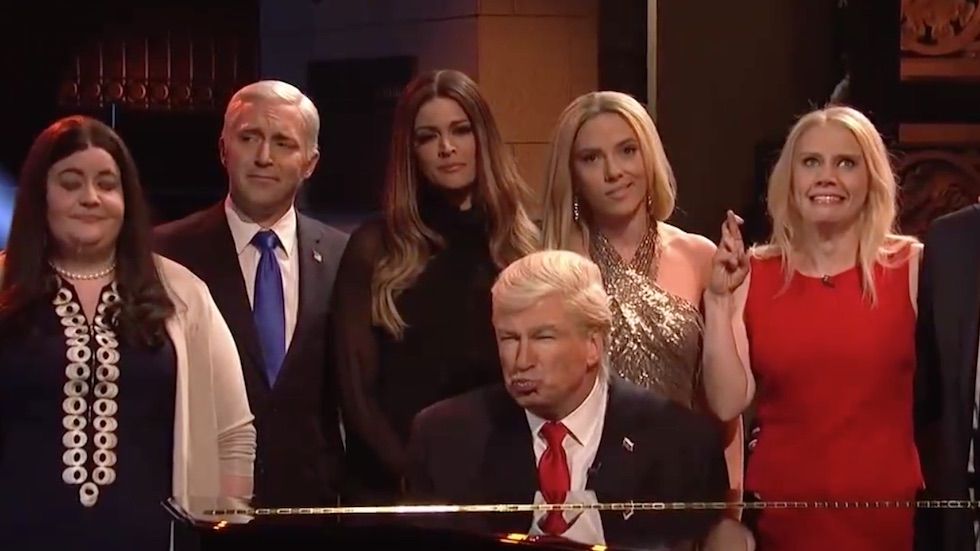 A cold open to the SNL season finale on Saturday saw Alec Baldwin's Donald Trump leading a rendition of Leonard Cohen's Hallelujah, joined by Kate McKinnon's Kellyanne Conway, Beck Bennett's Mike Pence, and Scarlett Johansson as Ivanka Trump.
The teaser capped a week of turmoil at the White House and alluded to McKinnon's November 13 rendition of the song as a defeated Hillary Clinton, following the Democrats' shock loss to Trump in the 2016 election campaign.
"I'm not giving up because I didn't do anything wrong," Baldwin's Trump said at the end of the song, riffing off McKinnon's lines playing Clinton back in November. In a rare moment of seriousness in the show, McKinnon ended her November rendition by turning to face the camera with the words, "I'm not giving up, and neither should you."
The season finale follows rumors that Baldwin is planning to retire his Trump impersonation. In April, the actor said that he thought people would no longer "be in the mood" to laugh about Trump in September.
Trump has criticized the show as "mean spirited" and "biased."
The show's political theme continued with a joke alluding to reports that Trump is plotting a major shake-up of his White House team.
"But I can't speak for any of these people," Baldwin's Trump lamented, echoing Trump's own words.
After being inducted into the Five Timers Club for five-time show hosts by Baldwin, Dwayne 'The Rock' Johnson referenced a recent poll that indicated he would beat Trump if he ran against him in 2020.
"I want to put this to rest and just say once and for all — I'm in," said Johnson, before introducing his "running mate" – fellow Five Timer and season finale guest Tom Hanks.
"No one can seem to agree on anything anymore, except two things," Hanks said.
"Pizza and us," quipped Johnson.