SNL Mocks Judge Bruce Schroeder in Skit Calling Kyle Rittenhouse His 'Client'
Saturday Night Live tackled Kyle Rittenhouse's acquittal in a cold open where the judge referred to the teenager as "my client."
The episode, hosted by Simu Liu, opened with Cecily Strong reprising her role as Fox News host Jeanine Pirro.
Rittenhouse was acquitted on Friday on all charges after he killed two men and wounded a third during protests in August last year. He had gone from his home in Antioch, Illinois, to join other armed civilians on the streets of Kenosha, Wisconsin, after unrest erupted over the shooting of Jacob Blake, a Black man, by a white police officer.
"That lovable scamp was put through a nightmare of a trial just for doing the bravest thing any American can do— protecting an empty used car lot in someone else's town," Strong's Pirro began.
She then introduced Kenosha County Circuit Judge Bruce Schroeder, played by Mikey Day, describing him as "impartial as a dance mom clapping harder than anyone."
Schroeder's actions before and during trial proceedings drew allegations of bias, including for forbidding the use of the word "victim" to describe the men shot by Rittenhouse.
"Now, if I may say, judge to judge, what turned me on the most was how you ruled that courtroom with an iron fist," Strong's Pirro said. "Tell us how you did it."
"Well, it was all standard procedure," Day's Schroeder said. "That's why I ordered the prosecution not to use the word victims. They were rioters. And they weren't shot, they were gadoinked... but that did not give my client an unfair advantage in any way."
Strong's Pirro then interjected to ask: "You said 'my client,' do you mean the defendant?"
"Oooooh, yeah. Sure," he replied. "I keep doing that."
Strong's Pirro replied; "Well, you do you, judge. You do you."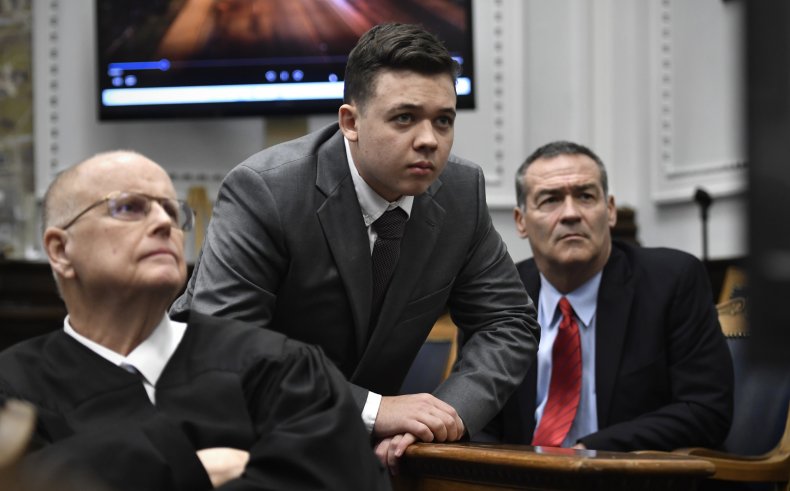 She then went to declare that the "looney liberal outrage machine's in overdrive" over Rittenhouse's acquittal, and brought on a legal analyst for "nasty NPR" and a law professor from Howard University to comment.
Chloe Fineman, a white cast member who played the analyst, said she was "shocked" by the verdict.
"I've never seen anything like it before," she said.
Chris Redd, a Black cast member who played the law professor, disagreed. "I have! Many, many times," he said.
"I mean, this is not who we are," Fineman continued.
"I feel like it kinda is though," Redd responded.
"And all this does is send the message that any American can just prowl the streets with an AK-47," Fineman added.
Redd also queried that statement. "Any American? I think you're missing a key word there," he said.