Saturday Night Live parodied Vice President Mike Pence receiving the COVID-19 vaccine after letting the virus "spread everywhere."
The vice president, along with Second Lady Karen Pence, received the vaccine, developed by Pfizer and BioNTech, live on television on Friday in a bid to promote the safety of the vaccine to Americans.
SNL mocked the moment in last night's cold open, with Pence—the chair of the White House coronavirus task force—portrayed by cast member Beck Bennett.
"I'm sure all Americans are excited to see me, the guy who let COVID spread everywhere, get one of the first vaccines," Bennett's Pence said.
He continued: "Before we begin, I just want reassure the American people that this vaccine is completely safe and harmless. That's why President Trump refuses to take it or talk about it."
Referring to himself as Trump's "human shield," Beckett's Pence later added: "Thank you to all Americans for trusting President Trump with your health. He may not be doing president anymore, but he still cares deeply about not going to prison."
Echoing the real Pence's remark after receiving the vaccine, Beckett's Pence said: "I didn't feel a thing."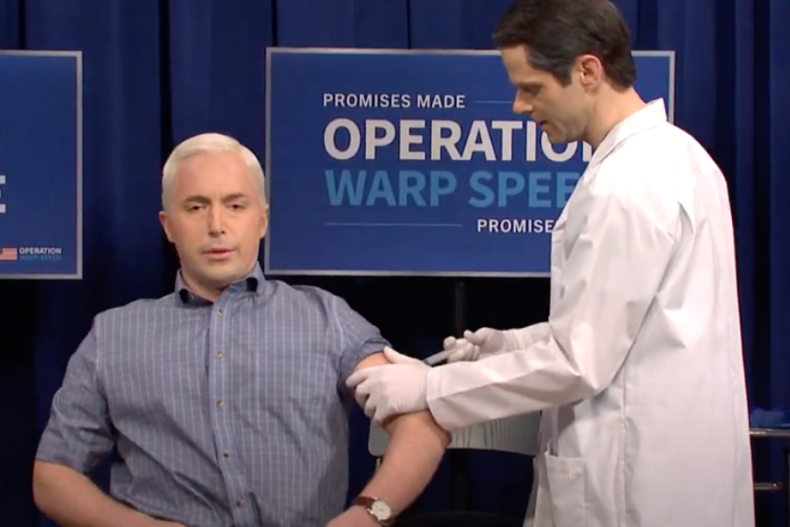 After a doctor, played by Mikey Day, noted that the vaccine was "totally painless," he replied: "No, I meant for the past four years, I haven't felt a thing...just kind of watched the country burn."
Maya Rudolph then appeared, reprising her role as Vice President-elect Kamala Harris.
"How did you even get into the White House?" Beckett's Pence asked her, after quickly trying to cover up his exposed forearms. "I won more votes," she replied.
She was joined moments later by Alex Moffat, replacing Jim Carrey in the role of President-elect Joe Biden, who is seen walking with a cane and wearing an orthopedic boot on one foot.
"You look different somehow," Beckett's Pence noted.
"I'm like Colonel Sanders," Moffat's Biden responds. "Every time you see me, I'm a different guy. There's a good chance that this time next year, I'm going to be Mario Lopez. Now, where the vaccines at?"
When Beckett's Pence notes that Biden was supposed to be getting the vaccine on Monday, he explains that "Kamala wants me to get it over with."
"Well, I'm worried about you Joe," she says. "Especially since you're already in a cast on day minus 40 in office."
After they leave, Beckett's Pence starts addressing American viewers before he is interrupted by Kate McKinnon as Rudy Giuliani, who recently tested positive for COVID-19.
"I hope I'm not too late," McKinnon's Giuliani says. "I heard they were giving out free meds!"