SNL's Cecily Strong Brings 'Intelligent Life' to New York's The Shed
Cecily Strong is perhaps best known for her spot-on impersonations of Jeanine Pirro and Kimberly Guilfoyle—she of the primal scream–level speech at the 2016 Republican National Convention—on Saturday Night Live. She has also garnered much acclaim for playing Melissa Gimble on the Apple TV+ musical comedy parody-homage series Schmigadoon!. Now she is making her New York stage debut at The Shed starring in The Search for Signs of Intelligent Life in the Universe in what looks to be one of the truly exciting events of the theater season.
These are not just characters—there are 11 of them—who have been played by and closely associated with Tomlin, they are characters written for her, by Jane Wagner, Tomlin's longtime partner and wife.
Oddly, there were no big campaigns by Strong to get this job. Like many matches in show business, the casting of Strong was 90 percent talent and 90 percent luck.
The Right Kind of Nuts
She told Newsweek, "I very much sort of lucked into it. But also feel like it's a little bit of kismet. It kind of feels like the most exciting thing I could have been working up to my whole life, but I just got an email over the summer from my agent who was helping to try to set this show up…and they just kind of figured, at least based on my Jeanine Pirro, I think: OK, she can do this. She's the right kind of nuts."
Strong has an extensive background in sketch comedy and acting, which clearly helps, but for her even she feels this is still a stretch. "It's the biggest undertaking I've ever had in my life. I feel like I've really worked my brain harder than I ever have before. I decided that that would be a good idea, too. It's a real challenge, but also an honor; and it's an honor to get to have the challenge."
The Search for Signs of Intelligent Life is a 90-minute series of character sketches on, among other things art, humanity and feminism. It played it on Broadway in the 1985–1986 and again in 2000–2001 seasons, and a movie version was made in 1991. "I've seen the movie now a lot," Strong told Newsweek. "But I'm so jealous. I didn't get to see the live performance. But I get to do it now."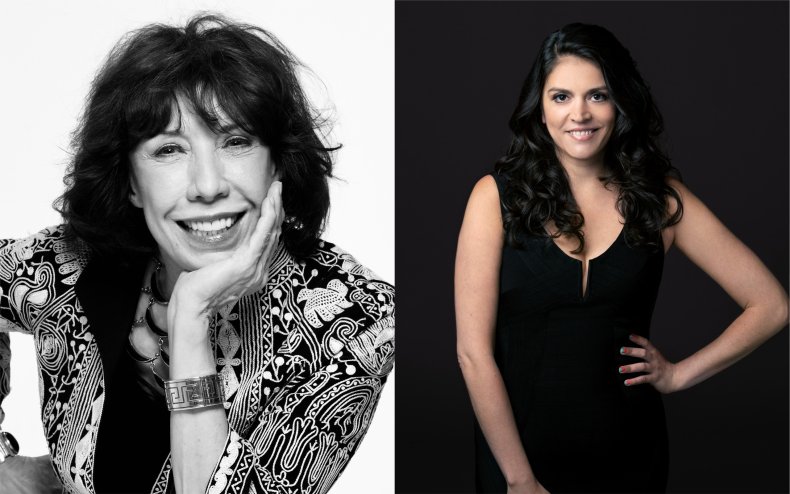 A lot of that is due to her director, Leigh Silverman, about whom Strong is nothing short of effusive: "Leigh Silverman is amazing, I cannot say enough. She's the reason we're all doing this show. She's the reason Jane and Lily are letting us do the show, giving us their blessing and helping. It's all because of Leigh explaining why this is the show for her, and how she saw it when she was 11. She's made sure we have an all-female design team. It's just inspiring."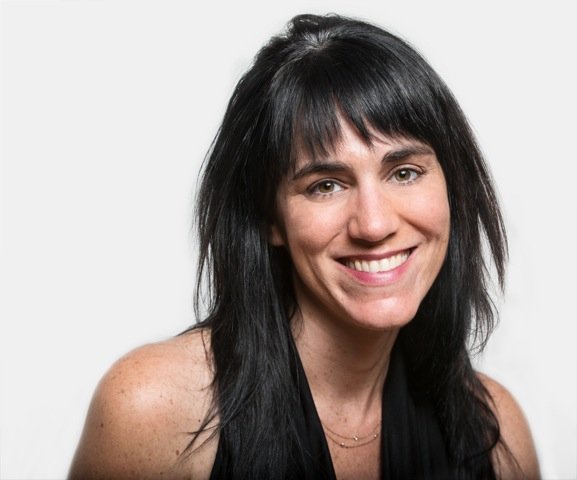 Leigh Silverman, director of "The Search for Signs of Intelligent Life in the Universe," knows how to make a funny line land.
On top of that, Silverman has a great track record of directing comedy, as evidenced by her work in Bess Wohl's Grand Horizons on Broadway in 2020. Strong told Newsweek that Silverman knows how and when to make a joke land. "She's very good big picture and small picture: 'This is what we want to do, but let's speed that line up because let's get to the joke.'"
Some actors prefer to not see another actor's performance, especially one where the role(s) and are so linked. Strong, however, has had no problems watching Tomlin's perform this show on film. "I can't do something unless it's me doing it anyway. I can't really imitate someone else's performance."
She did, however, admit to a little bit of fan girl behavior: "I learned her sign language in Nashville because I thought it was so beautiful." Strong said that she has never told this to Tomlin. I assured Strong her secret was safe with me.
In addition, Strong told Newsweek that she is awed by Tomlin's work in the movie Nashville: "This is someone known for comedy and doing these big, giant great incredible performances, and this bombastic comedy, and that she could do something like [Linnea Reese in Nashville]. Intimate and smaller, but beautiful. She is such an incredible performer."
Daily Updates
While the show was written for Tomlin, it has been adjusted somewhat for Strong. She told Newsweek that "Jane is such a prolific writer and she would write a whole new show today. She probably would throw new lines at us all the time." She laughed and said, "I remember thinking at one point: OK, well, the first preview is in two weeks, so let's lock it in. My brain is really doing its best here without throwing more things at it."
When asked how things have changed Strong told Newsweek, "It's been updated, but in a lot of ways it's the same. I think there'll be a lot of things that people who saw the original will remember, but it also still feels like a new thing that was written this year, even yesterday. And it's full of surprises for the audience."
Strong's professional background is largely in sketch comedy, but her roots in theater go way back—way, way back. She told Newsweek, "I think I took my first drama class when I was 3 or something, and I did community theater when I was 8 and then I did theater in Chicago—non-Equity and Equity starting around 11. Then I got my BFA in theater from [California Institute of the Arts]. It wasn't until after college that I really started diving into improv and sketch. So I've probably done theater—I forget how old I am [She's 37, at least according to Wikipedia]—much longer [than sketch comedy]."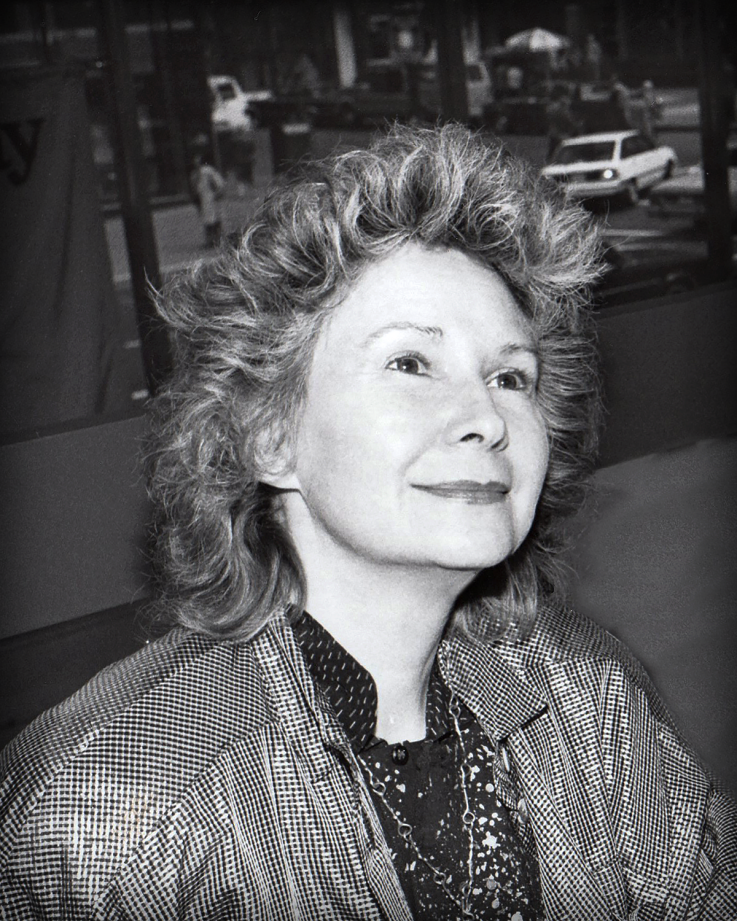 Jane Wagner, a prolific writer, was constantly rewriting and updating "The Search for Signs of Intelligent Life in the Universe." starring Cecily Strong.
While one might think her sketch and theater background would help prepare Strong for this, but she said, "This feels different from theater that I've done, especially with the one-woman aspect and the fact that I'm playing so many different characters. I'm playing characters who are talking to each other. And there is the geography of a character: where I'm looking, the specificity of movements that are attached to sounds. It's like I've never done anything like this.
"I kind of went into sketch comedy because I liked character work as opposed to the other way around. I came from being a theater performer who liked doing comedy. I liked doing all theater really, but I was really good at making people laugh, I think, and making myself laugh."
Strong feels that most of the really rich acting roles for women are in comedy, and especially so in The Search for Signs of Intelligent Life: "There's nothing like this show, where I get to play men and women and ages 14 to however old." Strong estimates that she plays 11 characters, but she says actually it's tough to pin that number down as "there are other characters that I'm talking to and responding to. So I'm hearing them, but I'm not playing them necessarily. What feels very nice [about this play] is that I'm sharing something that feels a bit magical."
Her main character is "working with sort of a chart to figure out to humanity…like understanding how we are human. It's about a lot of people searching for not just intelligent life, but for meaning in our own lives. And then maybe reaching the point where it's like, maybe there is no meaning. It's about things in between. Enjoy what it means to not have meaning and enjoying mystery. And finding connections and other things."
All that however, is the small picture for Strong. Being in this show "is just a very special moment. And right now being together theater, especially in New York. I fully believe in the safety measures being taken at The Shed because I'm a very anxious person. And it's an even greater honor to be together in this moment. I get to share this play. We get to connect with each other—a group of strangers in the dark."
And of course there is the matter of staying healthy and she is all in on doing whatever it takes to make The Search for Signs of Intelligent Life happen.
"I'm trying—come hell or high water—to be safe. I'm really being a very bad friend and family member—to make it happen I'm really trying. I just don't know what's gonna happen. I wonder if I'll just get one show. I wonder if I'll only get to perform for two people. So, I'm still going day to day and enjoying that as much as I can."
The Search for Signs of Intelligent Life in the Universe is playing at The Shed in New York through February 6. For more information and tickets go to TheShed.org.