Snoop Dogg Can't Believe Don Rickles Never Smoked Weed in AARP's 'Dinner with Don'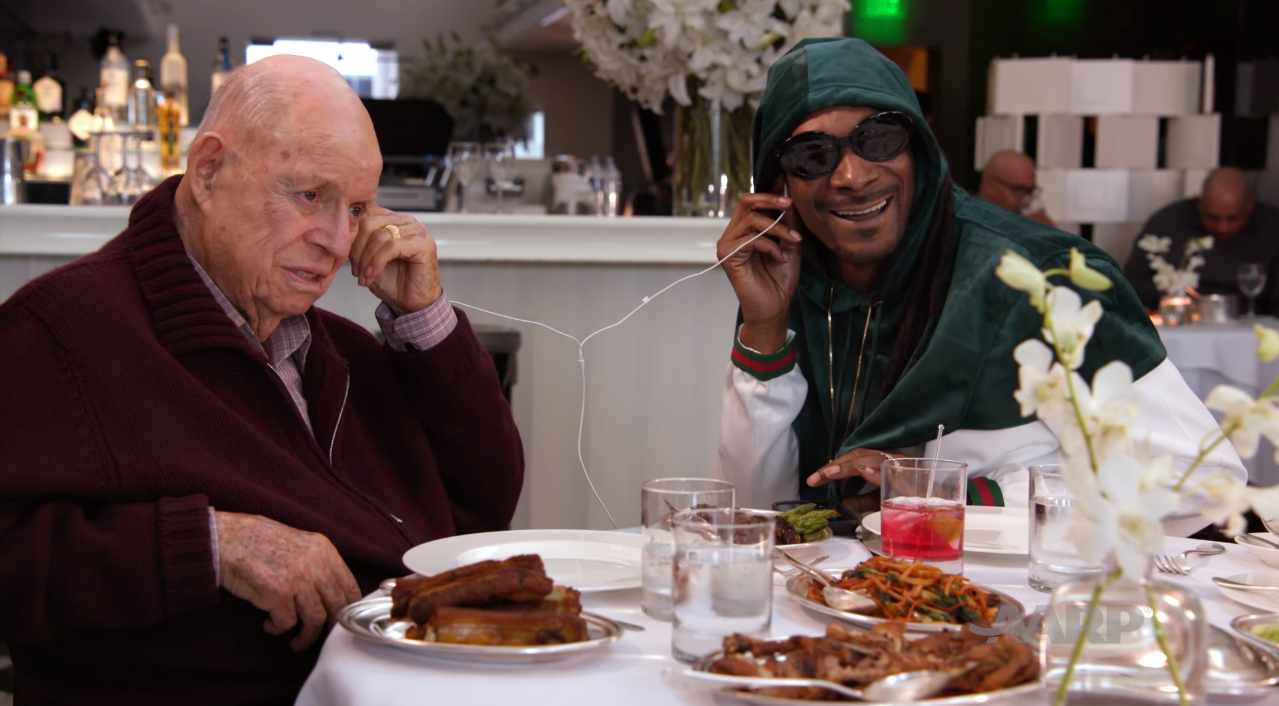 The world lost Don Rickles earlier this year, but the legendary comedian still has a few gifts left to give. Namely, Rickles's web series with AARP Studios, Dinner with Don, which premiered Monday on YouTube. The series, which features 13 different interviews with actors, directors and comedians Rickles has inspired, was the famed insult comic's last project before his death at 90 in April.
Fans of Rickles will find something heartwarming and hilarious in every episode, which feature Jimmy Kimmel, Snoop Dogg, Amy Poehler, Zach Galifianakis, Paul Rudd, Sarah Silverman, Billy Crystal, Rich Eisen, Vince Vaughn, Marisa Tomei, Jonathan Silverman, Judd Apatow, Robert De Niro and Martin Scorsese eating a meal with Rickles at the comedian's favorite Hollywood restaurant. But the interview with 45-year-old rapper Snoop Dogg reveals a particularly interesting fact: Rickles has never smoked weed.
Snoop Dogg finally asks the question you knew he had to ask: Did Rickles smoke marijuana in his day? "I never used it. I never touched it," Rickles says. Snoop Dogg is understandably skeptical of this claim. (Really? All that fame and power and he never even had one joint hit?)
"Are you sure you never used it?" the rapper pressed. "Are you sure you never touched it?"
"What are you, the DEA?" Rickles shot back.
Then Snoop Dogg leans forward to lean a hand on Rickles' shoulder and announces, "Well, you just touched it now." His joke got a laugh out of Rickles (imagine!), as well as a promise of revenge.
Besides the difference in recreational drug choice, Rickles and Snoop Dogg discovered they had a good deal in common.
"Everything I've ever done is off the top of my head," Rickles told Snoop Dogg. The rapper confessed to a similar method of freestyle for his first few albums, prompting Rickles to declare him the "black Frank Sinatra."
Be sure to also check out the Amy Poehler episode so you don't miss the Parks and Recreation star and Rickles roasting restaurant servers together. "If you make one more funny remark, I'm leaving," Rickles told Poehler after her third quip to the waitress.
And of course, Jimmy Kimmel's dinner with Rickles is particularly touching after the late night host delivered a tearful tribute on "Jimmy Kimmel Live" to his friend on the day Rickles died back in April. Rickles may be gone, but it's clear that his legacy, spirit and influence will live on in the countless he inspired.
All 13 episodes of "Dinner with Don" are now streaming on YouTube.