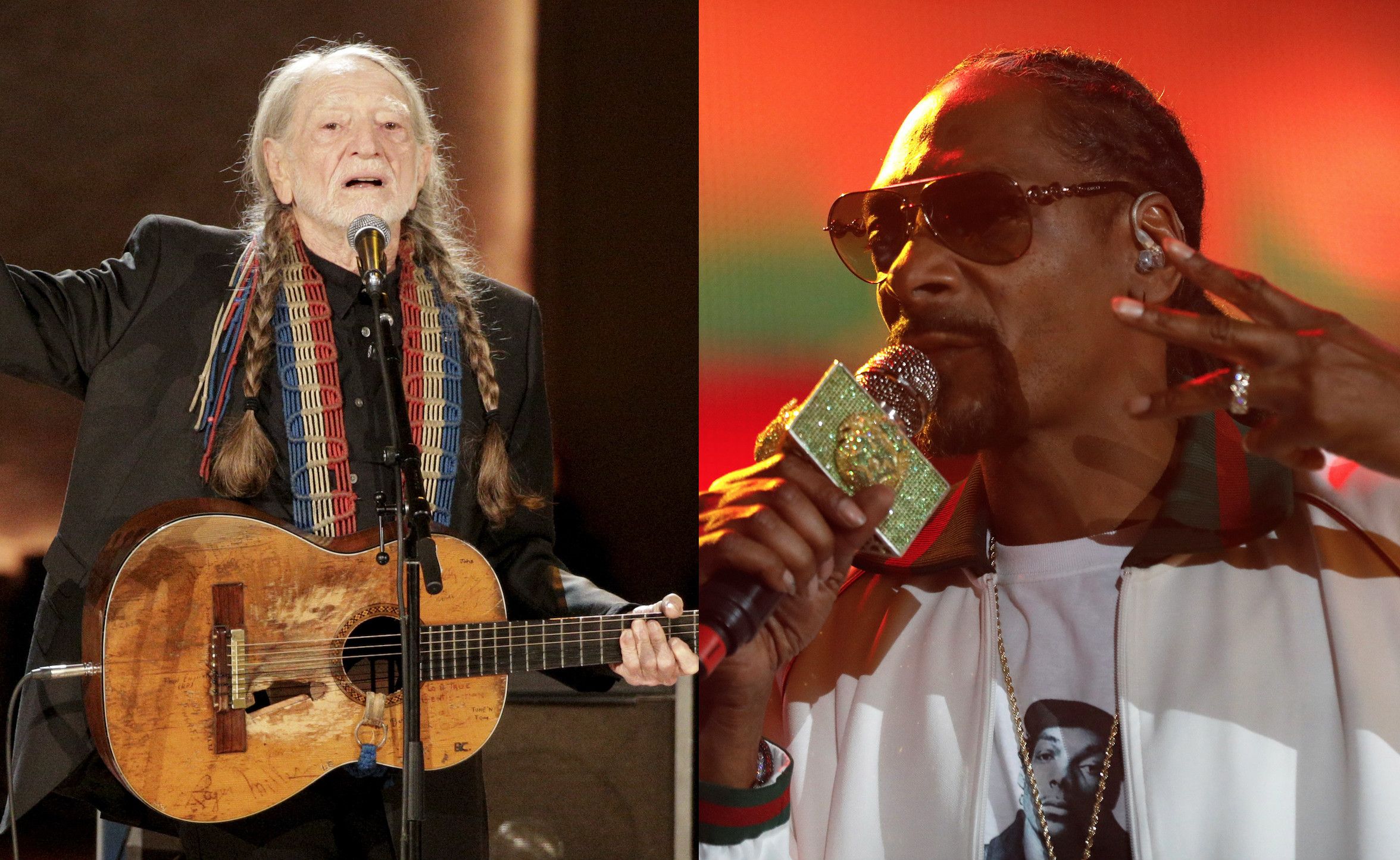 Snoop Dogg and Willie Nelson are fond of each other, and it's not hard to guess why. They are perhaps the greatest living cultural icons of their respective musical genres, but more significant to their relationship is their standing as the world's most prominent weed smokers. Game recognize game, as they say. The bond formed between the 83-year-old cowboy hat-wearing country singer from Texas and the 45-year-old gangster rapper from Long Beach, California, is all the proof one could ever want of the unifying power of the sticky icky. Over the holidays, the latter sent the former a Christmas gift.
Related: From Snoop to Willie, a guide to celebrities in the weed game
Considering how long each icon has been in the music business (and the weed smoking business), their relationship is relatively fresh. In 2007, Esquire's Andy Langer smoked with Nelson in Austin, and then with Snoop Dogg a week later. At the time, Nelson said he had never smoked with Snoop Dogg, but that was soon to change. The duo collaborated on Snoop's countrified 2008 single "My Medicine."
The story of how the collaboration came to be is well-known. Snoop asked Nelson if he wanted to be on the track. Nelson said that instead of sending material over, Snoop should just come join him in Amsterdam, where he was set to perform on 4/20. Snoop did, and the day after they played the show together, they sat down for a session any stoner would dream of sitting in on. Here's how Snoop told the story during his keynote address at SXSW in 2015.
"We were chilling in Willie's room, and we were playing dominoes. He's whooping my ass at dominoes, but at the same time he's passing me a paper, a cigar, a vape, a bong and a little Volcano. So I'm like, 'This old man is really trying to challenge me right now!'"
They eventually decided to get some food.
"We jumped into a van and we went to our favorite spot: Kentucky Fried Chicken. We pulled up in the drive-thru. We're ordering chicken. A bucket of this, a bucket of that. We're sitting side by side, so when we get up to the window to pay for the food, we pay for it, they give us the chicken, and we open it up. We stick our hand in at the same time and we grab the same piece of chicken. I look at Willie and I'm like, 'That's you dog, my bad.' That was one of the greatest moments of my life, when me and Willie Nelson grabbed the same piece of chicken at the same damn time."
Snoop Dogg has told this story plenty of times since it happened, including on The Tonight Show. He has also cited this as the only time anyone has ever out-smoked him, both in interviews and on Twitter.
Nelson has told the story too, albeit with a little more brevity. "I have a huge tolerance for pot," he told GQ in 2015. "I can probably smoke with anybody anywhere. Me and Snoop Dogg had a smoke-off in Amsterdam and he crawled away."
The duo continued to collaborate after "My Medicine." Nelson was featured on Snoop Dogg's track "Superman," from his 2011 album Doggumentary. Though "Superman" belongs to Snoop, if the track's intro is to be believed, it was originally written by Nelson while he was recovering from carpal tunnel syndrome surgery.
In 2012, Nelson on 4/20 released a track called "Roll Me Up" that featured Snoop Dogg. The track was included on Nelson's Heroes compilation, which featured artists like Kris Kristofferson, Billy Joe Shaver and Merle Haggard.
But perhaps the story most indicative of the bond between the two icons came after Nelson was arrested for marijuana possession in 2010. A TMZ camera crew caught up with Snoop Dogg after the news broke, and Snoop was livid.
"Willie Nelson is a legend," he said. "You need to sometimes back up off certain people and have a certain amount of respect for your elders. Willie Nelson is our elder. He is somebody who lived through many decades of music and hard times and living good and going up and down. Give him that respect. Who's the motherfucker that arrested him? I want to know who's the police officer that said you're under arrest, you have the right to remain silent. You dumb motherfucker. You stupid motherfucker. What do you think you're going to gain by arresting Willie Nelson? He got out and he's back smoking right now."
The camera man then asked Snoop what his favorite kind of kush was. He said Snoop Dogg kush, and then, mimicking Nelson, said that it was "always on my mind, it was always on my mind."
"If you've got a problem with Willie Nelson," Snoop concluded, once again referencing the arrest. "You've got a problem with me."
In other words, nothing comes between Snoop, Willie and their weed.