Snoop Dogg's Spokesperson Calls Sex Allegations Against Rapper 'Meritless'
A spokesperson for Snoop Dogg is pushing back on a lawsuit claiming that the rap star committed sexual assault, calling the allegations "meritless" and "part of a self-enrichment shakedown scheme."
In a lawsuit filed in Los Angeles federal court on Wednesday, a woman identified only as "Jane Doe" accused Snoop Dogg, whose real name is Calvin Broadus, and his associate Bishop Don "Magic" Juan, born Donald Campbell, of forcing her to perform oral sex on them in May 2013.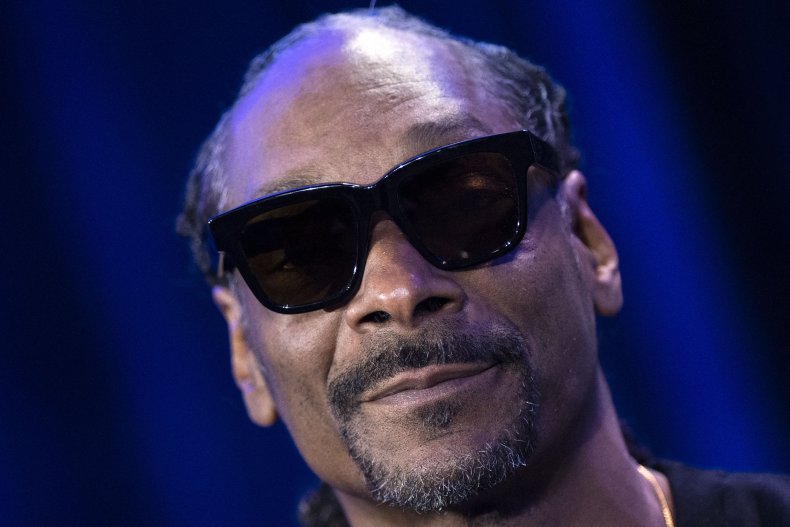 A spokesperson for Broadus has responded to the lawsuit, describing it as a "meritless" attempt to extort the rapper before a high-profile performance.
"The allegations of sexual assault against Calvin Broadus (a.k.a. Snoop Dogg) are simply meritless," the spokesperson said in a statement sent to multiple media outlets. "They appear to be part of a self-enrichment shakedown scheme to extort Snoop Dogg right before he performs during this Sunday's Super Bowl half-time show."
"To be clear, Mr. Broadus has never had any sexual encounter whatsoever with 'Jane Doe,'" the statement continued. "What is clear is that this shakedown scheme is disgraceful. This attempt to use the courts to advance this scheme is shameful too, and does a disservice to real victims who deserve to be believed."
The accuser used her full name while making a similar complaint against Broadus with the California Department of Fair Employment and Housing in December 2021, the spokesperson said, while suggesting that she "shifted to an anonymous 'Jane Doe'" due to "concern about her own history of questionable conduct."
Doe's legal representation said Friday that Broadus' spokesperson had allegedly released the full name of the accuser to a reporter. The lawyers said that the spokesperson's statement on the lawsuit was "hypocritical" given the "abhorrent" unmasking of the accuser's identity.
"This falls right in step with what we believe to be Mr. Broadus' modus operandi of harassing and intimidating women who oppose sexual misconduct or oppose him," the lawyers said in a statement that Newsweek obtained from attorney Matt Finkelberg. "We believe it is the Defendants' intention to attack and intimidate any woman who goes against them. We are disgusted and appalled that a spokesperson for Mr. Broadus would do something so malicious."
"If harassers like Mr. Broadus continue to retaliate against those who stand up to them, we are concerned there will be a disastrous chilling effect, and women will not come forward out of fear of retaliation," the statement continued. "It is hypocritical to accuse our client of performing a disservice to other victims when this spokesperson just released the name of a survivor."
Broadus was previously accused of sexual assault by makeup artist Kylie Bell in 2013, although the case was later dropped.
In addition to his upcoming Super Bowl halftime performance, the rapper has been in the news this week due to purchasing the previously defunct record label Death Row Records. Snoop Dogg also released his new album, B.O.D.R. (Bacc on Death Row), on Friday.
Newsweek reached out to Snoop Dogg's representative for comment.