So You Want to Defund the Police? Here are 5 Questions to Answer | Opinion
Hard on the heels of the 2020 deaths of George Floyd and Breonna Taylor, advocates rallied to defund the police and a handful of city councils quickly heeded the call. Since then, at least 50 of the largest U.S cities have reduced police department budgets by an average of roughly 5 percent, with some notable outliers, like Austin's dramatic 33.3 percent cut. That said, police spending as a share of these cities' general expenditures have remained remarkably stable.
As it turns out, defunding the police is not as easy—or desirable—as it would first appear, given twin realities in many major U.S. cities—powerful police unions and rising violent crime. Public opinion on defunding the police, even among people of color, is not uniformly in favor, with a recent poll finding that only 28 percent of Black Americans support it. Nonetheless, demands for defunding persist, and are unlikely to wane any time soon.
As cities consider whether and how to shrink law enforcement budgets, leaders should answer five questions.
1. Why defund the police?
"Defund" means different things to different people. On one end of the continuum are those who support defunding because they favor abolishing police departments altogether. On the other are people who believe some aspects of the police role could be better performed by non-law enforcement personnel who are unarmed. Somewhere in the middle are those who view slashing police budgets as a way to shrink the footprint of the police. The notion here is that by reducing the size of police departments, the number of encounters officers have with residents—and thus the number of interactions that result in harm—will also decline.
Understanding the reasons for defunding the police can help ensure policy decisions are guided by research and data, enabling an analysis of the trade-offs and an identification of the unintended consequences of reducing law enforcement budgets. Cutting police funding in order to reduce officer interactions with residents does nothing to resolve the underlying issues that lead police to use excessive force. That problem must be addressed through better recruitment, training and accountability mechanisms, along with a change in police culture from one focused on enforcement to one that values problem solving. Budget cuts could result in fewer dollars available for such measures.
2. How much should be cut?
Most cities that have shrunk police budgets have settled on the amount of the reduction through a political process lacking an empirical exploration of which police functions could be sensibly curtailed or shifted. A smarter approach would begin with an analysis of police dispatch data to determine the proportion of time officers spend on activities that are candidates for offloading.
Calls associated with people experiencing mental health challenges represent one example often suggested as suitable for offloading. That's understandable, given that one in four people who die at the hands of police have a mental health issue. But scholars have found that in some departments officers spend only 1 to 2 percent of their time on such calls. If that's the proportion in your city, offloading mental health calls would likely not correlate with a major drop in police funding.
Traffic enforcement is a different issue. Research of calls for service in nine large jurisdictions finds that officers spend about 18 percent of their time responding to calls related to traffic issues, not including the hours spent proactively stopping motorists. Offloading some types of traffic enforcement may hold promise for reducing police interactions with the public, particularly if officers are barred from stopping drivers for expired tags or cracked windshields, and instead record license plate numbers and issue citations by mail.
Rather than reducing funds by an arbitrary amount, jurisdictions should tie budget cuts to the activities that can be responsibly offloaded. Cutting the budget by 15 percent when the functions to be shifted to others represent just 2 percent of officer time means the remaining dollars will be reduced at the discretion of the police executive. Given that two-thirds of police budgets are dedicated to police personnel, those dollars will likely come out of funds devoted to fill police vacancies, which could compromise agencies' ability to respond quickly to serious and urgent events.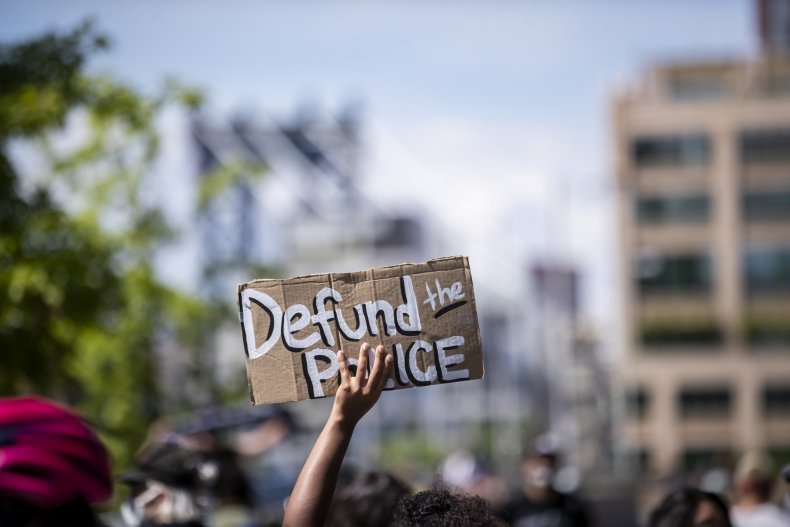 3. How should funds be reallocated?
Shifting police functions away from mental health calls and traffic enforcement is one thing, but many defund efforts have been coupled with investments in community-led safety initiatives. These initiatives are typically supported by government resources but operate outside of traditional law enforcement and are led by community stakeholders. Some activists favor such community-led safety models as a means to address the societal causes of crime and replace criminal justice responses with investments in housing, employment, health care, community-based violence reduction and trauma services.
Research finds that community-based organizations that provide critical services can reduce crime. That's promising, but most examples of community-led safety are not necessarily led by residents who are experiencing the highest crime and heaviest police presence. Investing in true community-led safety means shoring up the infrastructure and capacity of communities to develop and implement their own safety solutions. This could require substantially more money than what might be freed up by offloading police functions, particularly because these communities will still need police to respond to victims of violent crime and investigate those cases.
4. What are the public safety implications of reducing police budgets?
The answer to this question is unclear, but the topic was reviewed by the Council on Criminal Justice Task Force on Policing. Models that offload police functions altogether, such as through mobile crisis units that respond to calls for mental health issues, assume that their use of unarmed clinicians will reduce the risk of harm to the person in crisis. But what about risk of harm to the clinician or others involved? We know very little about the public safety benefits and unintended consequences of such models. What we do know is that calls for police service that reference a person in distress who is wielding a weapon typically prompt a police response rather than diversion to a mobile crisis unit. This suggests that co-responder models, in which police partner with a mental health clinician, hold the greatest promise in cases that involve a weapon.
Another public safety consequence of defunding the police could occur if police budgets are reduced beyond that which is commensurate with the offloaded functions. This would result in fewer resources for police to respond to and investigate violent crime. That role is unlikely to be shifted to others, and reducing police capability to fulfill it could further erode public trust by reducing case clearance rates, which are already alarmingly low.
5. Will defunding the police reduce biases?
Some suggest that offloading police functions to others would reduce the racially disparate treatment of people who seek assistance, and their family members. But given the well-established racial disparities in health care delivery, it's hard to feel confident about that result. Still, shifting some aspects of traffic enforcement away from police could help.
One study of nearly 100 million traffic stops across the country found that Black drivers were stopped by police at almost twice the rate of white drivers. Search rates are also higher for Black drivers, despite the fact that "hit rates"—the share of searches that turn up contraband—are the same for Black and white motorists. Given that roughly 10 percent of police fatal shootings occur at traffic stops, in which one in three victims are Black, a focus on reducing police officer enforcement of certain types of traffic violations could reduce disparities.
No matter where the answers to these key questions may lead, one thing is certain: policing as we know it will not disappear overnight—nor should it. Given that, efforts to reduce harm by redefining the role of police must be accompanied by measures that shore up supervision and accountability measures and address cultural and other underlying causes of misconduct.
Nancy La Vigne is a nationally recognized criminal justice policy expert and executive director of the Council on Criminal Justice Task Force on Policing.
Cynthia Lum is a member of the Task Force, a professor at George Mason University and the director of the university's Center for Evidence-Based Crime Policy.
The views expressed in this article are the writers' own.