Social Justice Protester May Receive $575K Payout After Multiple Surgeries
The city council in Denver, Colorado, is scheduled to vote February 22 on giving a $575,000 settlement to a protester who underwent multiple surgeries for an injury she claims she sustained after being struck by a police projectile during the George Floyd protests in May of 2020.
The murder of Floyd, a Black man, at the hands of a white Minneapolis police officer on May 25, 2020, sparked protests across the country. Denver was among the many large cities where protesters clashed with police. It was during these protests that Megan Matthews claims she injured by an overaggressive police response.
Matthews had recently undergone a third eye surgery by the time she filed a lawsuit against the city of Denver in March 2021. In the suit, Matthews alleged she was struck in the eye by 40mm sponge grenade projectile fired by the Denver Police Department or an agency aiding the police force.
Denver City Council's website shows its agenda on February 22 includes voting on a "resolution authorizing and approving the expenditure and payment from the appropriation account designated 'liability claims,' the sum of five hundred seventy-give thousand dollars ($575,000.00)" made payable to a law office representing Matthews.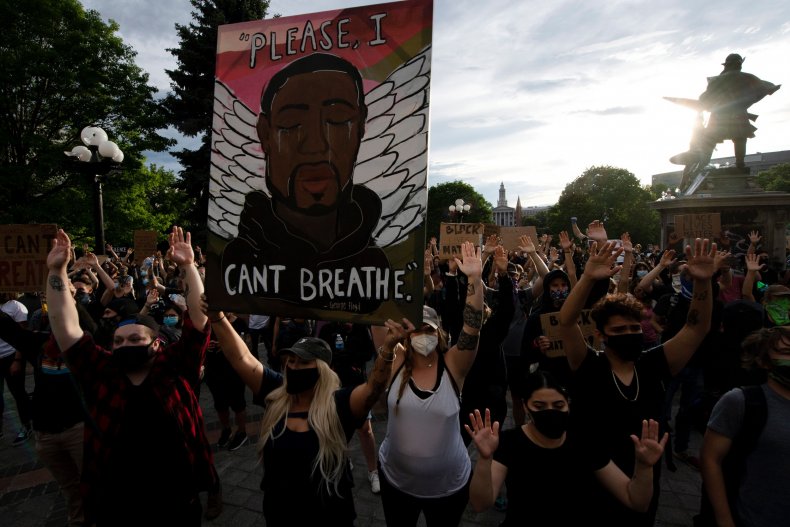 When Matthews originally announced her lawsuit last year, KDVR-TV reported that she was one of at least three people who had sued the city because of eye injuries they allegedly suffered from the police's response to the 2020 protests.
Matthews told the station that she was not being violent during the protests. She also said she would like to view any surveillance or body camera footage taken during protests that might show how she suffered a fractured orbital bone.
"What I was doing was important and right, and I shouldn't have been literally hurt for it," she told the outlet.
Before she sued, Matthews filed a complaint about the incident with the Office of the Independent Monitor. Ross Ziev, Matthews' attorney, said they waited until the department finished its investigation before pursuing litigation.
"The Office of the Independent Monitor came out with a larger report that addressed the issue as a whole, and they did find...that the Denver Police Department didn't implement controls over the use of force during the protests...but on an individual level, Megan Matthews did not have a great experience with her investigation and her attempt at justice through the Office of the Independent Monitor," Ziev told KDVR-TV.
In January, the Denver City Council voted to approve a $500,000 payout in order to settle a lawsuit filed by Michael Acker who also claimed he suffered an eye injury during the same protests. Acker said he was struck in the head by 40mm sponge grenade projectile fired by a police officer, which caused a glass eyehole of the gas mask he was wearing to shatter. A piece of glass became lodged in his eyelid, Acker claimed. A doctor later pulled it out, and his eyesight was not affected, he said.