Gun Control Bill Would Require Police to Review Social Media Accounts Before Allowing Purchase
An Illinois legislator has proposed a bill that would require prospective gun buyers to show social media accounts to state police before receiving a firearm license.
The bill also proposes that individuals with existing an Firearm Owner's Identification Card could have their gun license revoked if a social media review reveals "any information that would disqualify the person."
"A lot of people who are having mental health issues will often post on their social media pages that they're about to hurt themselves or others," Representative Daniel Didech told CBS Chicago. "We need to give those people the help they need."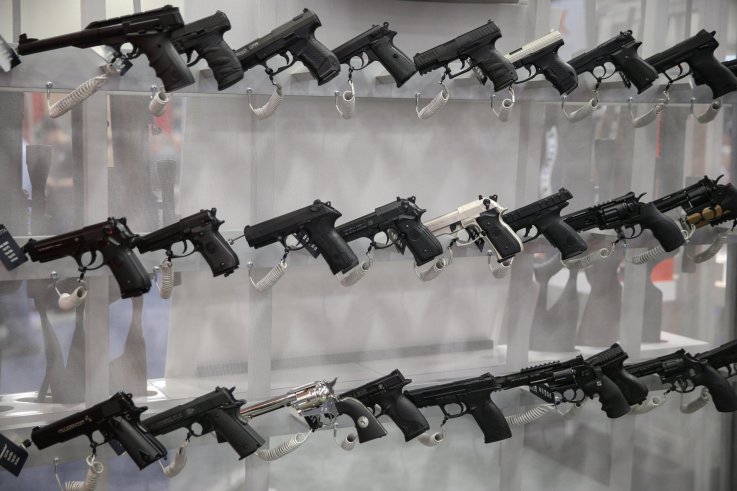 The bill, filed last month "gives Illinois State Police additional tools to make sure that dangerous weapons aren't getting into the hands of dangerous people," the lawmaker said.
Gun rights advocates have criticized the legislation, and the Illinois National Rifle Association urged followers to contact their elected officials.
"When people look at this everyone who has a Facebook account or email account or Twitter account will be incensed or should be," said Richard Pearson, executive director of the Illinois State Rifle Association.
The American Civil Liberties Union also opposed the legislation. Senior Staff Attorney Rebecca Glenberg expressed concern that the bill "doesn't say anything about how that list will be retained and for how long and what uses it might be put to."
A more stringent bill, which would require potential gun buyers to allow police review of search history and social media posts, was proposed in New York state last year.
Some individuals who conducted recent mass shootings have posted hateful comments online before their attacks.
Parkland, Florida, attacker Nicholas Cruz reportedly posted that he wanted to become a "professional school shooter" before killing 17 people at the Marjory Stoneman Douglas High School last February, according to CNN.
Robert Bowers, the man accused of opening fire and killing 11 at Pittsburgh's Tree of Life Synagogue in October, regularly posted anti-Semitic comments online. He had written "jews are the children of satan" and talked about Jews' "war against" white people, Politico reported.
In the contentious national conversation about gun rights that intensifies after mass shootings, gun rights advocates often argue that policymakers should focus on mental health, not gun control.
Gun control advocates have pushed for legislation to regulate sales of certain weapons and implement universal background checks.
Before regaining control of the House of Representatives last month, House Majority Leader Nancy Pelosi vowed to prioritize gun control legislation.
The House held its first hearing on gun legislation since 2007 this week, Politico reported.
Gun Control Bill Would Require Police to Review Social Media Accounts Before Allowing Purchase | U.S.