Social Media Users Want to Know: Where Is Clarence Thomas?
The internet is abuzz with questions about the status and whereabouts of U.S. Supreme Court Justice Clarence Thomas after the Court's current longest-serving justice was hospitalized days ago for flu-like symptoms.
The nation's highest court hasn't provided any updates since issuing a press release Sunday that Thomas had been hospitalized. That's left the public wondering when the justice, considered part of the Court's dominant conservative wing, will return to the bench. Thomas' absence was announced a day before Senate confirmation hearings began for Supreme Court nominee Ketanji Brown Jackson.
The Court said Sunday that Thomas, 73, was admitted to Sibley Memorial Hospital in Washington, D.C., where he was diagnosed with an infection and is being treated with intravenous antibiotics. The Court gave a positive picture of his overall health, saying he was resting and would be released from the hospital "in a day or two."
The Court said that in the meantime, Thomas would be able to continue his work using briefs, transcripts and audio of oral arguments. Chief Justice John Roberts announced on Monday and Tuesday that Thomas was unable to be present at arguments but would participate in the Court's decision using briefs and transcripts, according to transcripts.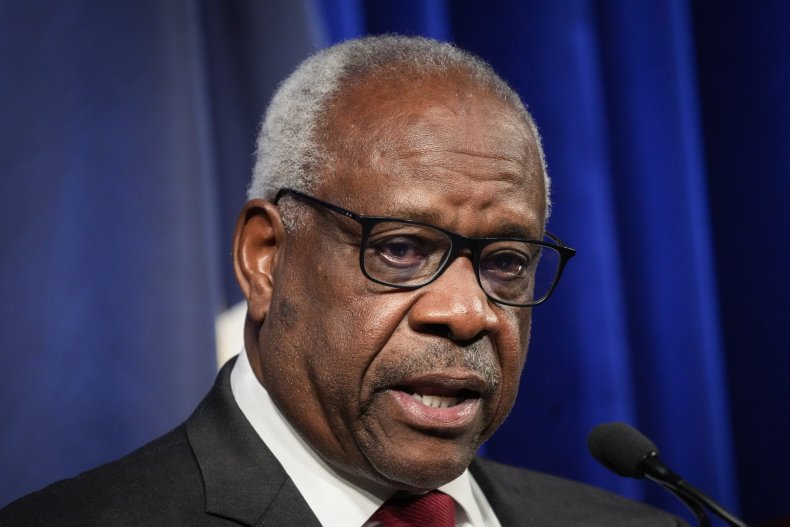 Thomas was again absent on Wednesday, according to the Associated Press (AP). While the Court has said that Thomas' absence is not related to COVID-19, Roberts did not offer any more information.
"When Clarence Thomas was hospitalized on Sunday after experiencing 'flu-like symptoms,' he was expected to be released 'in a day or two,'" Jon Cooper, a New York Democratic activist said on Twitter Thursday. "Today is Day FOUR and still no sign of Thomas."
Twitter user Kaivan Shroff said, "The Supreme Court absolutely should disclose whether Clarence Thomas is still in the hospital. Of course the public has a right to know...he is missing Supreme Court arguments."
Twitter user RockPaper Sista complained about the lack of information.
"Very little information for the last few days. Where is he? Is he alive? I want to hear from his doctors, will he make a recovery? Is he unable to perform his duties?"
Twitter user StarlaD likened the situation to an employer wanting to know where an employee is.
"As one employer out of 330,000,000 employers, I would like to know where one of our employees is," she said referencing the U.S. population. "He hasn't shown up for work in a week due to illness? We are going to need a doctors note proving he is fit to return."
Despite speculation, TMZ reported that Supreme Court Justice Stephen Breyer has said that Thomas was fine.
Trial lawyer Max Kennerly said on Twitter he was unimpressed with the reassurance.
"This is dumb as hell," he said. "We should not need informal updates from a colleague getting coffee to know the health status of someone with lifetime tenure at the top of government. If total privacy is so damn valuable to Clarence Thomas, he should retire."
Thomas, appointed by former Republican President George H.W. Bush in 1991, has become an influential figure as the Court has tilted to the right in recent years.
Newsweek has reached out to the Supreme Court for comment.