Social Security Chief Says His Firing Is 'Friday Night Massacre,' He Won't Leave Position
Andrew Saul, who was appointed to lead the Social Security Administration (SSA) by former President Donald Trump in 2019, says he will refuse to leave after being fired from the position by President Joe Biden on Friday.
Saul was fired after he refused a request to resign as SSA commissioner. Deputy Commissioner David Black, another Trump appointee, accepted the request and resigned on Friday. However, Saul insisted that he cannot be fired by Biden, telling The Washington Post that he considers himself "the term-protected Commissioner of Social Security" and would not leave after the "Friday Night Massacre."
"This was the first I or my deputy knew this was coming," Saul told the paper, speaking about a White House email that he received on Friday morning. "It was a bolt of lightning no one expected. And right now it's left the agency in complete turmoil."
Despite his refusal to leave, Saul may have no legal authority at SSA if he is no longer officially employed there and could potentially be cited with trespassing if he physically returns to his former place of employment to resume duties next week.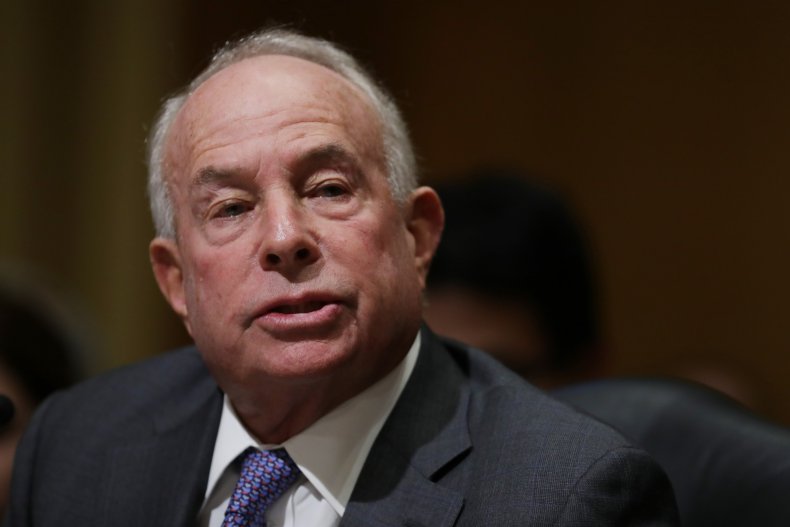 Biden fired Saul after the Department of Justice issued an opinion that his firing would be legally permissible, a decision that the White House says was backed by recent decisions from the Supreme Court.
The president has appointed Kilolo Kijakaz, who had been the deputy commissioner for retirement and disability policy at the agency, as the acting SSA commissioner until a permanent replacement is found.
"Andrew Saul refused to resign as requested, and he was notified his employment as Commissioner was terminated immediately," a White House official told Reuters on the condition of anonymity.
The official added that Saul had been terminated for "actions that run contrary to the mission of the agency and the President's policy agenda," including allegedly inserting his political views into decisions about SSA disability benefits, working to end a telework policy at the agency and failing to maintain good relations with federal employee unions.
Republican lawmakers expressed their disappointment over the firing, which they said was politically motivated, while Democrats welcomed the move.
"It is disappointing that the Administration is injecting politics into the agency, given that Commissioner Saul was confirmed with bipartisan approval, worked closely with both parties in Congress, and provided smooth benefit and service delivery during the largest management challenge ever faced by the agency," Senator Mike Crapo of Idaho and Rep. Kevin Brady of Texas, both Republicans said in a joint statement.
"Every president should choose the personnel that will best carry out their vision for the country," Ron Wyden, the Democratic senator from Oregon, said in a statement. "To fulfill President Biden's bold vision for improving and expanding Social Security, he needs his people in charge. I will work closely with the president to confirm a new commissioner as swiftly as possible to lead this critical agency."
Newsweek reached out to the White House and the SSA for comment but did not hear back before publication time.