Some Afghans Wanted By Taliban Hide Underground Amid Uncertainty After U.S. Withdrawal
Many former Afghan officials and social activists wanted by the Taliban are now using underground hideouts to plan for their own escape after the U.S. completed its troops withdrawal from Afghanistan on Tuesday.
A number of security officials, activists, journalists and women who worked with the former Afghan government are hiding from the Taliban in what one former government official describes as "underground facilities."
Niamatullah, only identified by his first name for security reasons, worked as the governor of two different provinces under the now defunct civil government. He is currently helping protect 156 Afghans hiding across 12 underground facilities scattered in different provinces surrounding the capital Kabul.
The spaces used for the hideouts were rented out by locals who worked with former government authorities, Niamatullah told Newsweek on Thursday. All facilities currently include women, children, activists, former local police officers, and high profile security personnel who are wanted by the Taliban.
Niamatullah has been trying to stay safe as well after being threatened by the insurgents. He told Newsweek that he has been on the run since August, when the Taliban started doing home searches in Kabul and asking his family and friends about his whereabouts. He said that he has been changing his phone number and location frequently to avoid being caught.
According to Niamatullah, the facilities have limited cell reception and internet and include basic amenities that are powered by solar energy. He said that they rely on solar energy to avoid being found by local electric companies that could randomly send people to check out the physical addresses that use electric services and cables and potentially report those locations to the Taliban.
"Solar energy is free and no one will ask how we're getting our power," he explained.
The plan is to keep this group in hiding until they can safely leave the country, former security advisor Nasser Waziri told Newsweek on Thursday. He said that he and Niamatullah are among other former officials helping secure an exit for individuals targeted by the Taliban.
Waziri added that one exit strategy that is currently being considered involves moving them across the border to Tajikistan where they can live there permanently or stay shortly until their refugee applications to Europe and the U.S. are processed.
But for Niamatullah, a detailed exit plan is still out of sight.
"We plan to go to a safe place but it's not clear what we will see in the future. We are seeking help from NGOs to get us out," he said.
On August 24, the Taliban warned they "won't let" Afghans be evacuated from the country after the U.S. troops leave on August 31. Taliban spokesman Zabihullah Mujahid said during a news conference that after that deadline they "won't let Afghans be taken out" on evacuation flights. Mujahid added that Afghans will also be banned from roads that lead to the airport in Kabul.
Niamatullah said that he hopes the international community could help pressure the Taliban to allow Afghans to leave the country.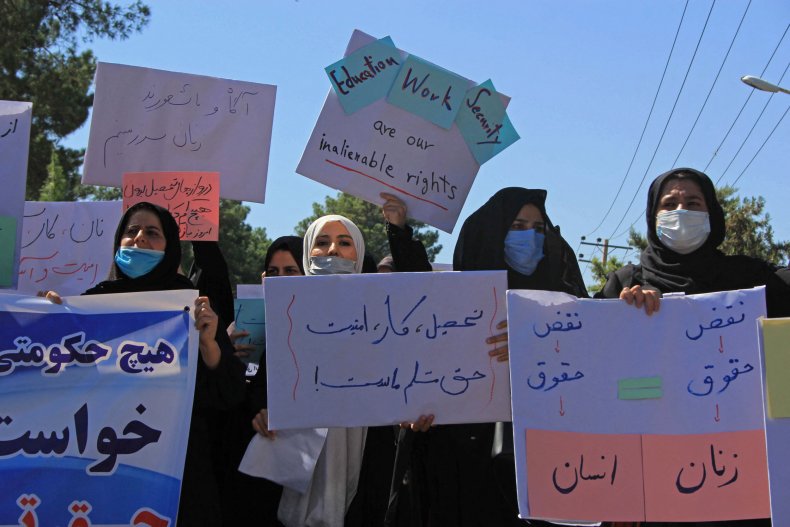 The situation in Afghanistan is specifically threatening to women who are now forced to wear a burqa, covering their bodies and faces, and are not allowed to go back to the jobs they had before the Taliban took power, according to Nasrin, also identified by only her first name for security reasons, an Afghan women's rights activist and journalist who is now hiding with her family in Kabul.
"My situation is not okay. Sometimes I cry about it and about our parents. Nobody's ready for this situation, especially women and children. Nobody in Afghanistan is ready," Nasrin told Newsweek. "We lost everything, especially women who don't go outside now in fear that the Taliban will hit them about their [improper] hijab. No woman can go outside without being escorted by a Mahram [a male family member]."
On August 18, House Speaker Nancy Pelosi expressed her concerns over Afghan women's freedoms and rights under Taliban rule.
"Women and girls in Afghanistan have been a high priority for us," she said. "We have to make this the subject of the greatest transparency."
Pelosi said that "we can't take that chance" and trust the Taliban to not harm Afghan women and girls.
"Americans didn't respond to us [women rights' activists] and I even checked that with my other activist friends. Americans didn't protect us. They left us in this situation [where] there was no direct physical assistance that would evacuate women," Nasrin said.
"No one helped us and I don't know why. We haven't seen any help from other international governments that said they wanted to help evacuate Afghan women and children and activists and journalists. No one reached out to us," she added.
Nasrin is among dozens of people the Taliban plans to target in the upcoming period. Her name is on a list that was published on a Taliban-related online website that recently became inaccessible, but Waziri shared a screenshot of that list with Newsweek.
"I am an activist who wrote about women in Afghanistan over the past year and wrote against the Taliban and I know I will be killed. I believe that." Nasrin said. "I changed my place and phone number because of the Taliban. We [women and rights groups] can't be active or write about anything now."
"I don't have a phone number that I can use for my women rights activism, just a private number only now because of threats I have received from the Taliban," she added.
Nasrin said that she has been receiving calls from different strangers who are asking her the same questions when they call often.
"One day I had a call from someone who was asking me different questions such as 'Where are you, I want to see you, I want to help you. We know that you're not safe and want to protect you,' They kept asking these questions over and over again," she added.
Despite being one of the people the Taliban is currently targeting, Nasrin did not relocate to one of the hideout facilities that Nimatullah is overseeing. She told Newsweek she has been staying safe by locking herself in her house with her parents since the insurgents seized the nation. The lack of vacancies in those facilities is another reason she was unable to relocate.
Though Niamatullah and Waziri said that they hope to help hide as many endangered Afghans as possible, they are being cautious about expanding those underground hideouts in fear of being spotted by the Taliban. They are also very selective about who is allowed to stay in those facilities and the locations in which they could expand.
Waziri also noted that scaling those hideouts is financially challenging because the Taliban regime limited the access to funds in personal bank accounts, where individuals now can withdraw only up to $200 per week. Therefore, those hideouts rely on funds donated from individuals residing outside Afghanistan, according to Waziri.
Sending supplies such as food and medications to these facilities is made through a three-way delivery process, according to Niamatullah. One of the people securing the inside of the hideout makes a phone call to a second person outside of the facility, Niamatullah explained, then the second person reaches out to a third party who is typically responsible for getting the needed supplies.
To make sure that the process is safe, all three parties change their numbers and meeting points every one or two weeks to avoid being tracked or monitored.
The Taliban vowed that former officials can participate in the new government but Niamatullah said that this is only happening with regular government sectors, adding that the Taliban "will not share power with former security officials."
The Taliban also pledged that they will not violate women's rights, but Nasrin said that the insurgents already banned women from going back to work and have been physically hitting women who aren't wearing a hijab.
She said that some women in Kabul including a friend of hers who worked for the Education Ministry were sent back home only a few days after they returned to their offices.
"I remember one day on August 23 my friend went to her workplace but the Taliban told her she can't go in and I know another woman who the Taliban hit because she didn't wear hijab," Nasrin added.
Schools are also operating differently under the Taliban law, according to Nasrin and Waziri. Schools can no longer have boys and girls together in the same class and some students need the approval of Quetta Shura before resuming their education. The Quetta Shura is a Taliban council that puts governance structures for some matters such as women's rights and education.
The Taliban will also decide the conditions in which girls can pursue their education, Nasrin said. Additionally, college students can't go back to school before receiving an approval from the Quetta Shura.
Like Niamatullah, Nasrin is trying to create safe spaces for Afghan women who are still in the country.
She said that she is currently working with some other women to create a safe online communication channel in which they can reach out to each other everyday and confirm they're safe, however they have no strategies on how to stay safe or escape yet.
"Now we are searching for ways to save our lives and stay alive until somebody helps us" she said and wished that "American military did not leave Afghan women alone in this hard time."
President Joe Biden said in a speech on Tuesday that U.S. troops managed to airlift 100,000 Afghans throughout the evacuation mission, and added that the U.S. "will continue to work to help more people leave the country who are at risk."
Despite Aug. 31 passing, Biden asserted that "there is no deadline" for the U.S. to help remaining people from those groups leave the country.