Some Airline Passengers Cheer When Told Mask Mandates Lifted
Airplane cabins broke out into applause midflight as jubilant pilots announced over intercoms that the federal transportation mask requirements had been struck down by a judge.
Pandemic-weary passengers took to social media Monday to post videos and reactions of the face covering requirements being lifted. Others expressed dismay at what they described as a potentially dangerous and premature decision.
A federal judge in Florida ruled on Monday that the Centers for Disease Control and Prevention (CDC) had overstepped its authority, striking down the mandate that had been extended to next month. Following the ruling, the Transit Security Administration (TSA) said it would not enforce the mandate and airlines quickly announced that masking is now optional.
The Biden administration could still appeal the judge's decision, but social media was flooded with travelers breathing easy for the first time in two years.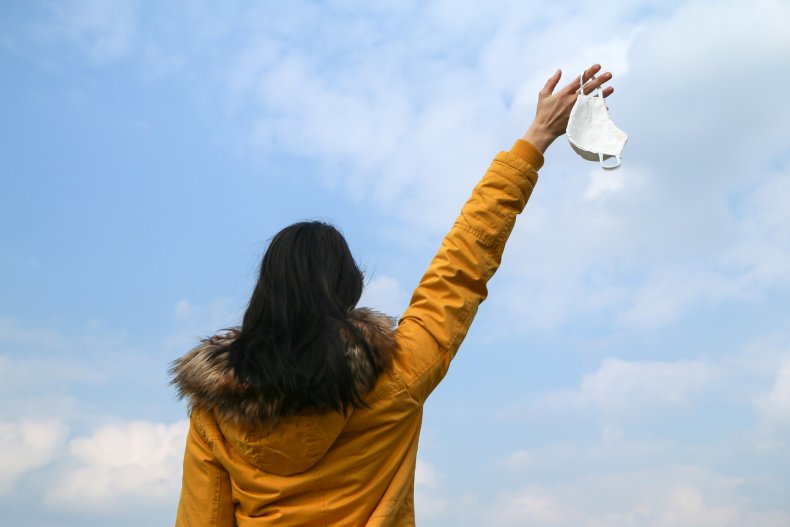 Erica Stapleton, a reporter with Phoenix Fox affiliate KSAZ-TV, posted a video to Twitter showing Kool & the Gang's "Celebration" being piped into a flight cabin after the announcement.
"When you're actually on a flight & they tell you the federal mask mandate is lifted for travelers," she wrote. "Lots of cheering from passengers on board."
Ben Dietderich, press secretary for Alaska Senator Dan Sullivan, tweeted an airplane cabin breaking into cheers and applause after the pilot made the announcement and offered congratulations to the passengers.
Twitter user Logan Krengel tweeted that he was flying home to Minnesota from Las Vegas when the captain announced over the intercom that masks were no longer required.
"The only time I've ever clapped on an airplane," he wrote, posting a picture of himself smiling in his seat. "Cheers! Life is good!"
Twitter user Briana Johnson wrote, "Just happened to be on an airplane and the flight attendant announced no more mask mandates as of an hour ago and everyone cheers."
Rennie Cook posted a picture of himself and other smiling, maskless passengers as his flight announced the end of the mandate.
Twitter user Holly Rety tweeted, "Not to discredit any single experience I have ever had, but being on an airplane as the mask mandate was lifted was one of the coolest things to ever happen."
"Flight attendant just paused with tears announcing masks are optional," Twitter user Martin Avila tweeted. "His counterpart walked up to him and said: 'Its been two years of this, its going to come out.'"
However, others expressed alarm that the mandate was suddenly dropped.
"Just had a very bizarre moment: On airplane, pilot comes on over intercom, announces the federal mask mandate is over, 'so take your masks off and celebrate!'" Twitter user Walt Ecton wrote. "Half the plane cheers/high fives. Other half stews, keeping masks on. A person near me starts crying, clearly worried."
Saskia Popescu, a biodefense professor at Schar School of Policy and Government at George Mason University, tweeted out a threat arguing that masking is important in enclosed spaces for prolonged periods of time, noting that COVID-19 cases are on the rise in the U.S.
"We may want to be done with COVID, but forcing our way through it is myopic & frankly ridiculous," she wrote. "People are still getting sick, going to hospitals, & dying. We need primary prevention, like masks +vaccines. Personally, I'll continue to wear a mask on airplanes & [public transportation]."
"It's JUST a mask," wrote Twitter user Stephanie. "The fact that so many have such a problem with it is still bizarre to me, especially when you're rubbing shoulders with a bunch of unwashed strangers on an airplane with recirculated air. Gross."
Twitter user A.J. Bauer tweeted "I am going to keep wearing a mask indoors like five years after this whole thing finally ends out of pure spite at this point."
Newsweek reached out to the CDC.