Some California Sheriffs Won't Enforce Newsom Curfew, LA to Focus On 'Voluntary Compliance'
Multiple California sheriffs say they will refuse to enforce California Governor Gavin Newsom's new curfew designed to slow the rapid spread of COVID-19.
Newsom announced on Thursday that due to the virus "spreading at a pace we haven't seen since the start of this pandemic," he was issuing a "limited" stay-at-home order that will go into effect on Saturday, including a curfew from 10 p.m. to 5 a.m. in areas that comprise over 94 percent of the state's population. Shortly after the announcement was made, several county sheriffs insisted they would defy the governor by not enforcing the curfew.
"This order provides an important new tool for local officials & law enforcement personnel to use to protect public health and safety, should they need it," Brian Ferguson, deputy director for Crisis Communication and Public Affairs at the Governor's Office of Emergency Services, said in a statement to Newsweek.
"The State COVID-19 Enforcement Taskforce has been in close contact [with] Sheriff's and police chiefs across the state," he added. "And will continue to work closely with them to implement the order and coordinate strategic, targeted enforcement actions with the goal of adjusting behavior, interrupting dangerous actions and defiance of public health orders, and restoring compliance."
At least four sheriffs from major California counties said they would take a hands-off approach to the public health restrictions. The curfew will ban residents from engaging in any late night activities other than essential work until December 17. The order applies to those who live in one of 41 counties under the "purple tier" of COVID-19 restrictions, the most restrictive category that also includes prohibitions on many non-essential businesses and gatherings during waking hours.
"The Sacramento County Sheriff's Office will not be determining—including entering any home or business—compliance with, or enforcing compliance of, any health or emergency orders related to curfews, staying at home, Thanksgiving or other social gatherings inside or outside the home, maximum occupancy, or mask mandates," Sacramento County Sheriff Scott Jones said in a statement. "Further, we will not dispatch officers for these purposes ... I would like to wish everyone a happy and meaningful Thanksgiving Holiday."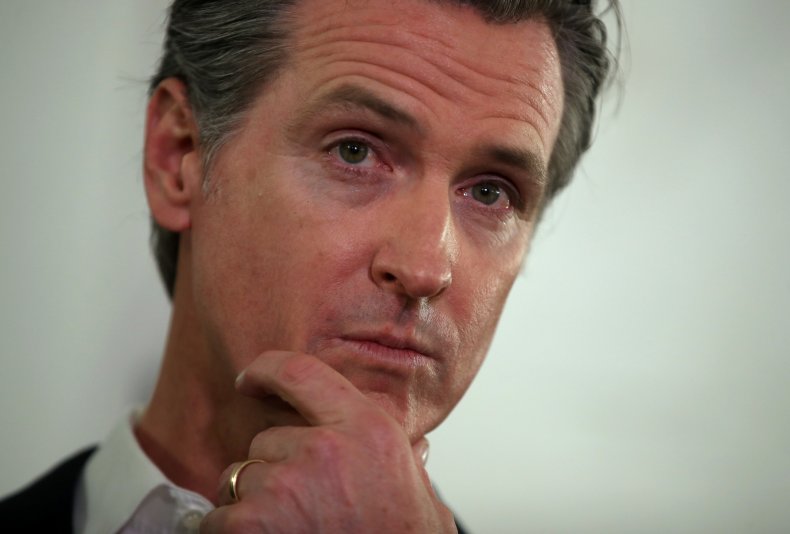 Fresno County Sheriff Margaret Mims said that she would refuse to "make criminals out of normally law abiding citizens" by enforcing the order during a news briefing, adding that she had not "seen any data that shows" the virus spreads more at night. When announcing the order, Newsom said that the curfew was intended to limit opportunities for the virus to spread by reducing the amount of overall contacts between people.
The Orange County Sheriff's Department issued a statement from Sheriff Don Barnes, who said the department was "currently assessing the action by" Newsom but had "taken an education-first approach with regard to the public health orders" throughout the pandemic. Barnes added that "deputies will not be responding to requests for face-coverings or social-gatherings enforcement."
Los Angeles County Sheriff Alex Villanueva, who is responsible for law enforcement in the country's most populous county, told KTTV reporter Bill Melugin that he would be focusing on businesses that are not essential rather than individual enforcement and would only take action against those who violate the order as a last resort.
"If we get a complaint, we will obviously investigate," Villanueva said. "We'll contact the owner and ask them to comply and if they don't, we have the option of doing a citation. We can also prepare a criminal report for violating a health order and we'll turn it over to the department of public health and let them decide what to do with it."
"We have a lot of options and pretty much on the voluntary compliance side, we get most of our success," he added. "If we start scratching paper, there's consequences that need to follow from that and we don't want to get to that point."
California, which trails only Texas for the highest number of COVID-19 cases, reported 11,478 new cases on Thursday. The state has seen 1,059,267 cases since the pandemic began, including 18,466 deaths caused by the virus, 106 of which were added to the total on Thursday.