Some Lawmakers Push Biden to Set up Field Hospitals for Ukraine's Injured
More than a dozen lawmakers have called on President Joe Biden to establish field hospitals near Ukraine's border to help with the "growing humanitarian crisis" as Russia's invasion continues.
A bipartisan group of 17 members of Congress is calling on the U.S to send help to Ukraine's health care system as the number of injured soldiers and civilians continues to climb. Since the war began on February 24, the World Health Organization (WHO) confirms there have been at least 150 military attacks on Ukrainian health facilities.
In a letter sent Friday to Secretary of State Antony Blinken and Defense Secretary Lloyd Austin, lawmakers recommend opening field hospitals at Ukraine's Polish border.
"We ask you to deploy several military field hospital centers to the Polish-Ukrainian border region and authorize U.S. medical personnel to care for the sick and wounded fighters and refugees and third country nationals crossing into Poland," the letter reads.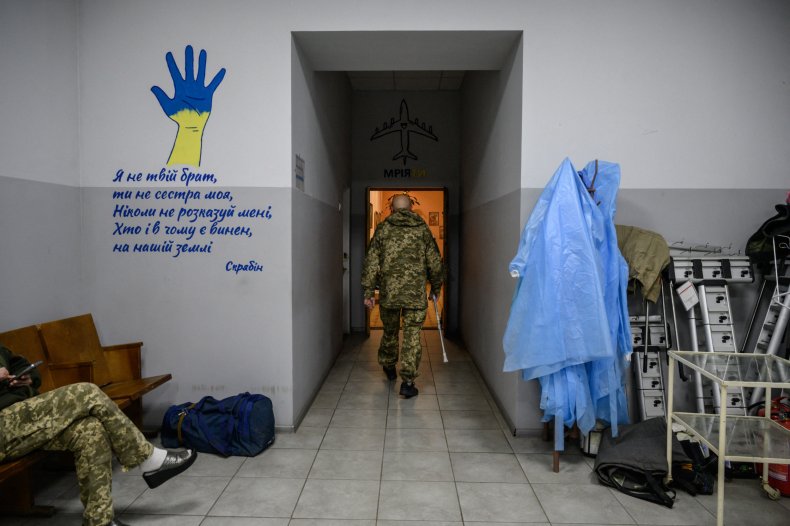 The letter recommends that the field hospitals work with Polish authorities as well as humanitarian organizations, like the United Nations, to consider "international humanitarian principles" in any treatment and activities.
The lawmakers also suggested the U.S. equip Ukrainian first responders and defense forces with armored ambulances. The recommended field litter ambulances would be able to transport up to four people at a time.
"We're going to have to really step up in a really big way to relieve the combat wounded and civilian casualties that will be coming in the weeks and months ahead," said Colorado Representative Jason Crow, according to the Associated Press.
As of April 21, the Office of the U.N. High Commissioner for Human Rights (OHCHR) determined 5,264 Ukrainian civilian casualties have been recorded.
The lawmakers, including Representatives Liz Cheney, Joe Wilson and Rick Larsen, also called for sending some of the sick and wounded to the U.S. military's Landstuhl regional hospital in western Germany to alleviate stress from other area hospitals.
"The Ukrainians just do not have the capacity to support tens of thousands of combat wounded over the course of months," Crow said.
State Department spokesman Ned Price, when asked about medical needs in Ukraine, said that the U.S. is supplying "the Ukrainian government with resources it can use as it sees fit," according to AP.
Other countries have deployed field hospitals in Ukraine as well. Israel set up a hospital last month in Mostyska, Ukraine, outside Lviv, with 100 staff members, according to The Times of Israel.
As previously reported by Newsweek, the 66-bed hospital is open 24/7 and is able to treat 150 patients at a time.
Newsweek reached out to the Blinken's office for comment.