A video of one child's reaction to a siren in Ukraine has left viewers heartbroken after going viral online.
Shared on Thursday on TikTok by Margarita Petrovna Vovk—who uses the TikTok handle maravomara—the video now has more than 900,000 views and thousands of comments.
In the video, a young child is seen reacting to the sound of a siren, running toward a man for comfort.
The caption reads: "This kid is a year old and he already understands that you need to hide at the sound of sirens."
As the Russian invasion of Ukraine continues, Ukrainian officials have reported Russian missiles hitting the city of Lviv, killing at least seven people including a child. Meanwhile, Ukrainian President Volodymyr Zelensky has appealed to Western countries for more military equipment to help the Ukrainian people fight as the battle for the eastern region of Donbas begins.
The latest numbers reported by the Office of the U.N. High Commissioner for Human Rights (OHCHR) recorded 4,890 civilian casualties in Ukraine, with 2,072 killed and 2,818 injured. The number of civilians killed since the conflict began includes 38 girls, 60 boys, and 71 children whose sex is not known.
Vovk is from Vyshneve near the Ukrainian capital Kyiv. In the video, her 1-year-old son Daniel is with his godfather who calms him down and hugs him.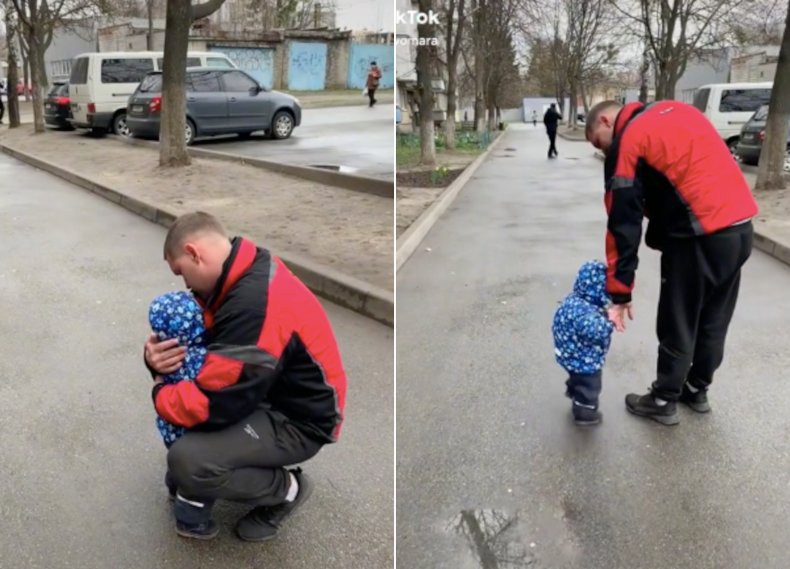 Vovk told Newsweek: "He didn't react to sirens before, but then he must remember that we took him in our arms or hugged and covered our heads. Now when he hears them, he immediately hugs us and hides his head."
When the siren went off, Vovk and the child's godfather smiled to comfort the child and did not show fear—keeping him calm as they took shelter. "We need to understand that panic is the enemy of common sense," explained Vovk: "We calmed the child down and went home. Ultimately, we have been living with this for 55 days now, we know how many minutes after a siren a rocket can arrive, but we hear when it flies, so we do not run in panic."
Commenters on the viral video shared thoughts and heartbreak at the footage. One viewer wrote: "I can't watch this video without crying," while another commenter said: "This is the situation for all children in Ukraine. I hope it will end soon and they will forget, like a bad dream."
"No child should have to hear and know that sound," said another commenter.
"Let this end. Our babies shouldn't suffer like this," wrote another viewer.
Vovk said: "It's very scary when your child at this age begins to react to the siren. You hope to the last that it will not happen and he will not remember, but the reality unfortunately is different.
"Sirens are all over Ukraine, there is no 100 percent safe place – but we are in a safer place than people from Mariupol and Kharkiv, so it is a sin for us to complain."