Some NYC School Principals Continue to Urge Masking Despite Rule Lifting
Some schools in New York City are urging students to continue wearing masks in school despite the city's mayor lifting the mask mandate in classrooms.
The principal at Brooklyn Collaborative Studies, Priscilla Chan, reportedly sent an email recently asking students to continue wearing masks in school, according to multiple outlets.
This urging to continue masking up comes even after Mayor Eric Adams removed the mask mandate for those in schools in an announcement on Friday. In his announcement, speaking in Times Square, Adams called it an "Arnold Schwarzenegger moment," saying "we'll be back," according to the mayor's office.
"It's time to open our city, and get the economy back operating," he said.
Specifically addressing schools, Adams said, "We want to see the faces of our children."
Along with the lifting of restrictions at schools, Adams announced that restaurants and concert venues will no longer have to require proof of vaccination.
However, in the letter sent to parents, the Brooklyn Collaborative Studies principal acknowledged Adams had lifted the mandate for masking in schools.
"As of Mon 3/7, masks are no longer mandatory in DOE school buildings for students in Grades K-12," Chan wrote, according to multiple outlets.
Despite Chan's acknowledgment of the removal of the mandate, the letter went on to say, "We strongly recommend that students and staff continue to wear masks in school to keep everyone safe."
Parents who talked to the New York Post weren't happy with the school's move. One person referred to the school's move as "an abuse of power."
"Tell me, what student is going to wear a mask after the head of their school tells them not to? Is that realistic? Of course not. This is an abuse of power and they know exactly what they're doing," the parent said to the Post.
However, it appears that the Brooklyn Collaborative School isn't the only school in the city exerting pressure on students to continue wearing masks. The principal at Beacon High School, Brady Smith, is reportedly allowing teachers to tell students to wear face masks, according to the Post.
Also, in a letter to parents, Smith indicated that he knew teachers could not mandate that students wear masks but "may request that students wear one as many of us have vulnerable loved ones at home," Smith wrote.
Students who talked to the Post said they were allegedly pressured by teachers to wear masks on Monday despite that being the first day where masks were not mandated in classrooms in New York City.
A 17-year-old said one teacher was using "social pressure."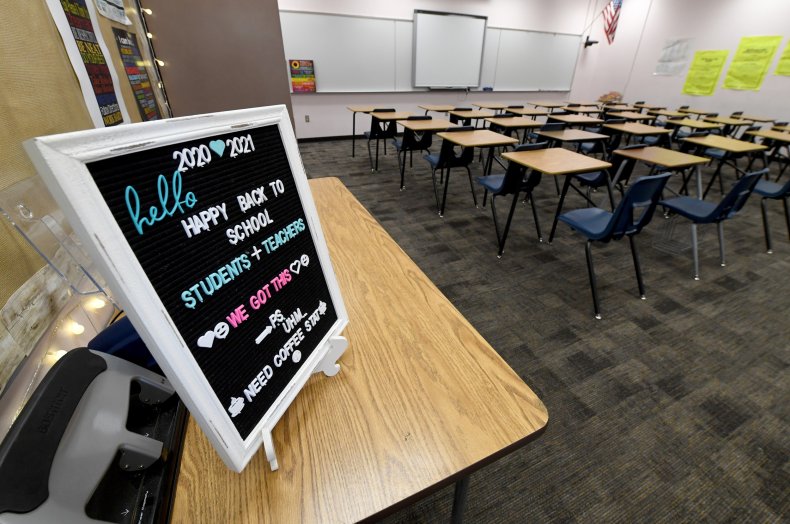 "My history teacher asked us to please keep wearing our masks. I don't think it's right, the social pressure he was creating. It's social pressure!" the teen said to the Post.
While NYC's mask and vaccine mandate expired for schools and a number of businesses, masks are still required for guests at Broadway plays.
Newsweek reached out to Beacon High School and the Brooklyn Collaborative Studies school for comment.