Some S.C. Protests Postponed After Attendees Test Positive for Coronavirus
A protest organizer in South Carolina said future demonstrations coordinated by his advocacy group will canceled until further notice, after about a dozen people who participated in recent rallies tested positive for the novel coronavirus.
"Some of our leaders, photographers and protestors have tested positive for COVID-19," said Lawrence Dishawn Nathaniel in a video announcement shared to Facebook on Sunday. Nathaniel, who founded nonprofit community organization People Demand Action, has helped lead protest efforts across South Carolina over the past month with an initiative called I Can't Breathe SC.
Nathaniel went on to explain the new diagnosis numbers in greater detail in the video. He said four organizers, three photographers, six protestors and several artists confirmed they had contracted the respiratory illness after attending demonstrations between May 30 and June 17 in Columbia, Charleston and Greenville.
After encouraging those watching the video undergo diagnostic tests for the virus before attending any upcoming rallies, Nathaniel said all future I Can't Breathe SC demonstrations will be postponed until case numbers decrease or organizers devise procedures to protect against further transmission. In the meantime, the group will conduct ongoing advocacy online.
Newsweek reached out to Nathaniel for any additional updates on Monday but did not hear back in time for publication.
People have gathered to protest systemic racism and police violence in cities across the United States and abroad since George Floyd died in the custody of Minneapolis police officers on May 25. Floyd's passing incited widespread public action.
In addition to criminal charges for officers involved in the deaths of Floyd, Louisville resident Breonna Taylor, Georgia residents Ahmaud Arbery and Rayshard Brooks and others, protestors have called for government officials to enact police reforms and remove public statues and symbols that commemorate racist leaders.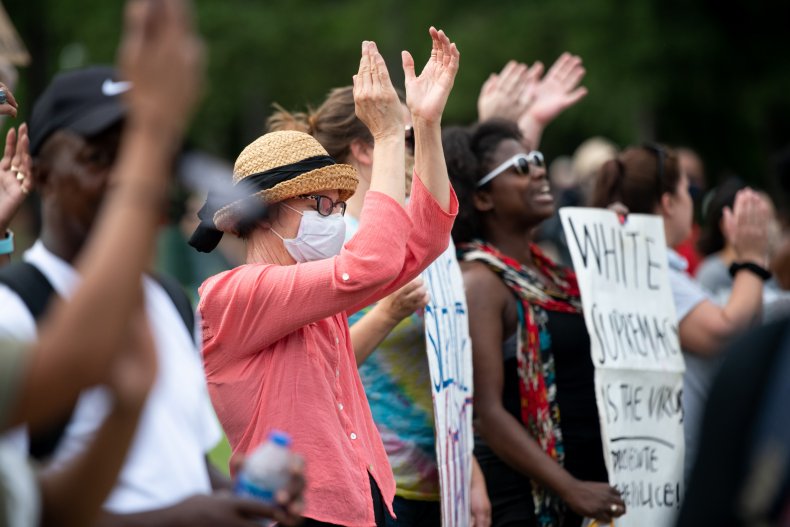 Experts have debated whether ongoing protests are contributing to the recent spike in cases of the novel coronavirus reported by health authorities in several U.S. states. A recent study published by the National Bureau of Economic Research found "no evidence" to support an association between demonstrations and rising case numbers.
In South Carolina, the Department of Health and Environmental Control confirmed three consecutive record increases in new daily diagnoses on Thursday, Friday and Saturday, after the state saw an initial spike in cases during the first two weeks of June.
As of Monday afternoon, South Carolina has confirmed more than 24,600 virus cases, 653 deaths and close to 10,800 recoveries, according to Johns Hopkins University's tracker.