Some South Dakotans With COVID Flown Out of State Amid Alarming ICU Shortage
South Dakota's three major hospitals—Avera McKennan, Sanford USD Medical Center, and Monument Health Rapid City Hospital—are reportedly struggling to find space for their critically ill COVID-19 patients.
Both Sanford USD Medical Center and Monument Health Rapid City Hospital reported their intensive care units are out of space. Avera McKennan reported only 6.7 percent of its ICU beds are available on December 2.
As a result, some South Dakotans are being flown out of state for treatment.
Robert J. Sliper, a COVID-19 patient and South Dakota resident, was transported to Colorado—over 340 miles away from his home—in November after local hospitals claimed they didn't have the space to care for him, according to a report by the Rapid City Journal.
Before the pandemic, many of South Dakota's medical facilities were limited as some rural residents expected to travel a great distance to reach the nearest hospital. As the state manages a recent surge in COVID-19 cases, South Dakota's medical facilities are running out of space and staff.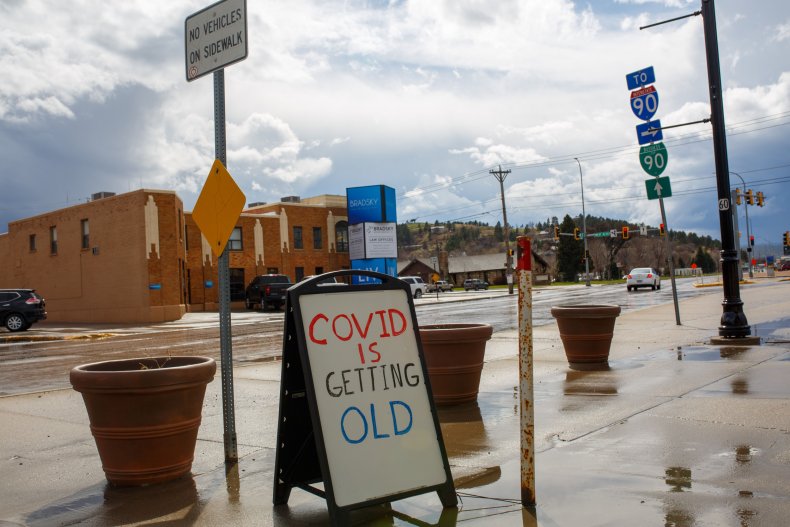 Avera Health, which owns Avera McKennan and over a dozen small hospitals across South Dakota, Iowa, Minnesota and Nebraska, initiated its coronavirus surge plan.
The plan included hospitals doubling their ICU capacity by postponing some non-emergency surgeries, cross-training hospital staff to work with COVID-19 patients, and repurposing other spaces into ICUs, Dr. David Basel, Avera's vice president of clinical quality, told the Journal.
Most hospitals affiliated with Avera Health are "at, near or above" capacity to treat COVID-19 patients, said Basel. The vice president continued noting Avera Health is seeing a decrease in its available workforce as 200 to 300 of Avera's 17,000 employees are out due to COVID-19 exposure or infection.
Monument Health Rapid City Hospital also enacted plans to manage the virus's surge. Under the plan, the hospital aims to add six more ICU beds. However, those beds won't likely be available until July of next year, Dr. Srinivas K. Gangineni, ICU Medical Director at Monument Health Rapid City Hospital, told the paper.
In the meantime, the hospital will divert patients to other hospitals.
South Dakota reported an average of 98 new daily cases this past week.
The seven-day average of cases in the state has declined compared to the previous two-week period from November 30 to December 3, according to data from John Hopkins University. However, the state saw record cases on November 11 after reporting over 1,458 new ones that day.
"If cases were to double for another month or two, we would be making some hard decisions," said Basel. "We've had reports that there are areas in Iowa where they are starting to really look at whether it's good to put individuals who are over 75 with COVID-19 on ventilators."
"We're not at that point, and I hope that we never get to any type of point like that. But, there may come a day," Basel continued.
Meanwhile, South Dakota Governor Kristi Noem mocked President-elect Joe Biden's message reassuring Americans struggling during the pandemic on Twitter last week. She tweeted a quoted phrase, "'I'm from the government, and I'm here to help," which President Ronald Reagan called "the nine most terrifying words in the English language" from a 1986 news conference.
Avera McKennan, Sanford USD Medical Center and Monument Health Rapid City Hospital didn't respond to Newsweek's request for comment in time for publication.