Some Virginia Schools Win Legal Mask Battle Against Governor Youngkin
Students at Virginia schools will be required to wear masks again after an Arlington judge ruled to temporarily block Governor Glenn Youngkin's Executive Order to give parents the choice to opt-out from mask mandates.
Seven Virginia school districts filed a lawsuit against Youngkin over his Executive Order that went into effect on January 24, giving parents the choice to send their kids to school without a mask during the ongoing COVID-19 pandemic. Mask mandates have sparked debate across the country pitting parents against schools and in some cases prompting physical violence.
In his Executive Order, Youngkin states his goal was to reaffirm the rights of parents in the upbringing, education and care of their children. He argued that requiring children to wear a mask at every moment they are in school has been proven to be "ineffective and impractical."
"There is no greater priority than the health and welfare of Virginia's children," Youngkin said. "Under Virginia law, parents, not the government, have the fundamental right to make decisions concerning the care of their children."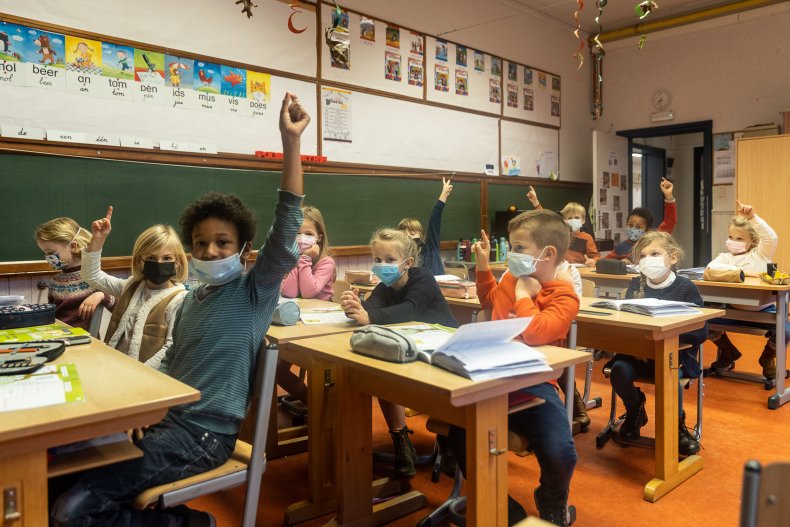 Concerned for the health and safety of students and staff members, the districts challenged Youngkin's authority to supersede a decision school boards make for their community regarding mask mandates, they say the Centers for Disease Control (CDC) currently recommends.
Circuit Court Judge Louise DiMatteo granted the school boards' request to block the governor's Executive Order on Friday. She ruled that Youngkin cannot override school district policy through emergency orders.
"The single issue before the Court is whether the Governor, via his emergency powers, can override the decision of local school boards delegated to them under SB 11303. On this pivotal point, the Court concludes that the Governor cannot."
The seven school boards released a joint response to the judge's decision to block the order, according to WJLA. They wrote that the governor's order put the health and safety of students and staff members at risk—especially as the Omicron variant spreads across the U.S.
"The Schools Boards of Alexandria City, Arlington County, City of Richmond, Fairfax County, Falls Church City, Hampton City and Prince William County are pleased with the temporary injunction granted today by the Arlington Circuit Court. The order allows schools to continue to protect the health and well-being of all students and staff. While the legal process on this matter continues, today's ruling preserves the existing policies and practices in Virginia school divisions, which includes masking requirements."
Newsweek reached out to Youngkin's spokesperson Macaulay Porter for comment. Porter said Youngkin "will never stop fighting for parents' ability to choose what is best for their children."
"The governor often said that this is not a pro-mask or anti-mask debate," Porter said. "It's about parents knowing what's best for their child's health, and opting-out should there be a mask mandate. More voices, including from the scientific and medical community, call into question the efficacy behind a universal mask mandate for children. This is about what's best for their kid's health and who can best make that decision. We are going to appeal, this is just the first step in the judicial process."