Some Vulnerable Republicans Side with Democrats in Schumer's Show Vote to Protect Obamacare
A half-dozen Republican senators voted with their colleagues from across the aisle in an attempt by Democrats to block the Justice Department's legal efforts to strike down the Affordable Care Act amid a pandemic.
The case will soon be heard by the Supreme Court.
Despite the bipartisan support and a 51-43 vote, the motion failed. Sixty votes were required to pass the measure offered by Senate Minority Leader Chuck Schumer.
The six GOP senators who voted for the legislation were some of the upper chamber's most moderate—and vulnerable—members: Susan Collins (Maine), Joni Ernst (Iowa), Cory Gardner (Col.), Martha McSally (Ariz.), Lisa Murkowski (Alaska), Dan Sullivan (Alaska). Murkowski is the only one not up for re-election.
Schumer forced the vote to compel endangered Republicans to go on the record about the GOP-backed effort to dismantle the Obama-era health care law. He decried their support as hypocritical based on their previous opposition.
"We knew that some of them would squirm, but when you flip your vote a few weeks before the election, the American people see right through it," the New York Democrat told reporters. "These senators are worse off today, no matter how they voted, because they flip-flopped."
Schumer explained that the six had supported previous efforts to end Obamacare.
"They were against protecting pre-existing conditions, they were for the lawsuit," he said. "And now, three weeks before the election, they try to say they're for it. This new vote only shows their hypocrisy a few weeks before the election.
Other GOP senators who are considered at-risk, including John Cornyn (Texas), Steve Daines (Mont.), Lindsey Graham (S.C.), Mike Lee (Utah), Kelly Loeffler (Ga.), David Perdue (Ga.) and Thom Tillis (N.C.), voted with their party and against the measure.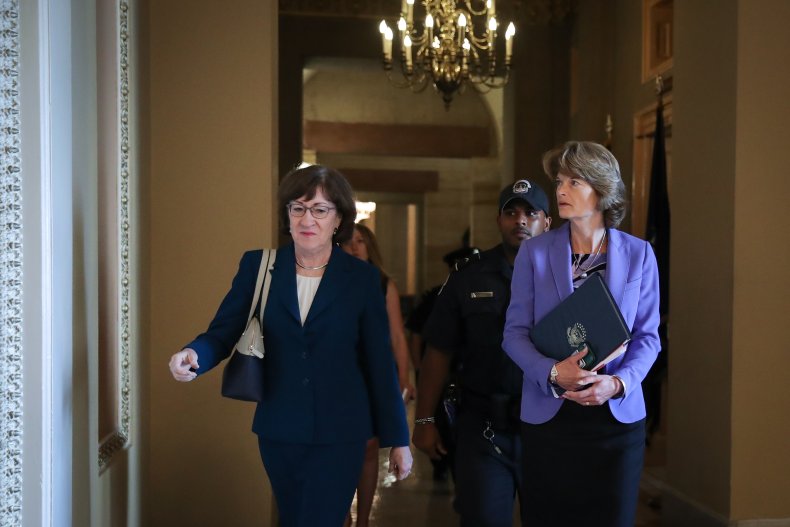 Schumer rejected the notion that the vote could offer political cover for the handful of vulnerable Republicans, who could argue to their constituents that they voted against the Trump-backed lawsuit and for protecting pre-existing conditions.
Democrats in Congress have latched onto health care as their lead argument against confirming President Donald Trump's Supreme Court nominee, Judge Amy Coney Barrett. They warn that the conservative nominee will side to end the Affordable Care Act, which provides health care to more than 130 million people with pre-existing conditions.
Barrett is expected to be confirmed by the GOP-controlled Senate before the Nov. 3 election.
Oral arguments on a case involving the Affordable Care Act will be heard by the Supreme Court on Nov. 10—one week after Election Day—as part of a case brought by Republican state attorneys general and backed by the Department of Justice that seeks to dismantle the entire law.
Schumer forced a vote on his measure through a little-known and rarely-used floor procedure earlier this week that afforded him the ability to bypass Senate Majority Leader Mitch McConnell's (R-Ky.) control of the floor schedule.
"Republicans were willing to say to heck with you, the American people. To heck with you," Schumer said. "McConnell is squirming. This is an issue where they know the American people are on our side."
Despite a long-held promise that dates back to his 2016 campaign to unveil a comprehensive alternative to the Affordable Care Act, Trump has yet to do so. In a largely symbolic move, the president signed executive orders last week seeking to protect pre-existing conditions just weeks before the election.