'Somebody Has to Pay': GOP Lawmaker's 3 Siblings Want His Removal From Congress Over Riot
Three of GOP Arizona Representative Paul Gosar's siblings reportedly contacted Democratic Representative Raúl Grijalva, urging the congressman to remove their family member from Congress following the events of Wednesday's deadly Capitol mob riot.
"Five people are dead and Congress has been attacked," David Gosar, the Republican congressman's brother, according to the Arizona Republic. "Somebody has to pay a penalty for it."
David Gosar said Paul Gosar "has parroted the exact same lies that Trump has," in regards to the election. The Arizona representative was one of the Republican congressmen who objected to the electoral vote certification when Congress reconvened after the riot Wednesday night.
"We know him to be an extremist and we took that very seriously," said Jennifer Gosar, another one of Paul Gosar's nine siblings. "I believe that my brother has been a constant perpetrator of misinformation. I've been incredulous at the lack of accountability thus far. I would think Wednesday would be certainly a line."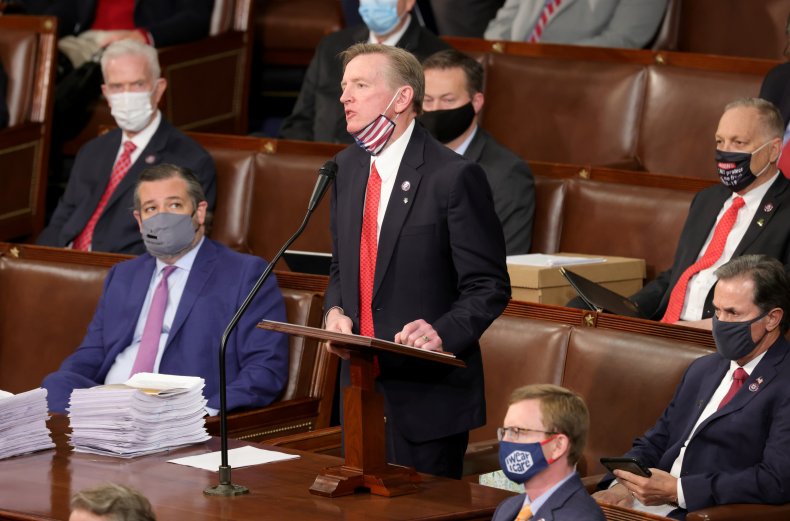 "He's set a dangerous sort of precedent along the 10 years he's been in office," said Tim Gosar, a third sibling. "When you talk about what happened the other day, you're talking about treason. You're talking about overthrowing the government. That's what this is. If that doesn't rise to the level of expulsion, what does?"
This is the third time in three years that members of the Gosar family stood against their brother. In 2018, a number of Gosar's siblings gained national attention for appearing in an advertisement for his Democratic opponent, David Brill. Then, in 2019, they endorsed Democratic challenger Delina DiSanto over their sibling.
In a statement to the Arizona Republic, Grijalva acknowledged hearing from the Gosar siblings, but said he was more focused on President Donald Trump's accountability in the riot.
"I am first and foremost focused on removing the President from office as soon as possible," said Grijalva. "But we must not overlook the role that some Members of Congress played in promoting the baseless conspiracy theories that led to Wednesday's siege of the Capitol. It's no secret that some threw gasoline on an already raging fire."
"If a Member of Congress willingly violated their oath of office and tacitly encouraged a mob to overturn the results of democratic elections, their actions should be investigated and they should face consequences. If that includes expulsion, so be it," Grijalva added.
According to the U.S. Constitution, "each House may determine the rules of its proceedings, punish its members for disorderly behavior, and, with the concurrence of two-thirds, expel a member." Expelling a member of Congress, however, is rare and happened only a few times throughout U.S. history.
Newsweek reached out to the offices of Paul Gosar and Raúl Grijalva for comment, but didn't hear back in time for publication.