'Someone Needs To Step Up,' High Schoolers Get EMT Licenses to Fill Ambulance Shortages
High school students in rural New York are taking over their local emergency medical services (EMS) with newly-received licenses to help stem ambulance shortages in their town.
A group of young New Yorkers took over the department in Sackets Harbor shortly after the beginning of the pandemic, when many of older EMS volunteers left the field over COVID-related health concerns.
"Who else is there to do it if we don't? Someone needs to," 20-year-old EMS Captain Grayden Brunet told CBS News. "Someone needs to step up and do it."
The EMS crew, who are all under the age of 21, helps service the village of 1,400 people near Lake Ontario.
Like 35 percent of rural communities across the country, Sackets Harbor's emergency services is entirely run by volunteers—and like almost every workforce in America, EMS departments have also been faced with troubling staffing shortages.
A survey conducted by the National Rural Health Association found that 69 percent of these ambulance departments say they're struggling to find help.
"We came in one day and realized we were the only ones coming in," Brunet told North County Public Radio (NCPR).
When a group of high schoolers found out that you can become an EMT at 17 in New York State, they took the required training to join the department and fill vacancies left by older volunteers.
"We went from not even having our licenses to saving people's lives," Sackets Harbor EMS member Dalton Hardison told CBS.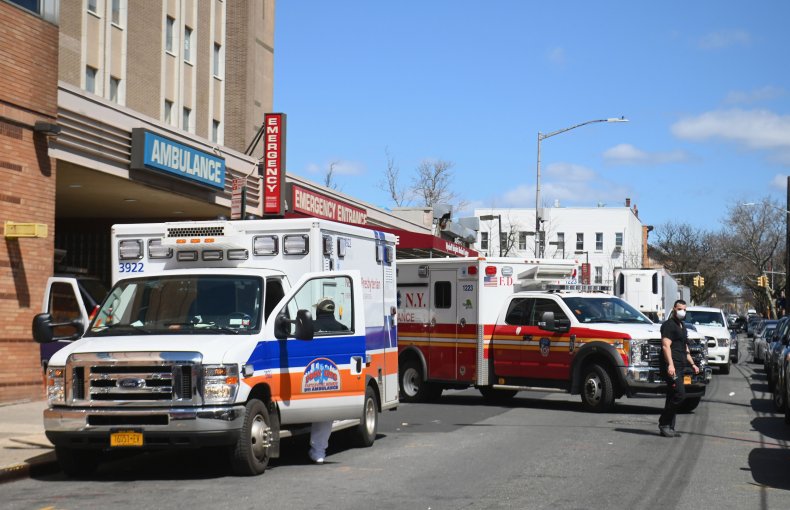 The high school students said there's often a lot of confusion when they respond to calls, with many asking how old they are and where the EMS crew is.
"We just explain to them—we are the ambulance," Sackets Harbor EMS team member Niklas Brazie said.
The teenagers told NCPR they've responded to a wide range of calls from heart attacks to COVID hospitalizations and even suicides. They said that while many of the situations have been difficult—especially telling people their loved ones are gone—they feel obligated to continue running the department.
Their role in the community is not lost among the residents of Sackets Harbor. Their school, Sackets Harbor Central, allows the students to leave class for calls because, without them, there may be no one to respond to the emergency.
Brunet has helped the Sackets Harbor Fire Company, which serves Sackets Harbor, Town of Hounsfield and surrounding areas, launch a GoFundMe page in hopes of raising $10,000 for the EMS team.
Newsweek reached out to the Sackets Harbor Fire Company for further comment but did not hear back before publication.