'Something to Prepare Themselves': Teacher Provides Hockey Pucks in Case of Active Shooter
A high school Spanish teacher went viral after sharing a video about how she tapes a hockey puck to each of her student's desks in case of an active shooter situation.
The video, published by Carly Zacharias who goes by @crzachar on TikTok, received more than 2.1 million views and 6,500 comments since it was posted on January 3.
In the video, the Oakland County, Michigan, teacher showed viewers around her classroom, which had a large wooden door with a window, and a wall of large windows.
"If you're like me you've probably been doing a lot of thinking recently about your school safety," Zacharias said. "I just had an idea and I wanted to share it so feel free to steal it."
As she entered her classroom, she explained that her students know that if anything bad happens, they should try to open the wall of windows and run out.
"My kids know that [Plan A] is always just to get out of that middle window and run across the street," she said. "But of course [Plan B] is barricade the door and fight, you all know this."
As she said this, she showed how her classroom door has a large window that cannot be covered.
"So I thought, what can I give every single student, something to prepare themselves? I thought a hockey puck," Zacharias said.
She explained that a hockey puck can hurt someone if necessary and that it's simple to have students keep the pucks in the corner of their desks. But since some of her students ended up fidgeting with the pucks, she said she started taping them down under the desk but still within reach.
"That way kids can use them if they need them," she explained. "Obviously it's just a deterrent but it definitely makes us feel a little bit better."
According to Everytown USA, a nonprofit organization advocating against gun violence and for stricter gun control, there were at least 187 separate instances of gunfire on a school campus in 2021. These incidents killed 42 individuals and injured 113.
This month alone, there have been two reported instances of gunfire on school grounds, although neither resulted in any injuries.
Zacharias, who works in the same county as Oxford High School where the November shooting occurred, told Newsweek she made the video in an attempt to show teachers her personal safety strategy.
"I did not make the TikTok to complain about my school's safety measures in any way," she said. "My school has been very proactive when it comes to school safety and continues to be dedicated to improvement. They're doing all that they can, and I know that. My intent was simply to share a real-life strategy that other teachers could benefit from."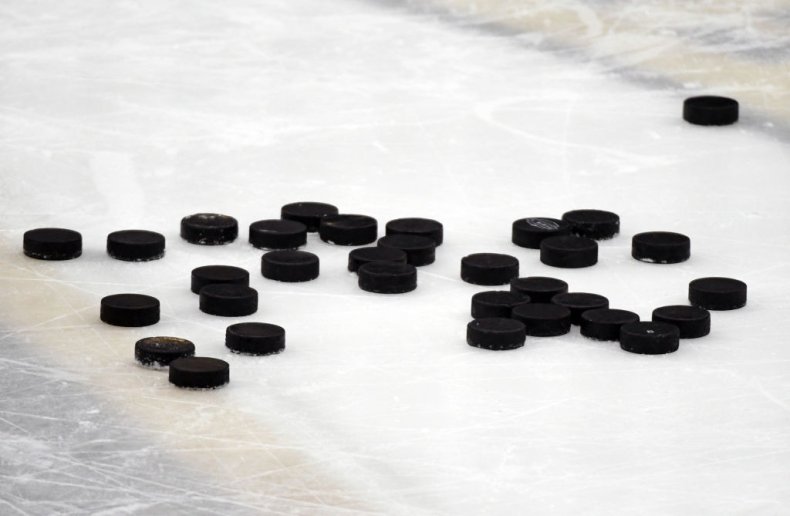 More than 6,545 users flocked to the comments of the viral video, with many comments mentioning how "scary" and "dystopic" the whole solution felt.
"How is America Real?" one user commented.
"Teachers spending their own money so that students have something to throw at shooters. Everything is fine," one comment read.
March for Our Lives, a student-led demonstration that supports gun control legislation, also commented on the video.
"We have to fight for a reality where we don't need those hockey pucks," the official March for Our Lives TikTok account commented. "Thank you for being so committed to protecting your students, sending love."
Another comment with more than 38,000 likes asked, "do non-Americans watch this kind of thing with shock and horror?"
One user replied to the comment and said "of course! We had one school shooting in Scotland 25 years ago and guns were banned. We have our priorities straight."
"We had one major mass shooting here in Australia and we got gun control," another user replied. "We still have guns, you just can't buy them like candy."
"The way you said 'you all know how it is' scares me," one user commented. "In Europe I have never had to have a way to defend myself in school."
Updated 01/26/2022, 12:14 p.m. ET: This story has been updated with comments from Carly Zacharias.