Watch Son's Unusual Way To Lift Spirits of Cancer-Stricken Dad in Hospital
A Los Angeles real estate agent has been praised for finding a way to keep his dad laughing while he undergoes cancer treatment in a hospital.
Michael Ragazzo took to TikTok to share a clip showing how he was keeping his dad Joe's spirits up while he is treated for Leukemia.
In the video, an on-screen caption explained that Joe had been "going crazy" after spending three weeks in the hospital with little to occupy him other than his thoughts.
"So I figured I'd make him even more crazy," Ragazzo wrote. What follows is just over 20 seconds of dancing with Ragazzo climbing onto his dad's bed to deliver a masterclass in twerking.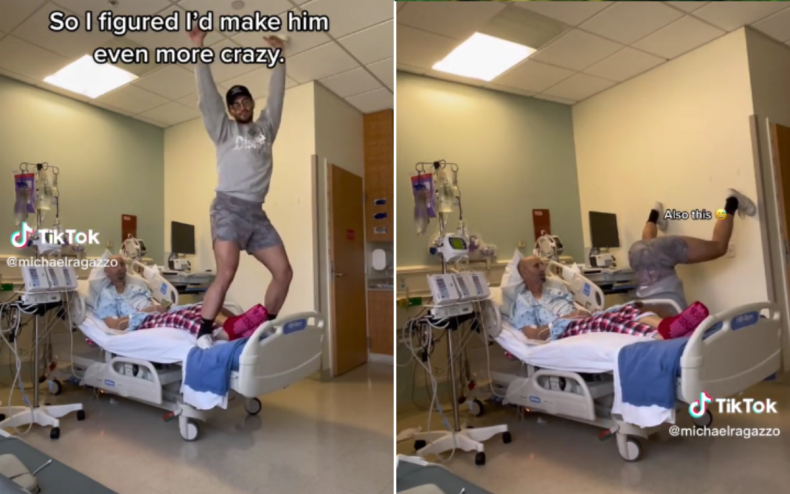 He twerks on the end of the bed, beside it and even shows off some moves while upside down against a wall. It's an extraordinary effort and one that has not gone unnoticed with the video amassing over 600,000 views.
Ragazzo told Newsweek Joe is his "number one fan" on TikTok so he thought it "would be fun to include him in a video."
"I figured I would get a lot of backlash for that video, not everyone approved the message, but I was getting desperate to find ways to entertain my dad," he said. "I think he laughed more watching that video than he did the entirety of his hospital stay until that point."
Laughter Is The Best Medicine
It's often said that laughter is the best medicine. That may not be strictly true, but laughter does come with some health benefits.
A 2017 study from the Journal of Neuroscience highlighted how laughing with others releases endorphins in the brain, which are feel-good chemicals emitted via opioid receptors, and induce a feeling akin to euphoria.
Visiting someone in the hospital to sing a song or just give them a hug can really help.
Ragazzo said his dad previously battled cancer when he was in high school, but he felt like it was "going to be harder for him" this time around.
"Though he and my mom hid a lot of his pain and stress from my twin sister and me the first time around, we saw the toll it took on him," he said. "Over the last 15 years, his body has faced a series of hurdles and now requires to be on a permanent feeding tube."
Though he acknowledged his dad's body is tired, he said Joe has remained "mentally strong" throughout all of it. As his son, he's been doing everything he can to ensure Joe stays that way.
"During this treatment, I wanted to make sure his mind was moving, he was being challenged, and he was not blankly staring at the stale hospital walls," he said. "The first couple weeks, he barely had enough energy to carry a conversation. We started playing card games and his energy levels started rising."
That was when he decided to start recording his dance videos. His risque efforts were applauded by his dad. He wasn't alone in showing appreciation either, with viewers flocking to the TikTok video's clips to praise Ragazzo's attempts to keep him smiling.
"As a nurse I probably would've joined you," one viewer wrote. "Laughter is the best medicine!" Another said: "Hoping for his recovery!! Pretty sure you brought a smile to his face."
A third commented, "The world needs more people like this", while a fourth wondered, "do you do house calls?"
While the response to the video has been huge, Ragazzo is just focused on Joe at the moment who is still in the hospital undergoing treatment for "succeeding health issues."
"My passion is people, I love to make them laugh, and do what I can to help the people I love," he said. "Hence, the reason I've spent the last two months taking care of my dad and being with him throughout his treatment."
Is there a health issue that's worrying you? Let us know via health@newsweek.com. We can ask experts for advice, and your story could be featured on Newsweek.