Son of Deceased 'Love Has Won' Cult Leader Says He Doesn't Want Her 'Work' Continued
The estranged son of a religious cult leader whose corpse was found mummified and covered in Christmas lights last month in Colorado has spoken out about his mother's death and said he does not want her "work" to be continued.
Cole Carlson told Denver's KDVR-TV on Tuesday that his mother, Amy Carlson, also known as "Lia," left him when he was 10 years old to become the leader of the controversial religious group called "Love Has Won."
"I'm Amy's oldest child, she's my estranged mother," Carlson told the TV station. "Everything in my life is very average except my mom is a cult leader, or was a cult leader, I should say."
Amy Carlson's deceased body was found wrapped in a sleeping bag and covered in lights in a home in Moffat, Colorado, on April 28. On Tuesday, seven people in the cult were arrested after a man who lived in the home told police he had discovered the body.
That man, Miguel Lamboy, told police that Amy Carlson was the leader of the group and that she "goes by the name 'Mother God,'" according to an arrest warrant. Carlson's eyes were missing when her body was discovered by police, and a coroner later determined that she had been dead for at least four weeks, CNN reported.
"The mummified remains appeared to be set up in some type of shrine," the Saguache County Sheriff's Office said in a report.
Cole Carlson called the details of his mother's death shocking and disturbing on Tuesday.
"Some of the details that have slowly continued to come out have been rather shocking to me, honestly, but they are also a cult. You kind of expect weird things to come out, and I had been expecting for her not to be around much longer," Carlson told KDVR.
"Mummified and eye makeup but no eyes, very disturbing. That's the best word I can think. The whole thing is so disturbing," he added.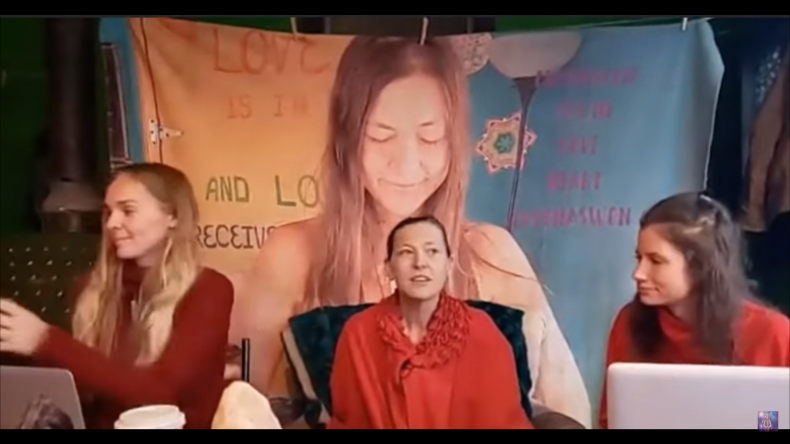 Carlson added that he is now looking into possible legal pathways to find justice for families or former cult members who may have paid large sums of money to join Love Has Won, which has previously faced allegations of brainwashing and monetary theft, CNN reported.
"It makes me mad, and I really don't want to see this work continued, especially with her name attached or in her honor," Carlson said.
After Amy Carlson's body was discovered, Lamboy told police that he believed at least five people drove her corpse from California to his Colorado residence on April 27, where he offered them a place to stay. When he discovered the mummified body, he tried to leave, but the cult members initially would not allow him to.
Eventually, he was able to flee the scene and reported the death to police. When police entered the home, two children were discovered on the premises, a 13-year-old girl and a 2-year-old boy.
The seven followers are now being held in the Rio Grande County Jail and face charges of child abuse and abuse of a corpse.
"I'm not sure what to think about this whole thing. I've never seen a group of people be so nonchalant about a dead person in their back room," Saguache County Sheriff's Department Corporal Steve Hansen told CNN affiliate KUSA.
Police added that Saguache County Sheriff's Office previously received "many complaints from families within the United States" about the Love Has Won group and said the cult has members from all over the world.
On Saturday, a member of Love Has Won wrote on Facebook that "Mother God had 'ascended.'"
The person, known as Bobby, wrote: "Mom had told us All this was coming, She prepared the team and All who feel Her for these MOMents sharing frequently stories of 2008 when the Galactics took Mom to the ships and shared with Her this was a death mission."
Bobby went on, "We thank everyone for their Full Surrender to the Divine Plan," according to The Denver Post. "Mom will give you the next step in Your Heart in every Present MOMent you're there, MOM ENTers. The team are respectfully honoring the process law enforcement require and we are grateful for their diligence in protecting Humanity."
Newsweek contacted the Saguache County Sheriff's Office for additional comment but did not hear back in time for publication.