The brass band frontwoman who went viral for urinating on a fan's face during a live performance has issued an apology, saying she took things "too far."
Sophia Urista of Brass Against invited a fan on stage during the band's set at the Welcome to Rockville festival in Daytona Beach, Florida, last weekend. She then instructed the man to lie down before removing her clothing and urinating on him.
"Hey everyone. I want to speak to my performance at Rockville metal festival in Daytona," the singer wrote in a statement on Twitter.
"I have always pushed the limits in music and on stage. That night, I pushed the limits too far."
The band was performing a cover of Rage Against the Machine's "Wake Up" when Urista told the crowd she needed to pee.
"Get my man with the can on his head ready, 'cause we're going to bring him onstage and I'ma p*** in this motherf*****'s mouth," she said.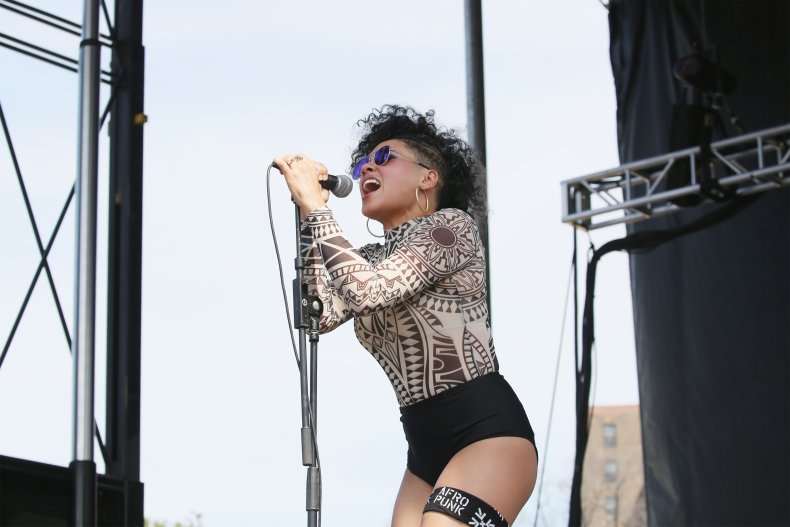 "I gotta pee," she continued. "And I can't make it to the bathroom. So we might as well make a show out of it."
The male fan, with a can attached to his forehead, can be seen making his way up to the stage. Urista then stands over him to relieve herself.
A video of the incident, which can be seen here, has been watched more than 3.2 million times on YouTube.
Urista's statement continued: "I love my family, the band, and the fans more than anything and I know that some were hurt or offended by what I did. I apologize to them and want them to know that I didn't mean to hurt them.
"I am not a shock artist. I always want to put the music first. I'm grateful for all of your continued love and support."
Clips of the incident went viral on Saturday, amassing millions of views and prompting the band to issue an apology on Urista's behalf.
A post on the Brass Against Twitter account said she had got "carried away" and told fans it was not a usual occurrence.
"We had a great time last night at Welcome to Rockville. Sophia got carried away," the tweet read. "That's not something the rest of us expected, and it's not something you'll see again at our shows. Thanks for bringing it last night, Daytona."
Under Florida law, it is illegal for a person to expose "his or her sexual organs in public or on the private premises of another, or so near thereto as to be seen from such private premises, in a vulgar or indecent manner."
A spokesperson for the Daytona Police Department told Newsweek that one parent had contacted them in relation to the incident, which was witnessed live by the woman's teenage son.