Soulja Boy and Chris Brown have both said they were cut from Kanye West's new album Donda.
The highly anticipated and much-delayed record finally arrived on streaming services on Sunday and features a host of high-profile collaborations including Jay-Z, Travis Scott and, controversially, Marilyn Manson.
But two artists who were thought to be involved have expressed their anger at being cut.
Rapper Soulja Boy—real name DeAndre Cortez Way—has labeled West a "coward" for cutting his verse on the track "Remote Control."
Speaking to TMZ, the "Crank That" hitmaker also called West a "timewaster" when approached by the outlet in Calabasas on Monday.
He also took to Instagram earlier in the day and posted his verse on Instagram with the caption: "Here's my 'Remote Control' verse. F*** Kanye. #Donda."
Soulja Boy also condemned West in a series of tweets.
"If he didn't like the verse he should of said that don't text me acting like u f*** wit it then secretly take it off," he wrote in one tweet. "What kind of s*** is that I was working on my album too I don't got time for this s***."
He also tweeted on Sunday: "This n**** Kanye smh. Tell homie dont hit my phone no more."
Meanwhile, singer Chris Brown also took to social media to express his frustration at being cut from the album.
Rap-Up reports that Brown's voice was heard on the song "New Again" when it first dropped on Sunday but later replaced with a new version he is not featured on. Brown is still credited as a songwriter.
"Kanye a whole hoe," Brown wrote on his Instagram Story in response to the snub, Page Six reports.
In another post, the "Loyal" hitmaker added: "Nah he tweakin."
Newsweek has contacted representatives for West for comment.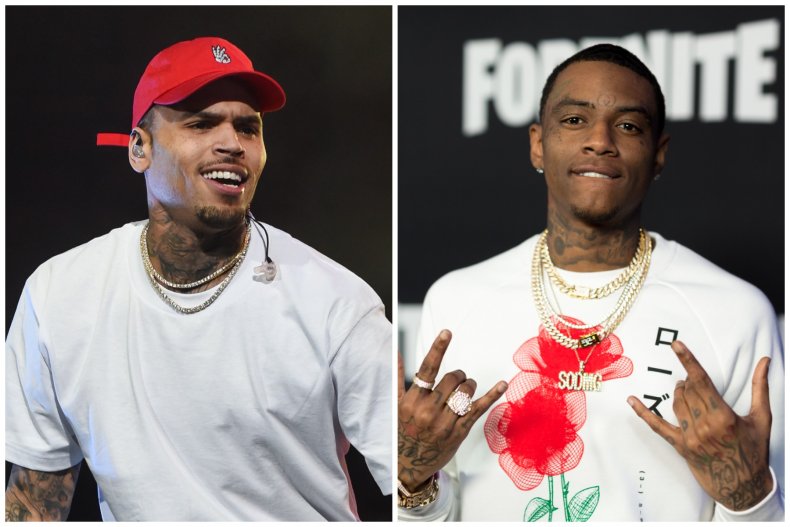 Donda had an extensive pre-release rollout complete with West's three listening events with the final one taking place on Chicago last Thursday.
The final event saw West bring on stage disgraced rock star Marilyn Manson who was later confirmed to be featured on the album, drawing much backlash.
Manson is featured on the track "Jail pt 2" along with DaBaby.
His inclusion on the album has upset many fans as Manson is facing several allegations of sexual, physical and emotional abuse from his former partners including Westworld actress Evan Rachel Wood—claims he denies.
Meanwhile, DaBaby has been dropped from multiple festival lineups over homophobic comments he made at Rolling Loud festival earlier this summer.