A new, more infectious variant of COVID from South Africa has been shown to evade antibodies in a preliminary study, prompting fears vaccines may not work against it. However, experts have stressed the study, although well-conducted, must be approached with caution.
Scientists at the National Institute for Communicable Diseases in South Africa set out to understand whether antibodies, including those taken from the blood of people who recovered from the original form of COVID, can neutralize the new variant named 501Y.V2.
The variant has nine changes in the spike protein COVID uses to invade the body. It emerged in South Africa in the second half of 2020 and has so far appeared in over a dozen countries including the U.K., Switzerland, Finland, Japan, Australia, Zambia, France, South Korea, and Austria.
It has not been reported in the U.S., although Dr. Anthony Fauci, the director of the National Institute of Allergy and Infectious Diseases, told Newsweek earlier this month that it is likely circulating.
In a study carried out in lab dishes, the scientists found antibodies did not neutralize COVID in 21 of the 44 blood samples taken from patients. The remainder worked partially. The findings were published on the pre-print server BioRxiv meaning they have not been peer reviewed.
This suggests the antibodies of people infected with previous forms of COVID may not work against 501Y.V2, the authors wrote. The data also have "implications for the effectiveness of SARS-CoV-2 vaccines, which are principally based on immune responses to the spike protein," they said, but more research was needed to confirm this.
Co-author Penny Moore, associate professor at the National Institute for Communicable Diseases in South Africa, told CNN: "I think we should be alarmed."
David Montefiori, a virologist at Duke University Medical Center who did not work on the paper, told CNN the study was the first to make him doubt whether having had COVID or receiving the vaccine would protect against a new variant.
"Based on Penny's data, it's likely that the vaccine is going to be somewhat less effective, but how much less effective we know," he said.
However, other scientists who did not work on the study were more cautious in their assessments. Professor James Naismith, senior research fellow in structural biology at the University of Oxford, U.K., said in a statement the study was "well done."
Naismith said: "It's human nature to enjoy frightening ourselves, but we must not panic... Of course we would rather neutralization had occurred but this does not mean that the new virus will infect, make ill and spread from those who have already been infected with the original strain."
He said: "What is true for immunity from infection is likely but not certain to be true for immunity from vaccination. The vaccines do stimulate very strong responses, immunity is a sliding scale it's not an on off switch."
Lawrence Young, virologist and professor of molecular oncology at Warwick Medical School, U.K., said in a statement the study was "very thorough."
He told Newsweek the variant's apparent ability to evade certain antibodies implied immunization from current vaccines "might be less effective against this virus variant and others that have similar changes in the spike protein" such as one from Brazil.
"It may mean that we will have to be vaccinated with a modified vaccine in the future," he said.
It is thought mRNA vaccines, such as Pfizer and Moderna's, can be replaced in around six weeks, said Young.
"The standard measures to restrict transmission (hand washing, facemasks, at least 2 meter social distancing) will prevent infection with these variants. Improved surveillance (testing, tracing and isolating) and strict border control will also limit transmission. It means that we all have to stay vigilant and keep person-to-person contact to a minimum," he said.
Pointing out the limitations of the work, Daniel Davis, professor of immunology at the University of Manchester, UK, told Newsweek the research was based on how well antibodies target the virus in a lab dish, which may not directly correlate with the complex immune response in the body.
"Overall, this is vital research but there are still many unknowns," he said. "The current vaccine is definitely worth having: it is protective against a large fraction, if not all, of the coronavirus out there."
Liam Smeeth, professor of clinical epidemiology at London School of Hygiene and Tropical Medicine, similarly highlighted in a statement that while the data are "potentially concerning" the findings were from a lab and may not be replicated in people.
"The data do raise the possibility that the protection gained from past infection with COVID-19 may be lower for re-infection with the South African variant. The data also suggest that the existing vaccines could be less effective against the South African variant," he said.
"However, before coming to those conclusions, we need large-scale studies over time among populations where the variant is common looking at re-infection risk and to assess vaccine effectiveness."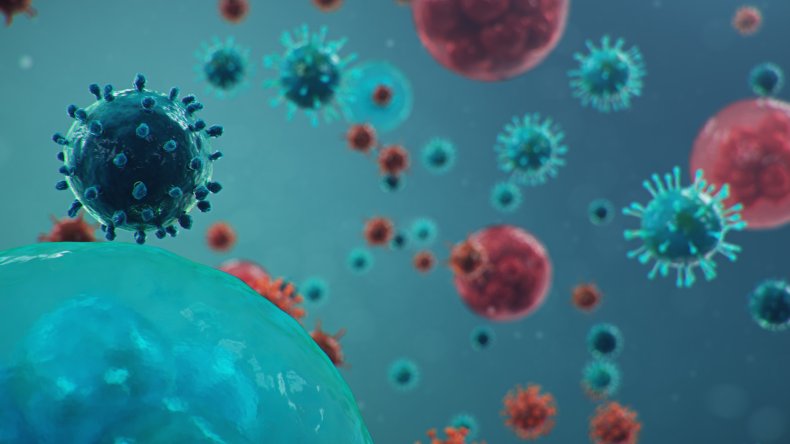 Uncommon Knowledge
Newsweek is committed to challenging conventional wisdom and finding connections in the search for common ground.
Newsweek is committed to challenging conventional wisdom and finding connections in the search for common ground.
About the writer
Kashmira Gander is Deputy Science Editor at Newsweek. Her interests include health, gender, LGBTQIA+ issues, human rights, subcultures, music, and lifestyle. Her work has also been published in the The Independent, The Independent on Sunday, The i Newspaper, the London Evening Standard and International Business Times UK.