South Dakota GOP Advances Bill Making It Difficult to Obtain Abortion Pills
South Dakota has advanced a new bill that could make it harder for women to obtain pregnancy-halting pills.
The bill was passed Tuesday in the House's Health and Human Services Committee, with every Republican member voting in favor of it. If it eventually becomes law, the measure would require women who want pills for an abortion to make three separate trips to their doctor. It would also eliminate their ability to get them through the mail or a telemedicine service.
Earlier this month, U.S. District Judge Karen Schreier issued a preliminary injunction against a similar rule on the pills that was pushed via an executive order by GOP Governor Kristi Noem. Meanwhile, abortion medications have been targeted in other legislation. Late Tuesday, the House passed a Republican lawmaker's proposed bill that would totally ban the pills, with the measure now headed for the Senate.
In issuing her injunction, Schreier said the governor's rule "likely imposes an undue burden on Planned Parenthood and its patients' right to seek an abortion," the Associated Press reported. Noem has appealed the judge's ruling to a higher court.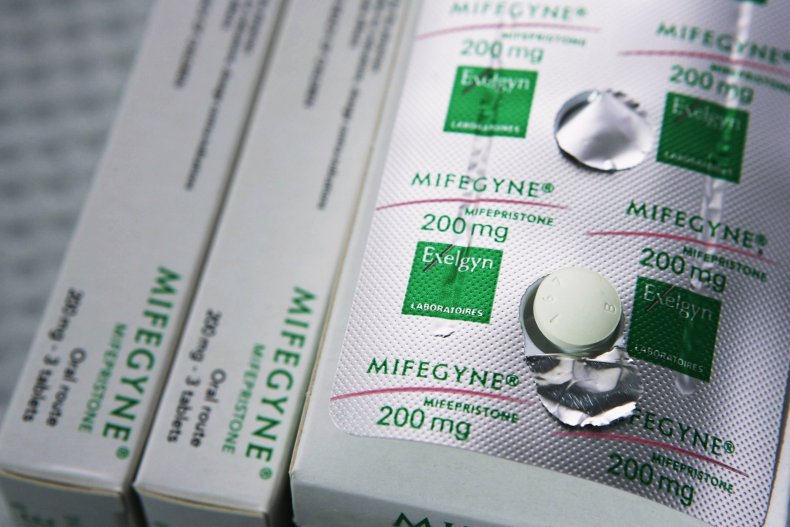 The total ban bill from Representative Steven Haugaard was revised to change the definition of a chemical abortion drug to include alternate uses of such medications, according to the Argus Leader. "The bill as amended addresses the issue raised in committee about the alternate uses for some of these drugs," he said.
During his remarks in the House, Haugaard mentioned the ongoing Supreme Court case Dobbs v. Jackson Women's Health Organization, which concerns a Mississippi state law that bans abortions after the first 15 weeks of pregnancy.
"I would hope we'd act on whatever the Dobbs case rolls out," said Haugaard, "but for right now, we know that abortions are taking place probably every day."
Despite the advancements of these bills in the Legislature, the ACLU of South Dakota has vowed to challenge such measures if they go into effect. The group's advocacy manager, Jett Jonelis, spoke out against Haugaard's HB1208 bill in a statement.
"House Bill 1208 poses a serious threat to the health and well-being of individuals seeking medication abortion care and ignores a pregnant person's individual needs and circumstances," Jonelis wrote. "Banning a safe and standard method of terminating a pregnancy creates unnecessary restrictions for people accessing essential medical care."
She also opposes HB1318, the bill passed Tuesday by the House's Health and Human Services Committee. The measure codifies Noem's executive order that restricts access to and administration of abortion pills.
Jonelis said, "House Bill 1318 represents dangerous political interference and violates patients' rights to liberty, privacy and equal protection as guaranteed by the U.S. Constitution by imposing significant burdens on abortion access without proof of a valid medical justification," the Associated Press reported.
Update at 02/23/2022, 1:05 p.m. ET: This story has been updated with more background and comments from the ACLU of South Dakota.