South Dakota lawmakers just advanced a resolution that would allow voters to redefine "life itself."
The measure, introduced by Republican state representative and candidate for governor Steve Haguaard, would define the start of life as beginning at conception or when an egg is fertilized. It passed by the House's state affairs committee Wednesday by an 8-4 vote.
Haguaard told reporters during a press conference that the measure "leads us in the direction of fine-tuning whatever abortion laws we will have going forward."
South Dakota joins several other red states in advancing abortion-related measures this week alone. The flurry of bills comes as lawmakers on both sides of the aisle anticipate the Supreme Court's decision in Dobbs v. Jackson Women's Health Organization, a landmark case that could alter Roe v. Wade.
Florida's House of Representatives passed a bill early Thursday morning that would ban abortions after 15 weeks. The bill doesn't include exceptions for rape, incest or human trafficking but does allow exceptions in cases where the mother's health is at risk or if the fetus has a fatal abnormality. The legislation now heads to Governor Ron DeSantis's desk, who has shown support for it.
West Virginia's House of Representatives also passed a 15-week abortion ban. The Tuesday vote was 81-18, with the legislation now going to state senators. Like Florida's measure, the only exceptions would be in cases of medical emergencies or of severe fetal abnormality.
Republicans in Arizona's Senate also advanced a law banning abortion after 15 weeks of pregnancy. The bill still has to pass the statehouse before heading to Governor Doug Ducey's desk.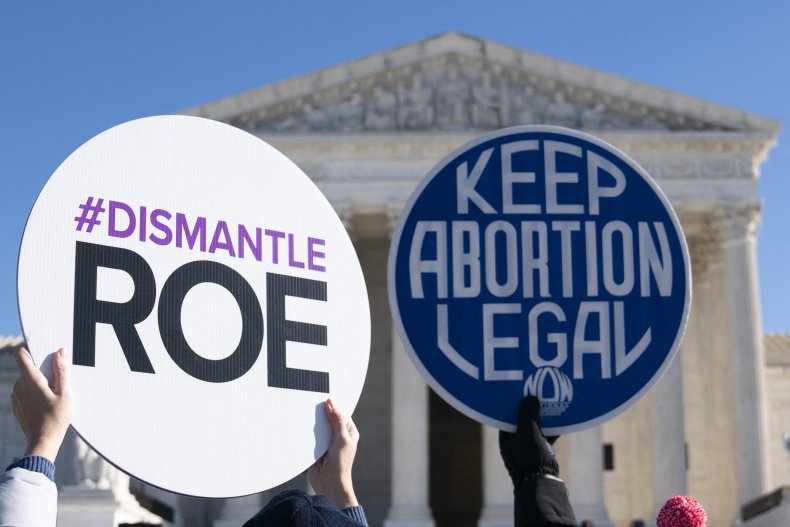 South Dakota Governor Kristi Noem recently attempted to push through legislation to ban nearly all abortions, but a Republican-controlled committee declined to take up her proposal. Noem called their decision "unprecedented in the worst way."
Haguaard said Wednesday that his resolution will give voters the chance to decide the definition of life in the form of a ballot question during the November elections.
"This is a House Joint Resolution to put this on the ballot to let the voters decide what they want to respect as far as the definition for life itself," he said.
Haugaard added, "This gets to the very heart of the issue, the heart of life," he added.
The resolution, if passed by voters, would alter the South Dakota Constitution to state that the term "human being" means "each member of the species homo sapiens, at all stages of life, including the moment of fertilization or cloning, or other moment at which a member of the species comes into being."
Jett Jonelis, the advocacy manager at the ACLU of South Dakota, said the resolution would have "wide-ranging and unforeseen consequences for the health and well-being of all people who can get pregnant."
"This proposed 'personhood amendment' to our state constitution could give the legislature the right to classify abortions as a crime and could likely ban abortion in all cases," Jonelis told Newsweek in an emailed statement.
The resolution could also threaten oral and emergency contraception, in vitro fertilization clinics, stem cell research, and more, according to Jonelis.
"South Dakota has twice rejected ballot measures attempting to ban abortion and this is just another, more radical attempt to encroach on our fundamental freedoms. When and whether to start a family is a decision that should not be made by politicians," Jonelis said.
Newsweek has reached out to Haugaard for comment.
Update 02/18/22, 11:12 a.m. ET: This story was updated with comments from Jett Jonelis of the ACLU of South Dakota.