South Korea 'Closely' Tracking North Korea Military Parade Featuring Dogs, Horses, Gas Masks
South Korea's military has told Newsweek it was carefully tracking a unique form of a parade held by North Korea, as ties between the two rival neighbors remain in flux nearly a decade after Supreme Leader Kim Jong Un took power.
"Our military is tracking NK's some sort of military parade closely," a spokesperson for the Ministry of National Defense of South Korea, officially known as the Republic of Korea (ROK), told Newsweek. "We are analyzing precisely under the co-operation between ROK and US."
U.S. Forces Korea also took note of the event.
"We are aware of the recent North Korea military parade and continue to maintain a robust combined defense posture to protect the Republic of Korea against any threat or adversary," USFK spokesperson Army Colonel Lee Peters told Newsweek.
North Korea is no stranger to elaborate displays of power, but Thursday's midnight parade to commemorate 73 years since the founding of the country officially known as the Democratic People's Republic of Korea (DPRK) was notable, as it swapped advanced missiles and warfighting capabilities for more humble paramilitary and public security assets.
Kim looked down from above at the march through Pyongyang's central square named after his grandfather, the late Kim Il Sung. The parade included horse-mounted cavalry units, columns of personnel accompanied by military search dogs and scores of health workers wearing matching orange hazmat suits and gas masks.
Rockets were pulled along not by traditional military trucks but "tractors hauling artillery pieces to pound the aggressors and their vassal forces with annihilating firepower in case of emergency," according to the official Korean Central News Agency.
While reports indicated that Kim did not speak during the event, he "warmly acknowledged the enthusiastically cheering crowds for long."
The state-run outlet was effusive in its praise for the Supreme Leader.
"All the participants presented the greatest glory and the deepest gratitude to Kim Jong Un, a peerless hero who is fully demonstrating the new era of overall prosperity of the country and the era of our state-first principle with his ardent love and self-sacrificing dedication to the country and the people," the report stated.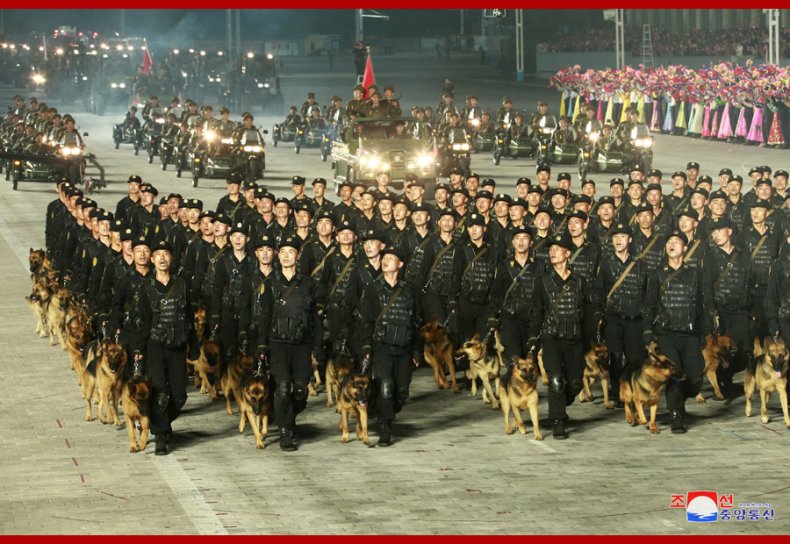 As Kim's rule hits the 10-year mark later this year, South Korean President Moon Jae-in nears the end of his second and final term early next year. And with U.S. President Joe Biden still in his first year and already beset by intractable domestic issues and more pressing foreign policy issues in another part of the world, indications are that the Korean Peninsula faces uncertainty in the months ahead.
Moon has presided over a historic number of inter-Korean summits, all of which took place in 2018, the same year that Biden's predecessor, Donald Trump, became the first sitting U.S. leader to meet a North Korean ruler. Momentum for negotiations ultimately stalled, however, as a follow-up U.S.-North Korea summit in February ended without the coveted peace-for-denuclearization and sanctions relief deal.
Tensions have gradually returned over the past two years, and although Kim has yet to resume nuclear testing or intercontinental ballistic missile launches, he's declared himself free to do so despite United Nations Security Council restrictions.
Still, both Koreas still officially seek reconciliation and reunification. A brief respite emerged in July as Pyongyang restored military communications with Seoul, signaling some positive movement, but last month North Korean officials released a series of stinging commentaries toward South Korea over its decision to hold joint exercises with the United States.
The Biden administration has expressed a willingness to pursue diplomacy with North Korea, but has also warned that the U.S. would respond to any provocations. Thursday's parade marked the first of its kind to be held since Biden took office in January, just weeks after a grandiose parade was held in Pyongyang to mark the 8th Party Congress of the Korean Workers' Party.
In public remarks since then, Kim has acknowledged that his country was gripped by crisis, going as far as to use the term "arduous march," which historically has been used almost exclusively to reference a deadly period of famine and economic mismanagement under his father's administration in the mid-1990s.
And despite North Korea remaining one of only five countries on Earth to have not reported a single case of COVID-19, it maintains severe lockdown and quarantine measures. It was one of the first countries in the world to close its borders in response to the coronavirus spread in neighboring China early last year. North Korea is also not known to have accepted any offers of foreign assistance, including vaccines.
To address the domestic situation in North Korea on Thursday, Kim ceded the podium to Korean Workers' Party Secretary Ri Il Hwan, who said his nation's "state and people will tide over the present difficulties with the might of single-minded unity and open up the era of new surge and turn in socialist construction in the future, too as they did in the past."
Ri advocated strict adherence to North Korea's Juche ideology of self-reliance, even in the face of challenges.
"The government of the Republic will firmly defend the dignity and the fundamental interests of our people and solve everything our own way with our own efforts on the principle of self-reliance and self-development under any circumstances," Ri asserted.
Through this doctrine, he argued North Korea would expand the armed forces, modernize its defense industry as a whole, "and keep spurring the struggle for carrying out the Party's policy on putting all the people under arms and turning the whole country into a fortress to ceaselessly improve the defence capability of the country."
"Neither challenge nor difficulties can ever stop the heroic advance of our state and our people going toward the new victory of the revolution, led by the great Comrade Kim Jong Un," Ri said.