South Korea Military Wants Stronger Navy to Strike Kim Jong Un and his Missiles
The South Korean Navy has asked the government to approve plans to strengthen its fleet to improve its capacity to conduct "aggressive operations" against provocations from North Korea.
The navy's strategy includes the creation of an aviation command to supervise more than 70 aircraft and helicopters, as well as a new task fleet, chief naval operation Admiral Um Hyun-seong told a parliamentary audit Thursday.
"We will focus on improving our capability to strike the North Korean leadership and core targets inside [the North's] ballistic missile operation area," he said, quoted in the South Korean news agency Yonhap.
The fleet would include an unspecified number of 6,000-ton KDDX Aegis destroyers and three additional 7,600-ton KDX-III Aegis destroyers that were approved for construction in 2013 and are due for completion by the mid-2020s.
They will be fitted with air and land defense systems and anti-submarine capabilities and will add to the three 7,600-ton KDX-III Aegis South Korea already operates.
"We are maintaining a combat posture to retaliate strongly if the enemy provokes," Um said.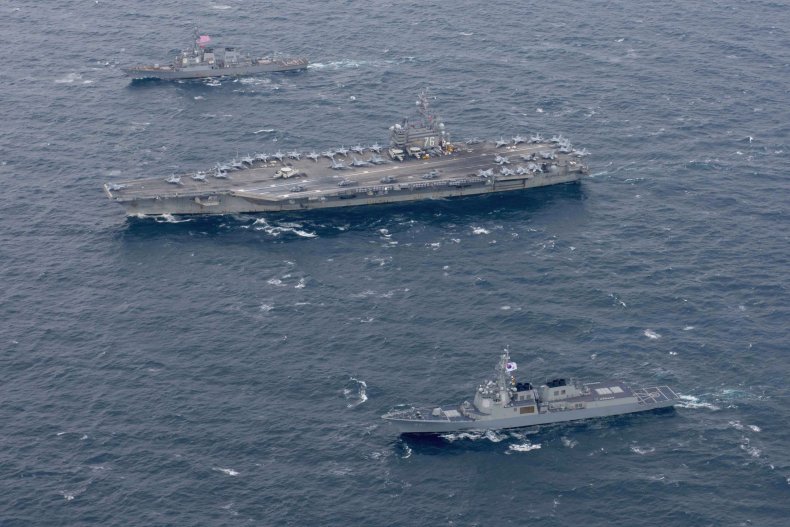 The South Korean Navy is currently conducting a series of maritime drills with the U.S. Navy, which has deployed its 100,000-ton nuclear-powered aircraft carrier USS Ronald Reagan, its biggest warship in Asia. The military exercise involved 40 warships deployed in a line stretching from the Yellow Sea, west of the peninsula, into the sea of Japan.
North Korea has issued a series of strongly worded articles in its state-run media condemning the military drills, which it considers a provocation and a threat to its existence.
"The dangerous and aggressive behavior by North Korea concerns everybody in the world," USS Reagan's strike group commander Rear Admiral Marc Dalton said, quoted in Reuters.
"We have made it clear with this exercise, and many others, that we are ready to defend the Republic of Korea," he added.
The Navy is just one of the ways the South Korean military is looking to increase its strength in the face of North Korea's rapidly developing nuclear program.
The state-run Agency for Defense Development is developing a rocket interception system, as reported in local media, as wells as "blackout bombs" that can short-circuit an enemy country's power supply.
South Korean President Moon Jae-in also sought and obtained President Donald Trump's support for reviewing missile guidelines. In September the two leaders had a phone conversation in which they "agreed in principle" to allow South Korea to increase its missile warhead capabilities to counter North Korea's threats.