South Korea 'Blackout Bombs' Can Take Down Pyongyang Without Firing a Shot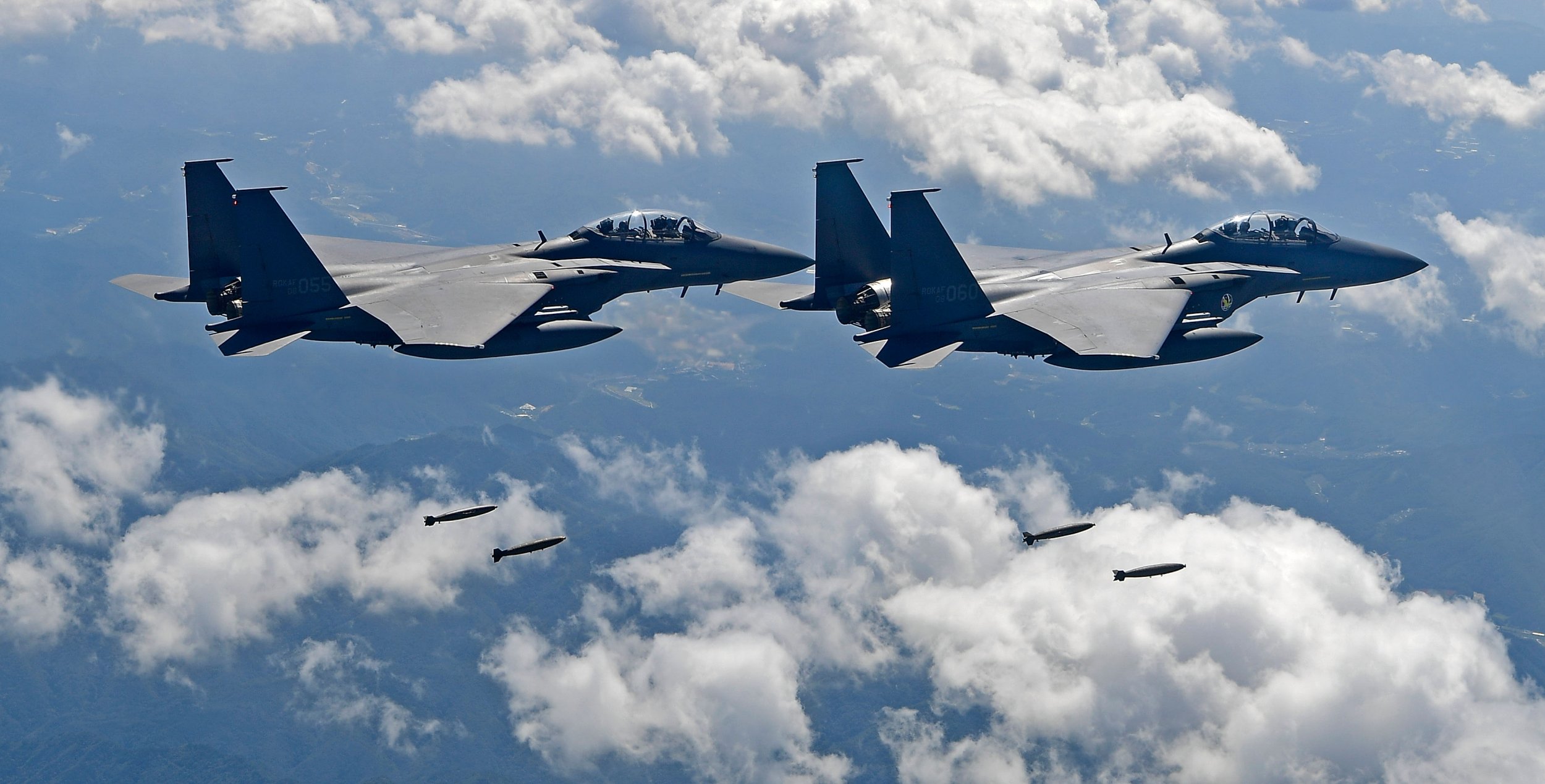 The South Korean military is developing a new weapon to fight North Korea's growing nuclear capabilities.
Seoul's Agency for Defense Development (ADD) has acquired the technology to build graphite bombs, non-lethal weapons that can take down North Korea's power system in case of a war, according to military sources who spoke to South Korea's news agency Yonhap on Sunday.
"All technologies for the development of a graphite bomb led by the ADD have been secured," a military official said. "It is in the stage where we can build the bombs anytime."
Known as "blackout bombs," the warheads can be dropped by a plane over power stations. A form of cluster bombs, they split into several canister-like "sub-munitions," which in turn release carbon graphite filaments that short-circuit the electricity supplies.
The bombs were first used by the U.S. Navy in 1991 to black out power supply in Iraq during the first Gulf War. They were later also deployed against Serbia during the Balkan conflict in 1999.
After their use in Kosovo, NATO spokesperson Jamie Shea said that the bomb's impact is mostly psychological, as the targeted country feels literally and figuratively powerless. "We can turn the power off whenever we need to and whenever we want to," Shea told the BBC at the time.
South Korea is adding the weapons to its arsenal as part of one of its recently-developed military programs, the so-called "Kill Chain," which aims to detect an imminent missile attack from the North and react with a pre-emptive strike.
Read more: Donald Trump agrees South Korea should have bigger warheads to face North Korea
As reported by the Korea Times in 2016, the arms build-up also includes the Korea Air and Missile Defense Program, tasked with tracking and shooting down nuclear missiles heading for South Korea, and an initiative known as the Korean Massive Punishment and Retaliation system, which would first strike back against a North Korean attack.
Originally due for completion in the mid-2020s, South Korea has sped up the program's timeline to face North Korea's rapidly advancing nuclear weapons development program.
Monitoring groups such as the Nuclear Threat Initiative recorded Pyongyang conducting 19 missile tests this year alone, including two intercontinental ballistic missiles capable of reaching the U.S. mainland. North Korea also tested a hydrogen bomb in its sixth—and most powerful—nuclear test to date.
The South Korean military says there are no signs of an imminent threat.
"We have yet to detect any signs of immediate provocations from North Korea," a South Korean military source said on Monday, quoted in Yonhap, adding: "We are maintaining an upgraded monitoring effort to guard against any developments."