South Korea Wants Peace, Less Certain About Unification 70 Years After War
South Koreans are enthusiastic about reaching an elusive peace arrangement with North Korea but have grown skeptical about the concept of unification as ties between the two longtime rivals took a volatile turn this year, a state-sponsored survey shows.
The Korea Institute for National Unification published its latest survey Thursday on the state of inter-Korean relations on the 70th anniversary of war breaking out between the two opposing neighbors. Amid decades of mutual animosity, the two countries split by Cold War rivals after World War II approached a high point in diplomatic engagement in 2018. But South Koreans have since lost confidence in seeing a united nation on the peninsula.
While a majority, or 60.2 percent, of respondents said they still believed that unifying the two Koreas was "necessary," the figure represented a steady decline from two years ago when a record three inter-Korean summits were held. Two years ago that figure stood at 70.7 percent.
Asked if they would prefer unification or peaceful coexistence with the nuclear-armed nation they technically remain at war with, 26.3 percent of South Koreans said they would choose to reunification, and 54.9 percent indicated they remained divided but on better, more cordial terms.
Stark divisions by age stood out. The war generation was the most enthusiastic about unification, with 36.7 percent supporting it, and with millennials, only 17.9 percent said they preferred to reunite rather than live side-by-side in peace with North Korea.
"Unification has meant, for both North and South, the return to the undivided past," Sang Sin Lee, who authored the survey, told Newsweek. "This retrospective concept of unification is losing ground in the South. Especially for young generations, for they do not have the glorified memory of unified past."
"I think we are in need of soul searching," he added.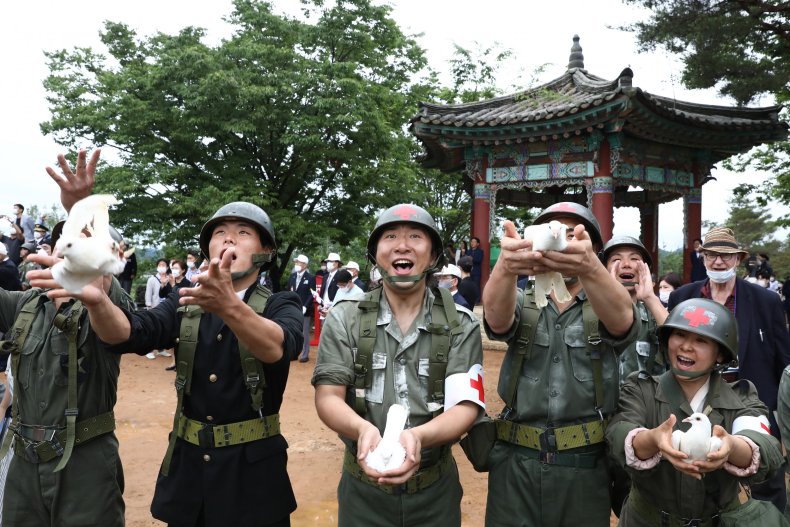 The two Koreas risk a return to the war footing of past years. South Korean President Moon Jae-in has pursued a policy of pushing for peace with North Korea but a total stall in a historic peace denuclearization-for-peace process between South Korea ally the United States and North Korea has refueled nationalistic fervor in Pyongyang, and Seoul, too, has felt the burn.
This saga took an explosive turn last week when North Korea detonated the liaison office established in 2018. Angry about defectors spreading cross-border balloons carrying leaflets disparaging the government of supreme leader Kim Jong Un, top officials—especially Kim's sister, Kim Yo Jong—severed ties South Korea and threatened to reintroduce troops to the Demilitarized Zone, commonly known as the DMZ.
But it remains uncertain what Kim's next steps will be as he weighs reconciliation and escalation. North Korea announced on Tuesday an about-face, removing border loudspeakers and suspending planned military moves against South Korea, where citizens hope for the best but have grown accustomed to sudden shifts in inter-Korea relations.
"I wouldn't say we are optimistic about the future of the inter-Korean relationship. But then again, the inter-Korean relationship always has been unpredictable," Lee told Newsweek. "I don't think too many South Koreans were shocked by the recent provocation from North. Despite the stalled talks, more people want to pursue peace talks with North. I think this is a confirmation of Moon's policy."
The Korean War of 1950-1953 killed millions of Koreans and continues to separate tens of thousands of Koreans from family members across the border. Despite pursuing vastly different trajectories in their national histories since, the two Koreas share an official desire to unify as codified in rare bilateral agreements, along with a wish to formally declare peace.
In his address to commemorate the war anniversary Thursday, Moon noted that "achieving peace and prosperity on the Korean Peninsula is a duty that must be fulfilled without fail for both the parents who suffered through the war and their posterity who will usher in the next 70 years."