North Korea Suspends 'Military Action Plans' Against South Korea Amid Spat
North Korea has suspended plans to retaliate militarily against South Korea over defectors spreading cross-border leaflets criticizing the government amid a deterioration in inter-Korean ties.
North Korean supreme leader Kim Jong Un presided Wednesday over the preliminary video meeting for the fifth meeting of the Seventh Central Military Commission of the ruling Korean Workers' Party. Members discussed major defense policy to be presented to the upcoming meeting, including the worsening relationship with South Korea, according to the official Korean Central News Agency.
While top party officials such as Central Committee First Vice Department Director Kim Yo Jong—who is Kim Jong Un's sister—have increasingly hit out at Seoul over its perceived failure to stop North Korean defectors from spreading pamphlets condemning the ruling Kim family, Wednesday's meeting "took stock of the prevailing situation and suspended the military action plans against the south brought for the fifth meeting of the Seventh Central Military Commission by the General Staff of the Korean People's Army."
The South Korean Unification Ministry announced earlier this month it would step up attempts to stop the leaflet spreading, but Kim Yo Jong threatened military action. North Korea blew up a liaison office established by the neighbors in 2018 and South Korean Unification Minister Kim Yeon-chul resigned in the wake of the detonation.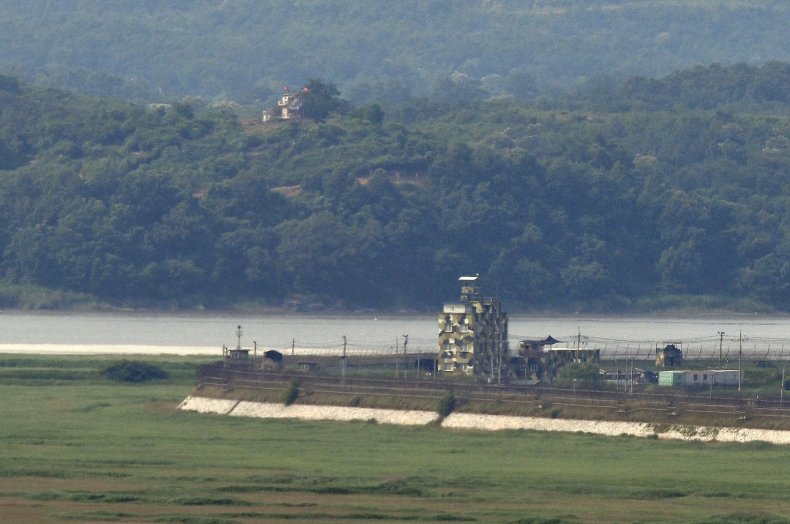 A spokesperson for the Korean Workers' Party Central Committee United Front Department said Monday the country would send some 12 million leaflets laced with its own ideological ammunition "deep inside South Korea" and that personnel "do not have any intent to reconsider or change our plan at a time when the North-South relations have already been broken down."
In response, South Korean Unification Ministry spokesperson Yon Sang-key urged North Korea to refrain from such actions "as it does no good for inter-Korean relations." He said Seoul was "thoroughly trying to contain the act of flying leaflets and floating plastic bottles to the North."
But activist group Fighters for a Free North Korea said it defied the order, sending half a million leaflets into North Korea along with U.S. currency. The South Korean Unification Ministry rejected the claim, saying it observed no such activity.
North Korea's latest report could signal Pyongyang was now stepping back from threats to send troops into the Demilitarized Zone that has separated the countries since their 1950s war. The two Koreas took historic steps to disarm their guard posts as a budding reconciliation process took hold in 2018, but a stalled U.S.-North Korea denuclearization-for-peace process left inter-Korean negotiations on hold as well.
While North Korea has yet to conduct another nuclear or long-range weapons test since embarking on a diplomatic path with President Donald Trump, Kim Jong Un warned at the beginning of the year of a "new strategic weapon" to be debuted after no agreement was reached. North Korean Foreign Minister Ri Son Gwon on the second anniversary of the landmark U.S.-North Korea summit earlier this month that ties with the U.S. have since "shifted into despair" and said Pyongyang would bolster its nuclear capabilities.
During Wednesday's meeting, documents were said to have been presented "carrying the state measures for further bolstering the war deterrent of the country."
"The United States continues to closely monitor North Korea's nuclear activities. The final, fully verified denuclearization of North Korea remains the overriding U.S. objective, and the United States remains committed to continued diplomatic negotiations with North Korea toward that goal," the State Department said in its latest global arms control compliance report published Tuesday.
Trump has blamed his former national security adviser John Bolton for having attempted to sabotage talks between Washington and Pyongyang. The president tweeted Thursday that "all hell broke loose" ahead of his first summit with Kim Jong Un in 2018 after Bolton suggested pursuing a similar denuclearization policy with North Korea as he did with Libya under former President George W. Bush.
Longtime Libyan leader Muammar el-Qaddafi forfeited his country's nuclear program in 2003, the same year that the U.S. invaded Iraq over accusations it was producing weapons of mass destruction, in exchange for sanctions relief and better ties with the West. In 2011, however, Qaddafi was overthrown and killed by a NATO-backed insurgency in a development often cited by North Korea as a defense for maintaining nuclear weapons.
Trump said Bolton's remarks at the time "set us back very badly with North Korea, even now."
South Korea's presidential Blue House has also criticized Bolton over his recent book, which details the inner workings of the Trump administration and its interactions with foreign countries, including the two Koreas. South Korean national security adviser called its contents "distorted," "dangerous" and "inappropriate" in a statement carried Monday by the Yonhap News Agency.
Trump later retweeted the article, writing: "See, Bolton broke the law. Classified Information!