South Korea Plans 'Comprehensive Review' of North Korea's Policy Amid Talks with U.S., Japan
A South Korean official has expressed to Newsweek plans to hold a thorough review of North Korea's positions given recent events on the divided peninsula. The announcement comes as South Korea's most senior official on the issue met with counterparts from the United States and Japan.
The review and trilateral discussion held Tuesday in Tokyo take place in the wake of a North Korea military parade last Thursday, which was followed by the test-firing of long-range cruise missiles on Saturday and Sunday.
In response to the parade, a spokesperson for the South Korean Ministry of National Defense told Newsweek that the military was "analyzing precisely under the co-operation between ROK and U.S.," and then gave a similar statement in response to the latest cruise missile launch, which North Korea's state-run media said flew 932 miles over the course of more than two hours.
This position was echoed Monday by South Korean Unification Ministry spokesperson Lee Jong-joo, who said the ministry would "will work with related agencies including the MND to analyze and keep a watch out for developments in the North."
The Unification Ministry also monitored the commemorative parade that preceded the launch. The event, however, was determined to be more explicitly about North Korea's own history and security, an interpretation suggested by the exhibition of paramilitary and public security forces, including cavalry units, military search dogs and tractor-hauled artillery, rather than the major missile systems seen in past elaborate displays.
"North Korea's military parade was held to mark the 73rd anniversary of its establishment, focusing on boosting internal solidarity and encouraging its people," a South Korean Unification Ministry official told Newsweek.
But the event will be taken into consideration along with upcoming dates as South Korea, officially of the Republic of Korea (ROK), seeks to calibrate its understanding of the intentions of North Korea, officially the Democratic People's Republic of Korea (DPRK).
"As the North did not release any statement about foreign relations including inter-Korean relations at the ceremony, we will make a comprehensive review on its policy stance including its foreign policy," the official said, "while keeping an eye on major political events such as the Supreme People's Assembly and the foundation day of the Workers' Party Korea in October."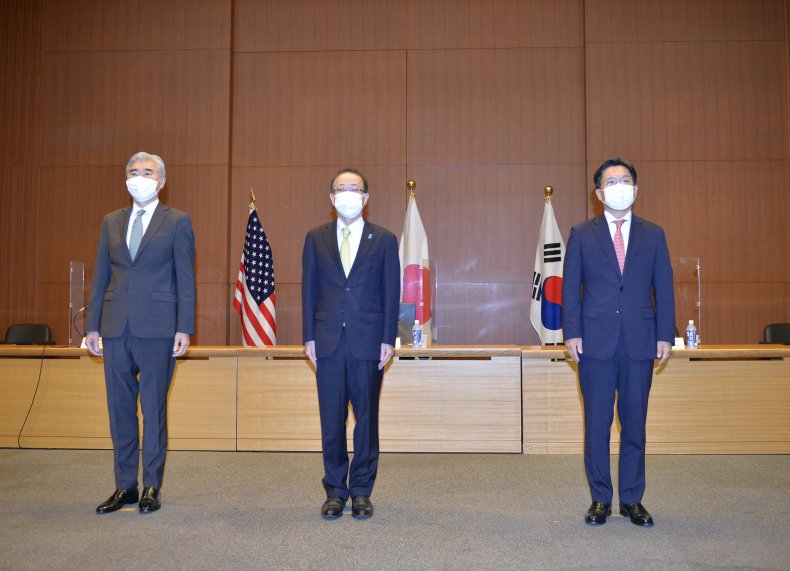 Tuesday's trilateral talks in Tokyo featured U.S. special representative for North Korea Sung Kim, Japanese Foreign Ministry Asian and Oceanic Affairs Bureau Director-General Funakoshi Takehiro, and South Korea's Special Representative for Korean Peninsula Peace and Security Affairs Noh Kyu-duk.
A readout shared by the State Department said that the trio "reaffirmed the importance of a robust trilateral relationship as we work together toward the complete denuclearization of the Korean Peninsula," while Sung Kim "also emphasized U.S. readiness to engage with the DPRK and affirmed U.S. commitment to the immediate resolution of the abductions issue."
The meeting fell in line with the Biden administration's efforts to balance the interests of its two Pacific allies in approaching the North Korea issue.
Under South Korean President Moon Jae-in, Seoul has sought a diplomatic partner in its ally, Washington, to pursuing peace with Pyongyang. But Tokyo has been far more reserved in its approach, while continuing to emphasize the need to consider the cases of at least 17 Japanese citizens — and potentially hundreds more — North Korea is suspected of having kidnapped between 1977 and 1983.
The Japanese Foreign Ministry also released a readout of the three-way interaction, as well as Funakoshi's direct exchanges with Sung Kim and Noh.
The three parties were said to have agreed to "work closely" with one another "toward the realization of complete denuclearization of North Korea in accordance with the UN Security Council resolution, keeping in mind the recent trends in nuclear and missile development," as well as on "the importance of full implementation of the relevant U.N. Security Council resolutions," which maintain sanctions on North Korea and forbid it from testing missiles or nuclear weapons.
Funakoshi also asked his U.S. and South Korean counterparts "to continue to understand and cooperate with the abduction issue, and received support."
So far, North Korea has only hardened its stance on the prospect of resuming talks that began alongside the U.S. and South Korea in 2018, only to unravel in the years since.
After history was made by a record three summits with South Korean President Moon Jae-in, two with then-U.S. President Donald Trump and even a trilateral meeting at the heavily-guarded border between the two Koreas, Supreme Leader Kim Jong Un still has no deal to secure sanctions relief, commit to denuclearization or end a war still technically ongoing after more than seven decades.
What has emerged, however, is an increasingly precarious economic situation in North Korea, one of the first countries in the world to institute lockdown measures amid reports of a novel coronavirus in neighboring China, while it remains one of the last nations to still report zero cases of the COVID-19 diseases caused by it.
The effects of the pandemic on North Korea's already heavily restricted trade, in addition to the destruction brought on by both floods and droughts, have prompted Kim Jong Un to acknowledge extensive hardships at home.
But as the ruler's rhetoric on self-reliance remains unwavering, both Seoul and Washington have eyed potential humanitarian assistance to develop an inroad into the notoriously elusive, militarized state.
Sung Kim reiterated this point while talking to reporters after Tuesday's talks in Tokyo.
"We are prepared to work cooperatively with the DPRK to address areas of humanitarian concerns regardless of progress on denuclearization," the U.S. diplomat said, as quoted by South Korea's Yonhap News Agency.
The remarks came after the International Atomic Energy Agency raised the alarm over what appeared to be new activity at North Korea's Yongbyon nuclear reactor.
Sung Kim added that "the United States supports the provision of humanitarian aid, consistent with international standards for access and monitoring to the most vulnerable North Koreans."
Such overtures have been previously communicated to Newsweek by State Department officials, who also said that Pyongyang had so far insulated itself from foreign aid.
"The DPRK has created significant barriers to the delivery of assistance by closing its borders and rejecting offers of international aid, while also limiting the personnel responsible for implementing and monitoring existing humanitarian projects," one State Department spokesperson said last month.
And while both State Department and South Korean Foreign Ministry officials told Newsweek at the time that there were no plans then to share or provide vaccines to North Korea, neither side precluded the possibility of doing so in the future.
Still, the Associated Press reported last week that North Korea had declined 3 million Sinovac shots and 1.9 million AstraZeneca jabs slated to be delivered via the U.N.'s COVAX program.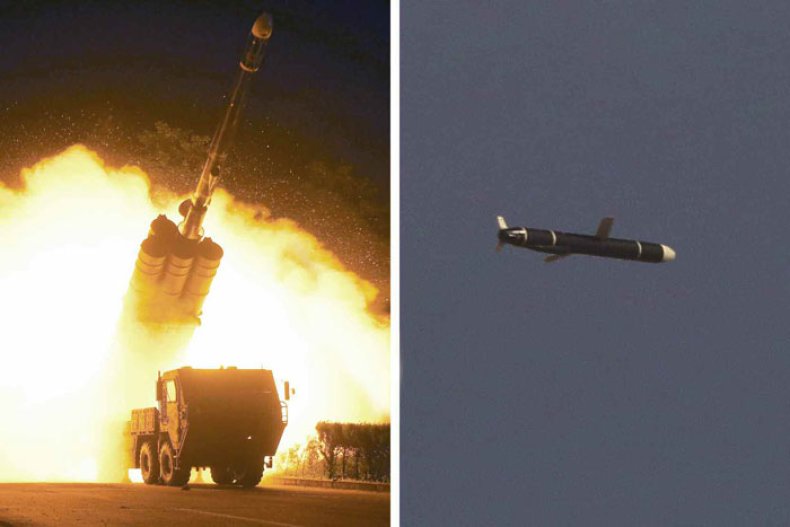 With Seoul's alliance with Washington reassured and relations with Tokyo further stabilized by the recent gathering, South Korea was also set to host the top diplomat of another major power with sway over the Korean Peninsula and the region in general: China.
Chinese Foreign Minister Wang Yi was scheduled to arrive in Seoul on Tuesday to meet South Korean Foreign Minister Chung Eui-yong. South Korea has sought to avoid rising tensions between the U.S. and China, and has made strides to maintain strong ties to the leading Asian power that also has an alliance with North Korea.
Taking note of South Korea having recently joined a small list of nations with submarine missile-launching capabilities, Chinese Foreign Ministry spokesperson Zhao Lijian said that Beijing officials "hope countries concerned can jointly contribute to regional peace, stability and development."
"China and the ROK are important neighbors," he added. "State Councilor and Foreign Minister Wang Yi will soon visit the ROK. The two sides will have an in-depth exchange of views on bilateral relations and international and regional issues of common concern."
A day earlier, he also shared China's position on the Korean Peninsula issue, advocating for diplomacy to prevail.
"China remains committed to maintaining peace and stability on the Peninsula and holds that the issue should be settled through dialogue and negotiation," Zhao said Monday. "We call on relevant parties to exercise restraint, meet each other half way, actively seek dialogue and engagement, and follow the 'dual-track' approach and take phased and synchronized actions to continuously advance the political settlement of the Korean Peninsula issue."